Blue Apron looks to add-ons to retain customers and increase order sizes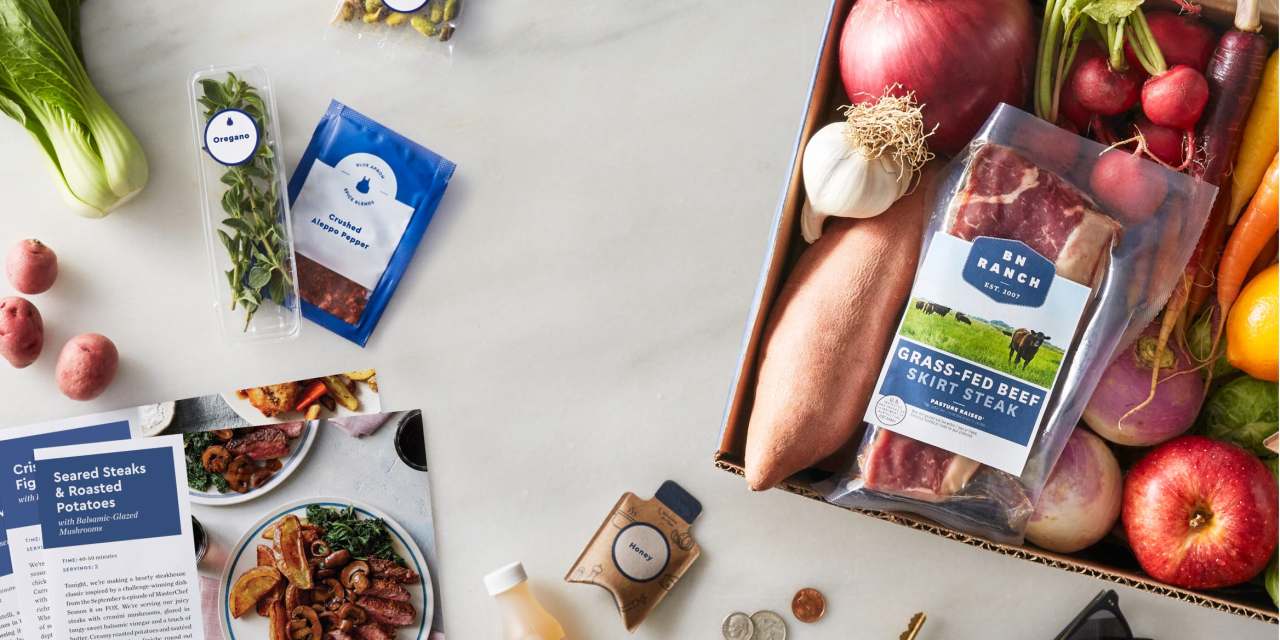 Image via Blue Apron
After getting a second wind last year during the coronavirus pandemic, Blue Apron is hoping to get existing customers to buy more of its meal kits by offering new product add-ons.
The new offerings consist of meal additions, such as an appetizer, a vegetable side or a desert that customers can add to their box each week, as well as more specialty offerings like butcher bundles and craft burgers. "The add-ons offering was developed in response to the positive feedback from customers on our customization options," Blue Apron president and CEO Linda Findley Kozlowski told Modern Retail. The initial collection is "just the beginning" of how Blue Apron plans to use add-ons, and will be expanding the line over time, she said. 
By last July — following the initial pandemic lockdowns — Blue Apron reported that revenue was up $1.1 million during the second quarter of 2020, a 10% year-over-year increase. During that period, it also added 20,000 new customers, as more Americans turned to food delivery for the first time. Now, as Blue Apron is out to prove it has staying power beyond the pandemic, it is looking for new ways to retain these customers. The new offerings are part of Blue Apron's overall strategy to diversify assortments and increase revenue. 
During Blue Apron's first quarter earnings last week, the company reported that revenue increased 27% year-over-year, to $129.7 million, which the company credits to an increase in customers. During the quarter, subscribers increased by approximately 15,000 year-over-year and by nearly 38,000 over the previous quarter.
"Product innovation continues to be a key driver of our business growth, which includes offering more choices and additional flexibility with customizable options," said Findley Kozlowski. They also give customers a chance to use Blue Apron outside the traditional dinner meal by "addressing different cooking experiences throughout the week," she explained.
Blue Apron has experimented with limited edition collaborations in the past, as well as partnerships with brands like Beyond Burger, to help diversify its menu. However, these new offerings aren't collaborations per se, said Findley Kozlowski. "They're brand new product extensions for us, but could also provide new opportunities for collaborations as we expand."
The specialty bundles give some indication as to how Blue Apron might be able to approach collaborations going forward. The butcher bundle is a chef-curated box, featuring 12 meats and seafoods, spice blends and recipe cards. The craft burgers bundle is a high-end burger that features prime ground beef, specialty challah and pretzel bun. Additionally, Blue Apron is also offering new "grilling favorites" wine bundles, created by its sommeliers and chefs.
At-cart add-ons are becoming more popular among food and beverage brands during the e-commerce and delivery boom. Services like Instacart and Boxed, for instance, have been encouraging customers to increase order sizes with last-minute ingredients or CPG essentials. Boxed, for instance, uses search-based suggestions and algorithms based on past purchases to increase basket sizes. As customers shop specific virtual aisles, the Boxed frontend suggests related items. For example, when a user adds paper towels, their cart suggests related cleaning products like laundry detergent or trash bags.
For Blue Apron, improving customer metric is key to keep the new customers it acquired during the pandemic. In last week's earnings, the company's year-over-year growth included a 22% increase in average revenue per customer — to a record $331. Order per customer rose 15% to 5.4 orders, and the average order value grew 7%, to about $62. 
Neil Saunders, managing director of retail at Global Data, said that from a revenue perspective, Blue Apron's quarterly results were solid. "It's clear that the disruption of the pandemic is still paying dividends, with a lot of people still not dining out like they used to," he said. However, he noted that the weak spot of the earnings, as usual, is the profit number. Blue Apron remains in the red at both operating and net income level. Last summer, the company recorded its first-ever profitable quarter since going public in 2017.
New products, including ingredients for summer grilling, are one way to try to increase sales and share of wallet. "It's a sensible play," Saunders said. Although it remains unclear how many people will be ordering these foods online as restaurant traffic ramps up.
"One of the future concerns is how demand will fare once the pandemic starts to abate," Saunders explained. He predicted that this will likely be "a gradual fade, rather than it disappearing with a bang."