Blue Apron parts with Jet as meal kits' retail strategies show mixed results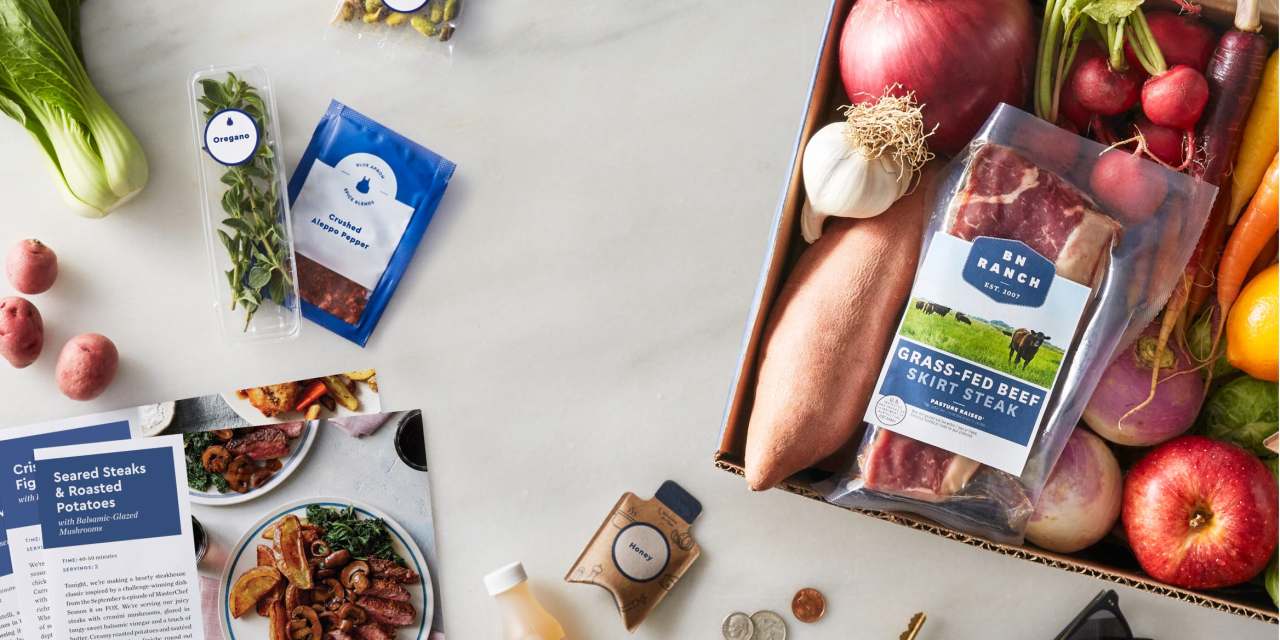 Image via Blue Apron
Meal kit companies, once considered the next-generation wave of business models for at-home cooking, are seeing increased financial hardships and flagging customer bases — despite strategic shifts.
Blue Apron is the leader in the meal kit space — in both sickness and health. The company raised nearly $200 million in venture capital and about $300 million in its 2017 IPO. But in the following years, it has lost hundreds of thousands of customers and it's stock remains below its opening price. Last week, it posted its quarterly earnings last week. The company reported a net loss of $7.7 million, as well as a user decline. While the loss was less than expected, the financials still weren't pretty.
What's more, Blue Apron also announced that it was ending its pilot with the Walmart-owned Jet.com.
This comes a little less than a year after Blue Apron announced a partnership with Jet to have its sold kits on the online marketplace. This was part of Blue Apron's attempt to forge strategic partnerships that would help it stand out from competitors. A few months in, the meal kit company announced that it was launching lower-priced meal kits for Jet.com customers — indicating that the partnership wasn't bringing in new customers. And now, with the two parting ways, it seems the bet didn't quite work out. Blue Apron's other big partnership with WW — formerly known as Weight Watchers — will continue, however.
In a statement to Modern Retail, Blue Apron wrote: "We are currently focused on our biggest opportunity for growth, which is in our core direct-to-consumer business. As a result, we are ending our pilot with Jet.com in the coming weeks. Jet has been a great partnership through which we've gleaned many useful learnings and built a valuable competency in on-demand delivery that may be a future consideration for our model."
Partnerships with retailers — both online and off — has become one popular strategy for meal kit companies looking to drive new customers. But, for some of the players, these alliances haven't quite worked out. Last March, Albertsons began scaling back its in-store Plated meal kit offerings in Boise, reported GroceryDive. The grocer had bought Plated in 2017, at a reported price tag of $300 million.
According to NPD analyst and executive director Darren Seifer, these retail alliances have been the predominant trend for maturing meal kit companies. In the beginning, he said, "it was pretty much all subscription-based." But, as time went on, many of the most popular services had difficult with customer acquisition and retention. "The number one reason consumers stopped using meal kits is they found them too expensive," said Seifer.
The theory behind these partnerships was to showcase the products in a new light. While some people may not want to tie themselves to a regularly shipped semi-prepared meal at $10 a pop, others may be lured into buying the items while grocery shopping. For direct-to-consumer businesses having trouble acquiring users, these partnerships were a new and important way to find new eyeballs where they already normally shop. "They offer the consumer a little more flexibility," said Seifer.
Additionally, he added, "[meal kits] allows the retailer to play a different role — they can be a solution center." For people who aren't sure what they're making for dinner that night, they can simply buy a few boxes instead of seeking out individual ingredients. That Blue Apron is having difficulties with Jet could be a red flag for others in the space.
Whole Foods seems to be following this strategy too. Earlier this year, the company began testing out selling Amazon Prime meal kits — which, before, were only available to AmazonFresh customers in certain locations. Modern Retail reached out to Whole Foods for comment but didn't receive a response by press time.
According to Seifer, however, there is perhaps a glimmer of hope for these businesses. "One of the things we found out," he said, is that "80% of adults have never tried meal kits." And, of those people who haven't tested the products out about half of them "are interested in trying."
Which is to say, that there's still a potentially untapped market — despite meal kits' popularity's ebb and flow.