Booze-free shops are catering to the rise in non-alcoholic startups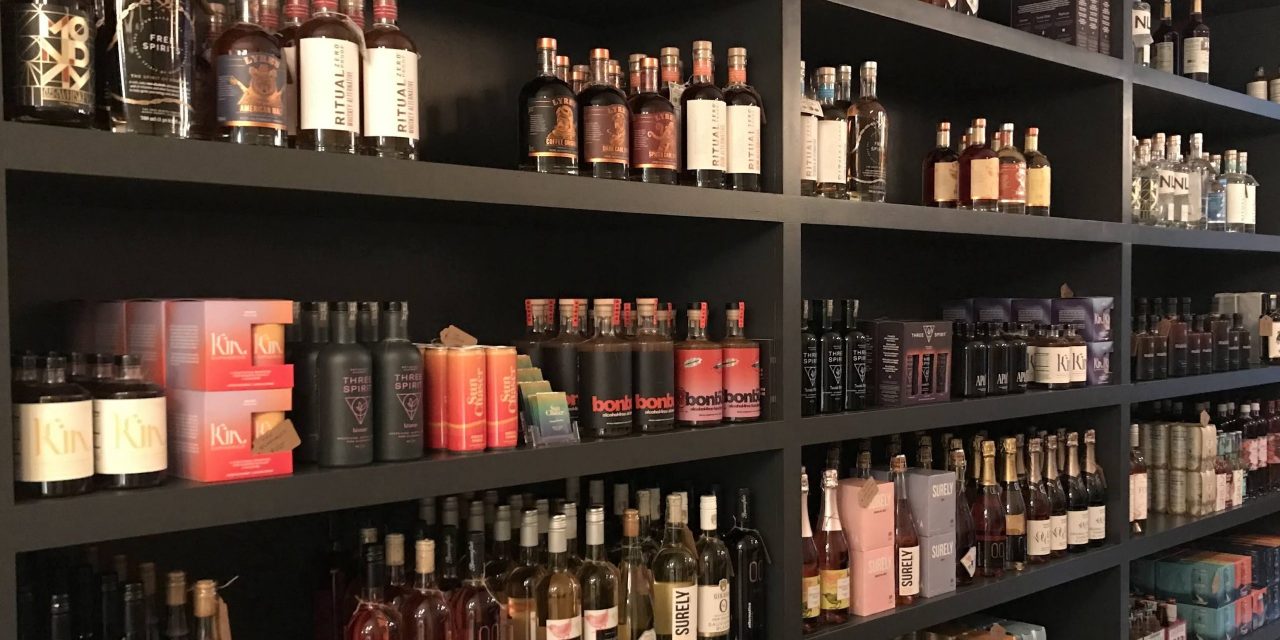 Image via Spirited Away
A new crop of retailers is looking to piggyback off of the rising number of startups selling non-alcoholic beverages.
Over the past year, there's been a rise in booze-free shops that carry popular brands like Seedlip, Ghia and Kin, among others. The global nonalcoholic drink market is expected to reach $1.6 trillion by 2025, per Grand View research. In concert, new retailers like Spirited Away, Boisson and Brooklyn's Minus Moonshine are betting on increasing demand for their offerings. 
These specialty retailers are carving out a niche within the category, and are aiming to give customers a place to discover dozens of non-alcoholic brands in one shop. They are also trying to pitch startups on the fact that they offer more opportunities for customer tastings and education on non-alcoholic drinks than a traditional grocery store. Furthermore, these shops are making a splash during the increasingly-popular Dry January, snagging mentions in Vogue or on Good Morning America.
Tapping into the booze-free market
New York City-based Boisson opened its first store in January 2021 and already has five locations around the city. The timing of the Boisson arrival, which included in-store pickup, local delivery and national online shipping, dovetailed with the rise of non-alcoholic cocktails. 
Nick Bodkins, co-founder and CEO of Boisson, said the retailer's goal isn't to replace traditional liquor stores but to offer more options for both non-drinkers and those who want to take a break. "A lot of our customers buy products to lower the ABV in their cocktail recipes," said Bodkins. As of the end of 2021, about 30% to 40% of Boisson's visitors were repeat customers. 
"More than ever, there are great non-alcoholic brands from around the world that we want to get on our shelves," Bodkins said. The retailer currently sells about 125 brands and plans to add more this coming year.  Unlike a grocery store, Boisson offers multiple aisles of non-alcoholic categories, including spirits, vermouths and bitters, said Bodkins.
"We're also not beholden to state liquor laws, which makes it easier to be omnichannel," he said. On average, Boisson's national online customers buy six products from multiple brands, Bodkins said. The business is currently doing 1.5X more digital sales per day than it did monthly when it launched in 2021. The company declined to disclose the breakdown between in-store and digital sales. 
Boisson's growth strategy is having enough metro-area locations that allow it to deliver within hours. There is also a national expansion in place. "There will be a Boisson in at least another 7 to 10 markets by the end of the year," said Bodkin.
Douglas Watters, founder of Spirited Away, a booze-free bottle shop in New York City, said the idea for the store came to him after shopping multiple alcohol-free brands' websites. Watters began to explore the non-alcoholic space at the beginning of the 2020 lockdowns, and experimented with at-home cocktails using low ABV and booze-free spirits. 
"It felt wasteful to constantly get bottles shipped to my door," Watters explained. "I wanted a local shop where I can shop from these brands under one roof, and that's why I opened Spirited Away." The shop first opened as a 200-square-foot space on the Lower East Side in November 2020 and moved to its current Nolita location in December. Spirited Away now offers more than 140 products from dozens of brands, which it offers local delivery on.
Watters said the store started out by carrying mostly non-alcoholic spirits like gin and whiskey. "But now more people are asking us about wine, so we're adding more wines," he said. The store carries products like ready-to-drink Kin Euphorics cocktail cans and plant-based spirit Rasāsvāda, which retails for $75 a bottle.
He argued that the brick and mortar experience — one that's more aligned with how traditional wine shops run — allows the staff to introduce and educate customers about new brands. 
"Unlike with traditional alcohol names, not everyone knows what a 'euphoric' or 'hemp-infused spirit' is like," he explained. Store tastings and after-hour events help cultivate these customer relationships, Watters said.
Giving brands a wholesale partner
Jason LaValla, the founder of non-alcoholic beverage brand Casamara Club, said the curation-focused nature of these shops allows brands to be merchandised with other upstart non-alcoholic brands. Partnering with a non-alcoholic shop also allows Casamara Club to easily sell its entire line in one place, unlike at a more crowded grocery store or bar. Both Boisson and Minus Moonshine are selling Casamara Club's new soda line already, LaValla said.
Moreover, Casamara Club only has three full-time employees, who rarely have time to do wholesale outreach to new retailers, LaValla said. "So when Spirited Away and Boisson reached out, it felt like a significant validation of what we've been trying to do for the last four years," he added. 
LaValla said that while the alcohol-free category was viewed as too niche even a few years ago. However, the abundance of players has created a more broadly recognized category with multiple types of products — such as spritzes, beer and ready-to-drink cocktails. 
The first major turning point in the space came in 2019, when Diageo acquired a majority stake in alcohol-free spirit maker Seedlip. Then, in early 2020 Distill Ventures, a Diageo-backed firm, acquired a minority stake in non-alcoholic spirit brand Ritual Zero Proof. And at the end of last year, U.K.-based Lyre raised a $26 million Series A funding round, helping it hit a valuation of $360 million.
LaValla also pointed to recent launches of brands by bonafide industry figures. These include sparkling botanical drink Proteau, founded by mixologist John deBary. He also noted the publication of food writer Julia Bainbridge's alcohol-free cocktail recipe book, released in 2020. These new stores opening "felt like the culmination" of the trend, LaValla said.
"There's still so much room for growth in this category, and nearly everyone seems to recognize that we all benefit from working together," he said.
It's still early days, but these businesses are betting on non-alcoholic beverages to continue to become 
"Occasionally, we still get walk-ins that don't quite get it," Spirited Away's Watters said. "But overall, there has been a bigger acceptance of non-alcoholic beverages within the past year."