Brands and designers are doubling down on vaccine card holders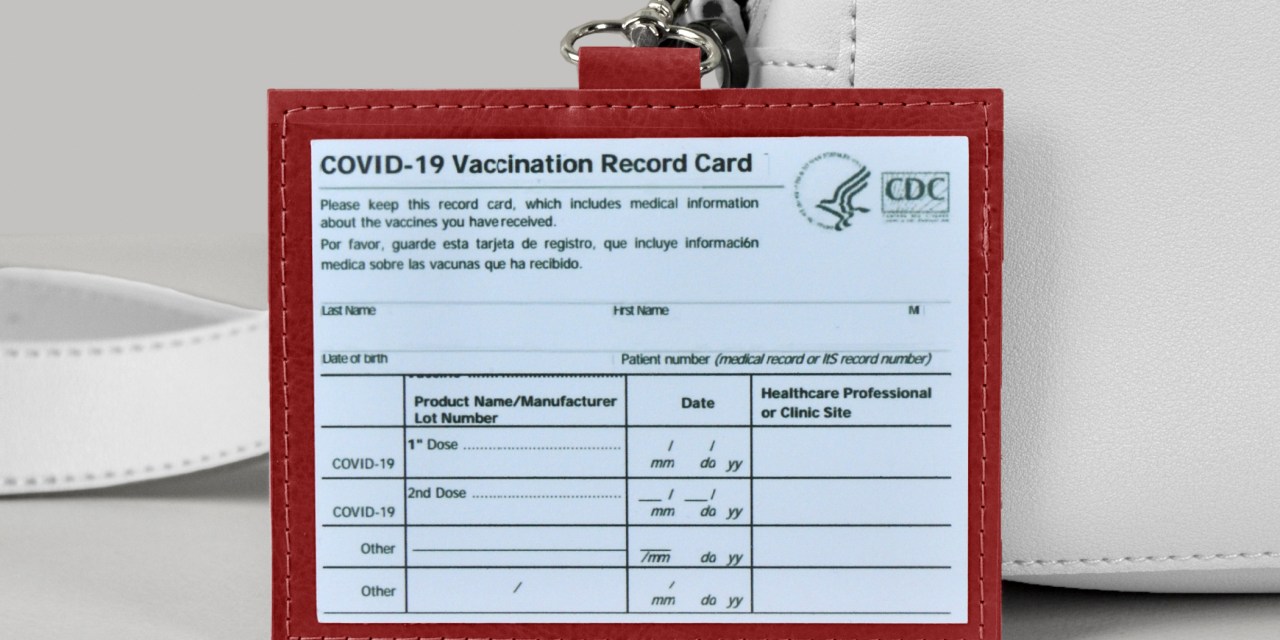 Vida
As more states require proof of vaccination, brands and individual makers are trying to cash in.
Currently, there is no one nationwide standard for digitized proof of vaccination — seven states have their own state-only app while others use third party players. The only universally accepted standard across the U.S. is the CDC-issued paper vaccination card, too large for a standard wallet and too flimsy to be carried around without a case.
In response, consumers are flocking to vaccine card holders. From the beginning of June to mid August, indexed Google search volume for the term "vaccine card holders" increased 740%, according to GoogleTrends data. In April and May many consumers were buying utilitarian plastic sleeves to store their cards safely at home, according to shopping data from The Strategist, but now brands are increasingly offering unique options and showcasing the products in new ways. Even individual Etsy sellers are seeing huge sales growth — and are playing towards individuality and U.S.-made values. Meanwhile traditional apparel retailers are quickly manufacturing new holders or highlighting preexisting products' capacity to fit the 4 x 3 card.
Etsy's newest pandemic product
In the second quarter of last year, Etsy sellers sold $346 million worth of masks on the platform or 14% of Etsy's gross merchandize sales. Quarter-by-quarter, however, mask sales have continued to decline for the platform and its merchants. Now some makers are trying a similar playbook with vaccine cards.
Beth Torquato, owner and founder of Etsy shop StitcharellaDesign, first added machine-embroidered card holders to her shop in June. From March to May, her monthly sales of other embroidered accessories averaged at about $1,300. But in August, she drove $36,823 in sales.
"I started selling [vaccine holders] because I felt that, since we were going to have to most likely show our vaccine cards, why not keep them in a cute functional holder," said Torquato. "It seems like my hunch paid off because as soon as I listed them I have never been busier."
Torquato's unique designs feature movie references or cartoon plague doctors. Torquato believes these few-of-a-kind designs are what are drawing consumers to Etsy during Covid, first for masks and now for card holders.
"I think consumers love to come to Etsy because they can find unique… handmade items that are not mass produced," said Torquato.
Deb Pfeifer, owner of Etsy store DebsDaysDesigns, said that she feels consumers also particularly value small and USA-made businesses with direct maker-to-buyer lines of contact for these sorts of pandemic purchases. From July to August, her store's vaccine card sales increased 393%.
Like Torquato, she thinks her handmade fabric card cases offer a unique way to reflect the owner's personality. While many are purchasing holders simply to store their cards in cute styles, said Pfeifer, her fold-over holders also let people be more discreet about their vaccination statuses. This is a benefit as vaccination status has become increasingly politicized and divisive. Pfeifer, however, doesn't explicitly highlight this benefits on the listing.
Pfeifer herself is vaccinated and hopes her products help "support the health of [her] community by getting more people vaccinated," but said many in her home state of Idaho don't feel the same way.
Clothing startups buy in
Bigger businesses are also getting into the card holder game, creating new products or marketing old products towards new uses. Vida — a brand that uses a collective of artists to design products then manufactures, ships and sells those products — launched its #Vaccined line of apparel, phone cases and masks in May and added vaccine card holders in June. The product addition required quick planning and manufacturing, explained Vida's Founder and CEO Umaimah Mendhro.
"We closely monitor the market to see how consumer needs are evolving and also regularly brainstorm internally about what we anticipate consumers will need in the near future," said Mendhro. "[We] were able to quickly secure a supplier who meets our high standards for design and quality [for our vaccination card holders]."
Other brands like accessories and fashion brand Clare V instead plan to highlight preexisting products that speak to the need. Passport-sized travel accessories are large enough to fit vaccine cards as well. After being featured in numerous roundups for stylish vaccine storage, the brand plans to invest in marketing narratives that highlight the new use-case.
"All of our products are multi-use," said Clare V president, Molly Leonetti. "This is just one more thing that you can use our products for, so we definitely want to address it."
A growing opportunity
Leonetti said 2020 was the most the difficult year that Clare V has ever faced. But, thanks to the brand's localized production, it was able to quickly pivot product to changing demands. Bag sales went down while the brands' loungewear grew rapidly. "[To] deal with the peaks and valleys [of demand] we tried to really respond to the customer need in the moment," said Leonetti.
Card holder growth is up dramatically this month. However — as in the mask category — anything from decreased Covid cases to loosened vaccine mandates could change that. Moreover, while many purchased masks in bulk, many will only need one vaccine card holder.
Pfeifer, however, believes there's still significant room to grow. "We have a lot of people who still… have not been vaccinated across the country," said Pfeifer. "I think if we could get even half of those people that still haven't been vaccinated [as customers], there's still a big potential for growth."