Brands are pivoting to offering at-home office perks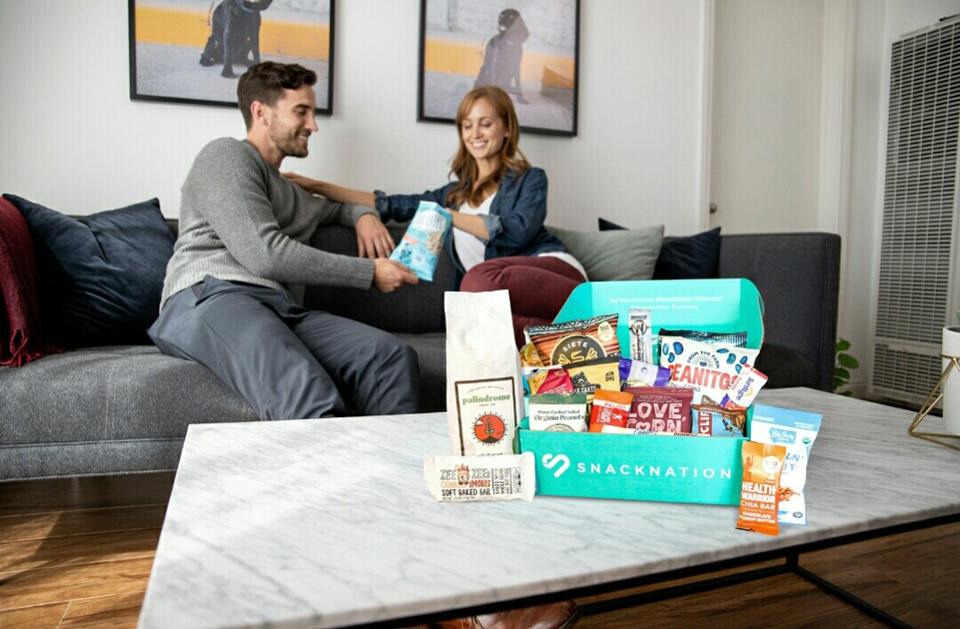 People aren't going to offices anymore, and the businesses that provided work perks are pivoting to offer employees benefits at home.
For some of these companies, it's a means of survival. With offices closed and many clients' businesses cutting costs, the first expenses are nonessential costs; businesses offering perks are almost certainly in that bucket. To offset potential churn — and even potentially add new clients — some B-to-B players in charge of stocking startups' kitchens and providing corporate gym memberships, are expanding what they offer to meet clients where they are. Meanwhile other consumer-facing businesses are seeing new revenue streams from potential corporate clients. Put together, office perks are now being fashioned as at-home perks.
Here are some of the pivots some businesses have recently made.
Virtual fitness
Gympass, a B-to-B service that allows employees to visit gyms or clubs across cities while traveling, has pivoted to full-on virtual fitness. With so many fitness facilities being shuttered, Gympass U.S. CEO Marshall Porter said it saw major interest in clients looking to increase employee engagement and productivity. 
Corporate clients who have hundreds — or even thousands — of employees working from home are looking for new ways to keep homebound employees engaged. "We expect that work has changed forever, and people are getting used to working out from home," he said. "Our job is to create an all-in-one solution for the end user." Gympass' existing corporate clients include GE, Unilever and PayPal, but it has since added dozens more, which "run the gamut from small startups to large international corporations." The company focuses on recruiting large tech companies and banks, said Porter, given the bigger workforces and longterm contracts.
As of May, about 2,000 studios are streaming live classes on the platform, with plans to have 10,000 connected via Gympass by the end of the month."This is something that wasn't really digital until two months ago, including the ability to book time with personal trainers. The company also recently expanded the benefits to include online mental and financial wellness resources.
Consumer-facing digital fitness brands are also making similar shifts in offerings, adding exclusive B-to-B packages. Virtual workout startup P.Volve recently added a corporate plan to its platform called the "B2B Self Care Bundle for At-Home Workforce" at a special pricing. The package includes two free Zoom classes, along with subsidized rates on monthly streaming classes (at $4.99 vs. $19.99 and 30% discount on equipment. Employees can also add on a discounted studio or ClassPass membership. 
Another streaming workout platform, Jetsweat, is taking up a similar strategy. The startup has a "full corporate wellness offering" that allows companies to subsidize Jetsweat memberships for their at-home employees.
Mental health solutions in the time of the coronavirus
B-to-B digital therapy provider Big Health is also seeing increased interest from employers, especially those with large remote workforces. Starting March 12, the company announced a free "community access" version of its automated therapeutic services, with tools for better sleep and anxiety-reducing, to employers seeking to enroll.
According to Big Health CEO Peter Hames, the company has "been able to roll out help to over 150 companies that cover over two million U.S. employees," including Nike, Target and CVS, and plans to continue offering it at no cost throughout the crisis. 
"We know benefits leaders are swamped right now, so we're trying to make it as easy as possible to get effective mental health help to their populations," said Hames. Big Health plans to expand the range of products to help with more mental health issues down the road.
Food and snack replenishment
As Modern Retail previously reported, prepared meal service Freshly launched its employee benefits program at the end of April. It lets corporate clients either completely subsidize meals that are sent to employees' homes, or offers the workers discounts. Since the debut, the company now has over 40 corporate partners, with weekly deliveries to a total of more than 3,000 employees across the country.
Meanwhile, SnackNation, which delivers healthy snacks, drinks and coffee to offices, began offering work from home "wellness boxes" back in March, which can be shipped to individual employees' homes. The company modified its platform to allow any company's point-person to order, with the ability to set a budget and enroll employees to receive boxes.
According to a company spokesperson, in the past two months the service has seen an increase in interest from new companies "who previously thought they needed full service" solutions for office replenishments. The new clients range from big companies to SMBs, with the swapping to home deliveries helping make up for canceled office deliveries. 
So far, the company said: "vast majority of members have stayed with us," either by keeping their regular in-office shipments, pivoting to work from home boxes, or opting to temporarily donate their monthly shipments to charities like food bank and frontline healthcare workers." Of those who paused, "most have committed to restart dates" for when they anticipate returning full time "or even partially" to the office. 
Happy hour
Alcohol delivery service Bevvi, which started operation as part of WeWork Labs, specializes in office events catering. But when many of its clients shuttered their doors to work from home, the company pivoted to selling booze directly to consumers. According to CEO Dipanjan Chatterjee, "When our B-to-B operation started to dry up," it immediately went the DTC route to take advantage of the home delivery demand in New York and Miami.
The company is now in the process of merging the two services with employer-subsidized home deliveries. The idea, which is still in the works, is to allow corporate clients to buy digital gift cards to give out to remote team members. "The employees can use them on our current platform to buy alcohol for their own use," said Chatterjee.