Brooklinen's retail expansion aims for neighborhood appeal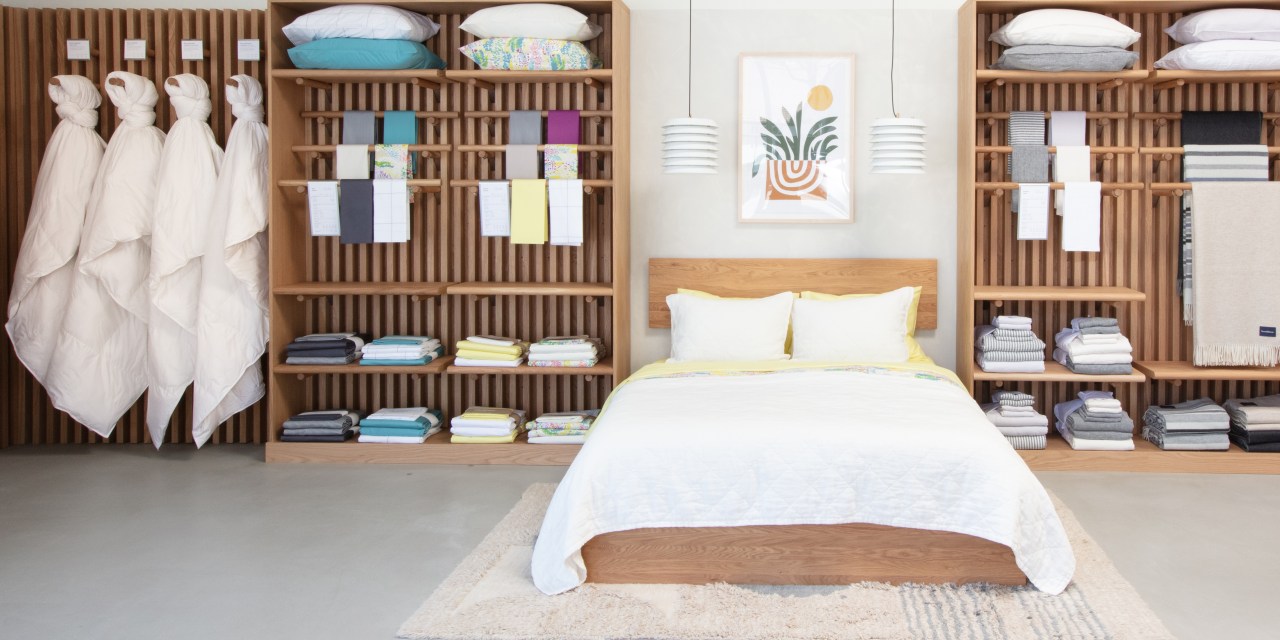 Charlie Schuck
After launching in 2014, direct-to-consumer linens company Brooklinen became a darling of the e-commerce world, thanks to its efficient e-commerce operation and ubiquitous podcast ads. Now, the focus is on physical retail in trendy locations.
This summer, the brand opened three more high-end linens and housewares store in strategically selected neighborhoods in Portland, Santa Monica and Philadelphia, joining existing locations in the West Village and Williamsburg. So far, the expansions are helping to grow sales, with an average of one in three in-store customers make a purchase, plus boosts in online sales.
"Anytime we open up a physical retail store, not only do we see that driving business within that market but we also see a bump in ecommerce sales," said Brooklinen's vp of retail Josh Illig. "
The expansion is part of a larger transformation to grow beyond its signature offering — Brooklinen in 2021 launched its pillow brand Marlow, and also plans a hospitality business.
So far, the stores are drawing in new customers who have heard of Brooklinen but never made the leap to order sheets online, Illig said. The store experience is interactive, as the bedding, towels and other housewares items are out of the package and set on the shelves for shoppers to touch and see.
"Once they're in store, they see all these options," he said. "We get people pulling down samples of our colors, and making their bed in our store."
Illig also said Brooklinen is prioritizing inventory by making sure the most popular items in a store are in-stock so customers can walk away with their purchase. That means carefully looking at insights of each store to see what is more popular with customers in some locations than others; colorful sheets, for example, are more popular in Williamsburg than the West Village store, Illig said.
Illig credits the early success to carefully chosen store locations. Brooklinen selected the locations based on where other DTC brands are located, leveraging e-commerce insights to determine where customers are and looking at neighborhoods that are a fit for the brand," Illig said.
"We always are really diligent and thoughtful about where we place our stores, with the aim that every single store is a profitable arm of our business."
But "each store has its own personality," Illig said. For example, each store has select fixtures and aesthetics that match meant to mimic the style of the local community. "We want to feel like that neighborhood store," he said. "We never want to feel like this big-box company, and I think that's something that truly differentiates us."
The Center City Philadelphia store is located near stylish and central Rittenhouse Square, and features a whitewashed brick interior. The Portland shop in the Pearl District has neutral grey tones and a slightly industrial feel. The Santa Monica location, a glassy bungalow, is down the block from a Whole Foods and across the corner from a Bluemercury.
And the San Francisco location opening later this summer is in Hayes Valley, a shopping district of the city that also houses Allbirds, Parachute, Warby Parker and Away locations.
Following the San Francisco opening, Illig said, the brand plans to study the stores to see what works, what doesn't and build a foundation for future expansion. He warns against brands scaling in-person operations too quickly.
"We don't necessarily want to force ourselves anywhere," he said. "We really want it to be that we're being pulled in and that it makes sense both for the community and for the brand."
The move of DTC brands to physical stores makes sense in this moment given the rise in the number of shoppers heading out following the lockdowns during the pandemic, said Alex Cohen, a vice president with the commercial real estate arm of Compass.
E-commerce sales accounted for 14.3%, or $250 billion, of total retail sales in Q1 2022, according to the data from the Census Bureau of the Department of Commerce, down from 14.9% of total sales the year before.
Cohen said during lockdowns, the share was as high as 19%, and the drop in share indicates a desire for customers to get out and shop.
"The top tier malls are, in general, performing. We have minimal vacancy considering what happened during COVID," he said.
He also noted success in outdoor retail plazas or shopping districts that once catered to tourists now showing popularity with Millennials such as the fashion district in Miami — a side effect of the "Millennial migration," Cohen said.
Roland Figueredo, director of business development with King Retail Solutions, said having a physical store allows brands to have an in-person interaction that can't be replicated online. Another benefit: consumers in-person may see more products than they do online, with the opportunity for eye-catching displays or exclusive in-store buys.
"You're probably spending more time walking around the store, as opposed to spending 10 or 15 seconds on a webpage," he said.