'Buying things that make them feel happy': Dresses and bright colors are driving sales at apparel startups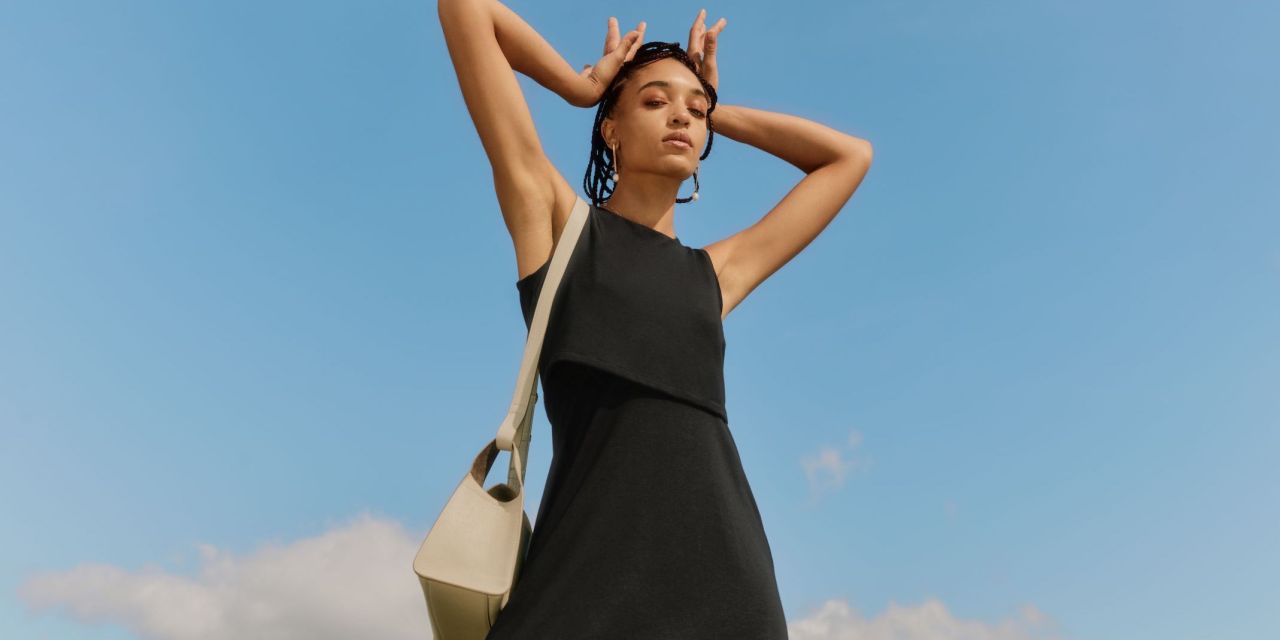 Cuyana
As the United States begins to reopen, small fashion startups are trying to stay ahead of shifts in consumer behavior.
The fashion industry struggled during the pandemic, with economic uncertainty slowing discretionary spending. Small fashion brands, with limited assortments and nimble business teams, pivoted to e-commerce and comfort. Now, these startups are betting on brighter colors and dressier silhouettes to drive sales, as shoppers are once again eager to return to stores.
To put it mildly, 2020 was a difficult year for fashion. According to McKinsey's State of Fashion Report, the industry's global economic profit fell by 93% from 2019 to 2020. Moreover, the pandemic only furthered the push to e-commerce — online sales of apparel and accessories grew 22.2% between 2019 and 2020, according to an estimate from eMarketer. Like larger retailers and brands, small fashion startups responded with store closures, staff layoffs and a rapid shift towards e-commerce.
Responding to the crisis
"The uncertainty [was] the hardest part," said Shilpa Shah, the co-founder of sustainable clothing and accessories brand, Cuyana. Cuyana was founded in San Francisco in 2011 with a focus on the handbags and apparel categories. Cuyana started as an online-only direct-to-consumer brand, and the company has since opened seven brick and mortar storefronts in US cities, and also moved into jewelry. "Our number one objective [last year] was to make sure Cuyana would still be here," Shah said. To ensure this, Cuyana had to temporarily shut down stores and lay off employees.
Shah said that Cuyana's bags business in particular, "took a hit last year because you don't really need a new tote bag to go from your living room to your bedroom," said Shah.
La Ligne, an NYC-founded apparel brand focused on everyday essentials, "started off doing promotions in a way we never had before," co-founder and CEO Molly Howard said. In previous years, La Ligne held just one sale on Cyber Monday. But last year, La Ligne started hosting sample sales and offering multiple discounts of up to 15% over the course of the pandemic. Howard said the new approach to sales "led to an uptick in traffic," but did not say by how much. 
The DTC apparel brands that were able to best weather the pandemic were the ones that sold at least some items that still fit with consumers' at-home lifestyle. For Cuyana, that included loose-fitting silhouettes and loungewear, while La Ligne was buoyed by sweater sales.
Looking toward the future
Now, with 2020 in the rearview mirror, these brands are now focused on adjusting to the shifting consumer preferences they've seen in the past few months — which have changed drastically as vaccinations ramp up. Over the past couple of months, executives at larger retail companies have said on earnings calls that sales of dresses, denim and sandals have started to pick up.
"In the last week of February, seven of our top ten selling items were dresses and we have seen that momentum continue to grow throughout the spring," Anthropologie chief merchandising officer Anu Narayanan said in an email. "Things are opening up, events are being planned, and we see from our customers that they have a great interest in celebrating and buying things that make them feel happy."
Smaller startups are seeing similar shifts in behavior. According to Shah, bags are back, and bright colors are in. Cuyana's latest bag launch — the "Double Loop" double-handled, convertible crossbody offered in a variety of colors — was its top selling style in "the entire business" for six weeks straight in March. The brand also just launched a mini version of the same style.
Howard also said LaLigne has also seen a "hunger" among their customers brighter colors over the past few months. To meet this need, La Ligne — who is known for a Parisian understated blue and white stripe — just launched a "New York Forever" merchandizing campaign whose tagline reads "Bright Stripes, Big City," and the line features bright orange pullovers and red silk dresses, among other items.
"Our dress sales, if you look at the last 30 days versus the same 30 days in 2020, are close to 100% up and [what's] down is sweats and things people were [gravitating] towards in early April 2020," said Howard.
Moreover, while consumers are ready to dress up again — comfort is still the deciding factor for many shoppers. Cuyana launched a new washable silk in March, which Shah described as a play for customers newly interested in "dressier, [yet] comfortable pieces." Shah said the line exceeded Cuyana's growth expectations by more than 50% in its launch week and "drove launch-week revenue on-par with what we expect to see from strong hero bag launches," a first for the brand within the apparel (versus accessories) category.
Lastly, consumers are showing interest in human connections, as they figure out what to wear in a new world order. La Ligne saw eight times the normal amount of emails to its virtual "styliste" styling service in recent months, while Cuyana saw in-store foot traffic increase almost three times from February to April.
Shah thinks a return to store traffic is unsurprising as "so many consumers have been disappointed with (the quality of) e-commerce purchases," that they can't adequately assess as they could in store. Shah thinks Cuyana's commitment to high quality products will shine through even better in person and drive consistent in-store interest. Cuyana hasn't explicitly promoted stores via events or marketing to drive this traffic uptick, instead relying on quality product and consumers self-initiated desires to return to store.
After having to temporarily close down La Ligne's store in New York and opening a second storefront in Dallas in the midst of the pandemic, a significant drain for a small company, Howard is also excited for a return-to-store.
"[Our New York store] wasn't even open for a full year before we had to shut it down," said Howard. "It's a good feeling that people are starting to walk in again."