Cheatsheet: Tracking Casper's path to a potential IPO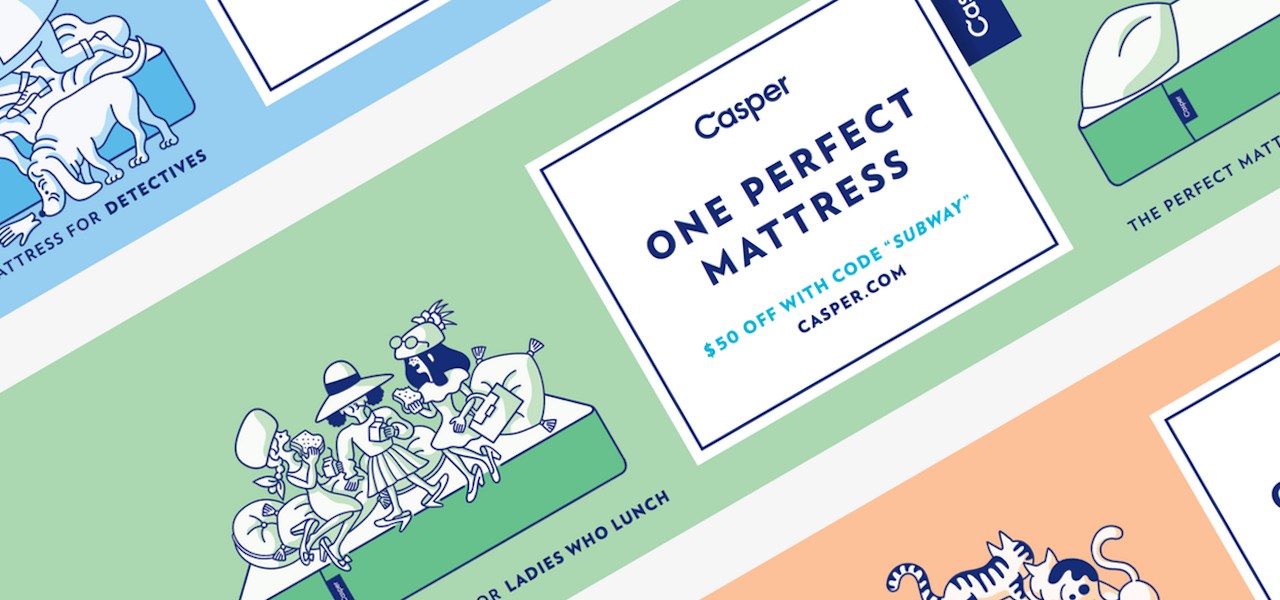 On Wednesday, Reuters reported that Casper is looking to hire underwriters for an upcoming IPO, sparking fresh speculation on the rumor that Casper would be the first direct-to-consumer company to go public, one that's circulated since 2017.
Casper has declined to comment, but according to a source close to the company, it's a possibility that seeking out underwriters, a move that Reuters pegged to April, only means that Casper is looking to shape up its business viability for the long term, and not that an IPO is imminent.
Among will-they-or-won't-they industry speculation, it's worth taking stock of how Casper got to where it is now, one of the most highly anticipated public offerings of the year that's yet to be firmed up. According to the source, it's unprecedented territory: "What they've done, regardless, is write a new playbook for consumer brands."
Here's what you need to know.
Numbers to know:
Casper has raised $239.7 million in six rounds of funding. Lead investors include Lerer Hippeau, IVP and Target.
In its latest round of funding, its Series C in 2017, Casper earned near-unicorn status, with a $920 million valuation. The company hasn't publicly raised money since, but a source familiar with the matter told Digiday that Casper had accepted a new injection of funding last month. (Casper did not respond to a request for comment.)
Most recently, the brand confirmed that it hit $300 million in revenue in 2017 and projected it would reach $600 million in cumulative revenue in 2018, a figure that hasn't been confirmed.
Casper reportedly employs just over 500 people, and has sold more than 1 million mattresses.
Key milestones:
2014: Casper launched online, offering a new kind of mattress that could be shipped to customers' homes in a box. Each purchase came with a guaranteed 100-night trial. That year, the brand raises a seed round and Series A round of funding, putting a little over $14 million in the brand's pocket.
2015: Casper opens its first showroom in New York City, and raises its first hefty funding: a Series B round of $55 million. Amazon announces Launchpad, a startup spotlight platform. Casper is one of the featured startups.
2016: Casper announced its made $200 million in revenue in its first two years in business. It starts testing an in-store retail partnership with West Elm.
2017: Casper opens 15 pop-up stores around the country. That year, it's reported by Recode that the brand was in talks to sell to Target for $1 billion; at the time, the brand was valuated at $550 million. The deal falls through, but Target leads a $170 million Series C.
2018: Casper hires its first CFO, Greg MacFarlane, who previously worked at H&R Block. It also announces the hire of Jeff Brooks as CMO. The brand opens its first permanent store and says it plans to open 200 brick and mortar stores over the next three years at the same time as Mattress Firm, a top mattress retailer, announces bankruptcy.
Why it matters:
Casper's IPO has not only been highly anticipated because of how long rumors have swirled. Casper would be the first in a string of other high-profile, well-funded direct-to-consumer brands to go public, subjecting itself to quarter-by-quarter earnings reports that lay bare its ability — or lack of — to turn a steady profit, continuously acquire customers and grow revenue at a healthy enough rate to please stockholders who will be holding their feet to the fire.
As the early direct-to-consumer retail cohort grows up, VCs and analysts have staked predictions that 2019 will be the year that one of them — Casper or potentially Warby Parker — exits. Andrea Hippeau, principal at Casper investor Lerer Hippeau, said to watch for an IPO this year from one or more of the more prolific DTC brands.
For Casper, its size and valuation has also put it into a corner for an investor to please the VCs that have backed it. Valued at nearly $1 billion, it would be a hefty investment for a retailer to be on. In 2017, a potential Target deal fell through, which led to the retailer investing $70 million in the company instead.
"When you've raised this amount of capital and you have the valuation that Casper has, there are only so many options. There are not many companies that can pull an Uber and can stay private that long," said an investor on background. "It behooves them to at least be aware of what shape an IPO-ready company is in, so it can get there ahead of an IPO."
Sizing up the competition:
Casper contributed to an online bed-in-a-box boom, and there are currently too many competitors to count. If you do try to count them, like Curbed did last year, you'll land at around 120 mattress competitors.
The most notable ones include Tuft & Needle, which recently partnered with Amazon to design an exclusive mattress, Saatva, a luxury bedding brand that has taken the online bed out of the box, Purple, which is now public after being acquired by a shell company in 2017, and Allswell, a Walmart-owned competitor.
There's a price to all that competition. Saatva CMO Joe McCambly said that the cost-per-click on ad search terms like "best mattress" has spiked to $15. Purple CEO Joe Megibow said that the proliferation of mattress companies, and low barrier-to-entry for mattress startups that can find a manufacturer and slap branding on a similar product has led to just as much confusion in the traditional mattress market that disruptors set out to topple.
Casper, which has raised the most venture capital of the bed-in-a-box competitors, has been able to reach customers through marketing campaigns.
What VCs are saying:
"There are a couple of very simple criteria that influences the perspective of a VC. To us, it starts with a disruptive consumer value proposition. Are they offering something different? The second is defensibility, do they have an unfair advantage in offering a solution or project that will allow them to be the only game in town?" Scott Friend, principal at Bain Capital Ventures, said in December. "The counterexample of that is Casper. They're a great mattress brand but there are lots of them now, and that makes their job incredibly hard."
"Not all DTC companies have stayed truly DTC. Casper is a brand, a business now, by selling in Target. They killed the biggest retailer in the space with Mattress Firm. For us, that shows success," said Mike Duda, partner at Bullish, Inc. Still, at a certain point in time, you have to see a light at the end of the tunnel for viable, long term success."
—
Sign up for the Modern Retail Briefing to get retail news, analysis and insight delivered to your inbox every morning.