Chewing gum is getting an e-commerce makeover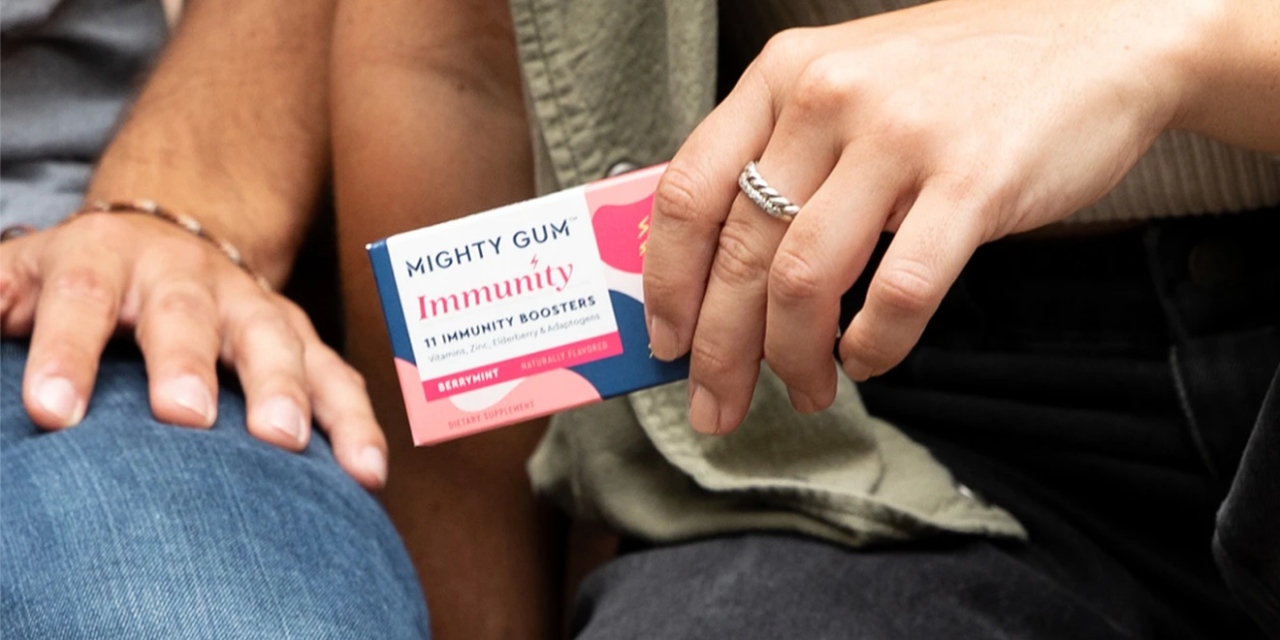 Few industries have been hit harder by the online shopping boom than the chewing gum business.
Over the last decade, the chewing gum bubble — when the product was a staple of American grocery and pharmacy purchases — has fully popped. According to market research firm IRI, the number of households that reported buying gum plummeted from 65% in 2016 to 51% this June. The pandemic in particular accelerated those losses: In 2020, chewing gum sales fell 20%, largely as a result of people spending less time in stores.
Chewing gum does not lend itself well to e-commerce. It's traditionally a small, low-priced purchase that people tend to add to their carts while waiting in a checkout line, rather than seeking out on their own. Few retailers have found a way to convince customers to buy gum in an online shopping environment. Instead, to bring the industry into the e-commerce age, a small group of direct-to-consumer startups — like Mighty Gum, Neuro Gum and Quip gum — are trying to rebrand gum as a high-end product that people want to order on a standalone basis.
The reasons for the chewing gum collapse are difficult to untangle, said Joe Arena, an analyst who tracks the candy industry at IRI. One theory is that chewing gum is getting the boot particularly from health-conscious consumers, who want to avoid gum with aspartame and artificial flavors and colors. Another important factor, however, is the increasing popularity of e-commerce.
Arena said that front-end sales — purchases that are made right before customers check out — are responsible for between 85% to 90% of overall chewing gum sales. E-commerce was 7.8% of chewing gum sales in 2020, nearly double the 2019 figure (3.5%) but still well below the rate for the rest of the retail industry (13.6%).
That intense reliance on front-of-store sales has its downsides. Arena said that, increasingly, retailers have replaced chewing gum at checkout with slightly pricier, higher-margin snacks, like chocolate bars. It also means that when customers buy online, they don't get the same visual reminders to buy gum, unless an e-commerce site goes out of its way to recommend it.
As such, direct-to-consumer brands are moving away from the idea that chewing gum has to be an afterthought purchase. "The category leaders are effectively driving the price down," said Mathew Thalakotur, the founder of Mighty Gum, which sells gum for $4 a pack on its own website as well as in Anthropologie, Urban Outfitters and on Thrive Market. But, he said, the real potential is to move in the other direction — to sell gum that uses "premium ingredients" and adds real health value. "It's a matter of: how do you find consumers that are interested in chewing gum and are willing to pay sometimes 2x and 3x as much for a pack of gum?"
Where online sales happens
When consumers do buy gum online, a disproportionate share of sales comes from Amazon. Arena estimated that at least 50% of all chewing gum purchases made online come from Amazon. Companies like Instacart and Walmart, which handle a significant number of online grocery orders, rarely go out of their way to recommend chewing gum to customers. "These retailers, there's a limited set of products they want to have on their site because they don't want to overwhelm the consumer," Arena said.
While traditional brands, like Wrigley or Cadbury, dominate in-store sales, the brands that thrive online look different: Around 33% of e-commerce gum sales go to niche brands — as opposed to those owned by a conglomerate like Mars Wrigley — despite the fact that those smaller brands represent less than 2% of gum sales in physical stores, according to IRI.
Included in those niche brands are the rising crop of DTC gum makers that are attempting to redefine what chewing gum is. Each of these companies has positioned its products as something deeper than just a breath freshener: Neuro Gum, for example, specializes in caffeinated gum and claims that two pieces are equivalent to a cup of coffee, while Mighty Gum uses natural ingredients that it says boosts immunity. "That's the big difference between traditional chewing and what I like to coin as the second wave of chewing gum," Thalakotur said.
How to sell swanky chewing gum
Shane Pittson, vp of growth at DTC oral health company Quip, said that to convince customers to buy gum directly from them, the company has focused on innovating in packaging and aesthetics. The company launched its gum last December. "The gum market overall hasn't kept up with the trends of design and innovation," he said. Gum is often a product that people pull out to share with friends and as such, he said it should look sleeker than a crumpled pack. Instead of a traditional paper packaging, customers can buy Quip gum in a container reminiscent of an AirPods case.
Pittson said that Quip gum is often purchased in conjunction with the company's popular toothbrushes (though the majority of purchases for Quip gum thus far are standalone). The other DTC startups have also tried different routes of distribution. Mighty Gum, for instance, decided to focus on juice stores for retail distribution — Mighty Gum is currently placed in over 200 of them — because "if you're walking into a juice shop and spending $10 on juice, you're coming in with the mindset of my health is worth that investment," he said.
Even so, the goal is to drive people back to the Mighty Gum website, which he said is responsible for 80% of sales. Mighty Gum has also scaled back traditional advertising in order to focus on partnering with health-focused influencers like Melissa Urban, creator of the Whole30 meal plan.  
Arena, the IRI analyst, said that it made sense for gum brands to zero in on online sales. Rather than fight over in-store placements, "maybe that should be one of the top priorities for manufacturers in this space, where they unlock e-commerce to get the product in front of more consumers, in front of more households," he said.
These brands still face an uphill battle in convincing a large share of consumers to pay a premium — Thalakotur thinks it's possible. "Consumers don't have the expectation of chewing gum to do anything anything more than freshen their breath," he said, adding that changing perception is how he plans to encourage people to pay more for their gum.