'Connect the dots with publishers': Walmart is doubling down on livestream shopping with a new TalkShopLive partnership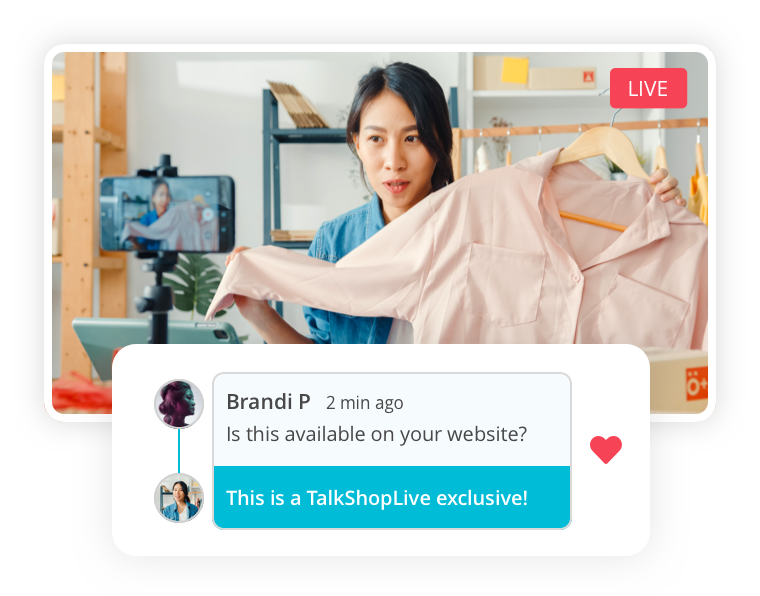 Walmart and livestream shopping platform TalkShopLive are partnering for one-click checkout integration across Walmart's product catalog on TalkShopLive's video commerce streaming technology.
Walmart first embraced live shopping one year ago with an in-app TikTok holiday shopping event. Since then, the retailer has partnered with platforms like Twitter, YouTube and Facebook for live shopping events. Moreover, Walmart launched its own live shopping website — Walmartshoplive.com — where it has aggregated recordings of its fifteen-plus forays into live shopping over the past year.

Walmart's investments in livestreaming are indicative of how many retailers are still trying to figure out the medium. Disparate brands — from Heinz to Petco to Pac-Sun — have experimented with livestreaming in the past year, yet no one clear social media platform has emerged as the go-to place for livestreaming. As a result, brands and retailers are experimenting with running videos across a bunch of different websites — while also still trying to direct viewers to their own website.
TalkShopLive was founded in 2018 by brother and sister duo Bryan and Tina Moore. This February, the startup raised $3 million in seed funding from venture capital firm Spero Ventures.
TalkShopLive's CEO and co-founder Bryan Moore said that what makes his company different from other livestream competitors is that his platform's embeddable videos allow viewing and one-click purchasing on any site. Social media platforms generally require users to shop in-app, versus allowing for cross-platform viewing and shopping. Other retailers using livestream partners or investing in in-house livestreams — like Albertsons or Nordstrom — use live shopping technology that can only be watched on their own brand sites.
Theoretically, if Walmart were to partner with both a celebrity and a publishing partner on a single live event using TalkShopLive's technology, that event could be broadcast on Walmart's page, the celebrity's page, the publishing partner's page and TalkShop.live simultaneously. Shoppers could watch — and one-click shop — on whatever platform was most convenient for them.
Prior to the TalkShopLive partnership, Walmart began ramping up investment in livestreaming during the holiday season this year — hosting everything from a pet food stream with celebrity chef Rachel Ray to a Cyber Monday sale hosted by musician Jason Derulo.
Walmart's VP of Brand Casey Schlaybaugh declined to share specific conversion rates for these events via email, and the retailer hasn't disclosed view counts for any of its events thus far. However, in its first livestream — a holiday shopping event on TikTok last year — the retailer said the event "netted 7x more views than expected" and grew the retailers' TikTok followers by 25%.
"We know shoppers are constantly looking for inspiration in new places, particularly on social media and are shopping more in the moment," Schlaybaugh wrote. "We want to continue to curate special experiences that live in dynamic, immersive environments and allow customers to shop seamlessly while also being entertained."
To do so, the retailer has partnered with both social media platforms — and was the first to use Twitter's livestream tech – as well as live shopping specific platforms like Buywith for influencer-led live shopping. Now, the retailer is expanding its ability to stream a single event across numerous sites with TalkShopLive.
"I lived in China for two years and I watched Livestreaming take off in Asia," said Moore. "I was like, 'I wish I had the power of livestream commerce in the U.S. for my clients, but it would have to look different.'" Moore attributes the early adoption of livestream commerce in Asia to a lack of aversion to in-app shopping. "Here in the U.S. — having been someone that works with talent, creators, influencers, brands and media – [I knew] none of them wanted to make their customers or their viewers to go download another app to get into that experience," said Moore. "They want to be able to have something that meets their audience where their audience already is."
TalkShopLive has thousands of small- and medium-sized online businesses and creators on its platform already — anyone can sign up to stream. Recently, the company added Microsoft and Best Buy as well as Scottie Pippen and Oprah to its seller base.
Walmart is using TalkShopLive for cross collaborations with publishers and influencers. In trial streams before the official partnership, Walmart used TalkShopLive's tech to host an event promoting IGN's "Shoppable Gift Guide," for example. The stream went out on Walmart, TalkShop and IGN.
"Our experience working with Walmart is that they're looking to connect the dots with publishers," said Moore. "We're a vehicle that works seamlessly for them to integrate livestreams with all these different publishing partners." TalkShopLive said its videos drive an 8% to 10% conversion rate with a 45% cart-to-purchase rate, without additional ad campaigns or prompts.
As Walmart's multi-platform strategy highlights, retailers are still trying to figure out where U.S. customers want to watch live shopping — and whether they will tune in on a regular basis at all. Jason Goldberg, chief commerce strategy officer at Publicis, earlier told Modern Retail there is no one livestreaming leader in the U.S. to match Taobao's dominance in China. Moreover, added Goldberg, consumers aren't necessarily used to heading to a retailers' site for shoppable entertainment.
TalkShopLive's Moore believes that his company might offer a fix for that. "I think where a lot of live commerce has failed to connect is being able to serve as a strong partner with media and publications, and I think that that's a big place where people will adopt new behavior," said Moore.