Dining booking platforms are expanding beyond restaurants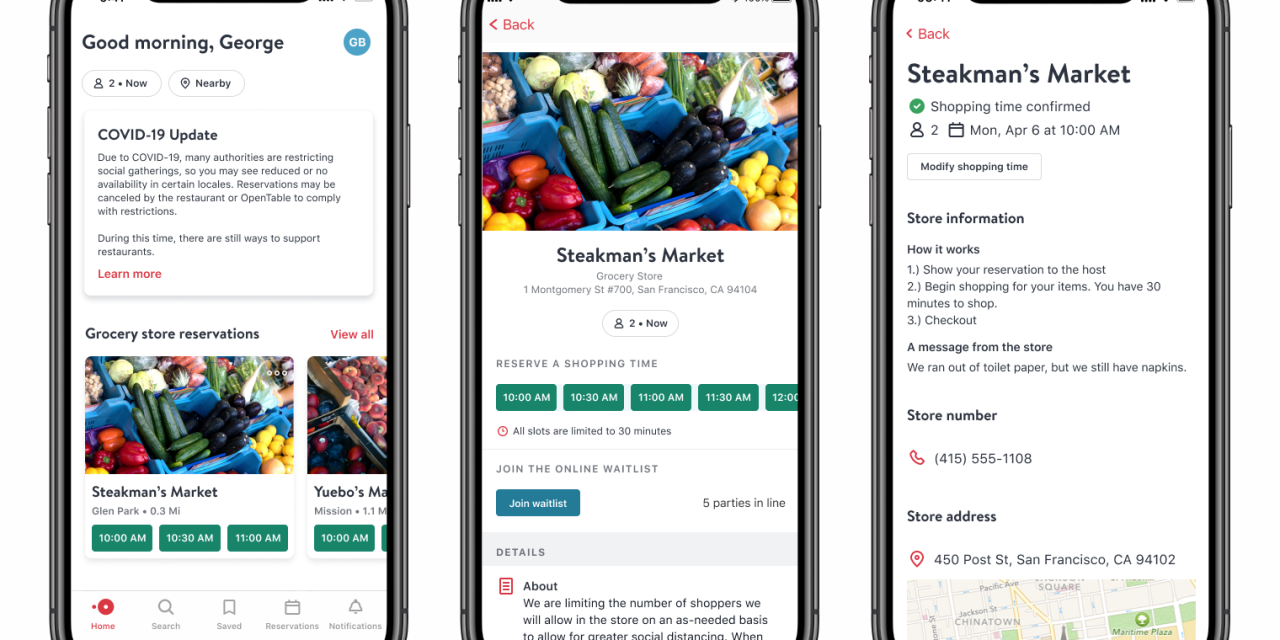 With no one dining in restaurants, reservation platforms are in the midst of a pivot.
As retail reopening looms, questions remain about how best to mitigate overcrowding and waiting lines. Now, booking apps typically used by restaurants to run dining reservations — such as Resy, OpenTable and Tock — are offering new services to try and solve these problems. This month, each company unveiled new services to help with appointments and takeout — in turn resulting in them wooing non-restaurant clients. 
All of these platforms relied on restaurant clients. Now as restaurants are either closed or relying takeout only, these back-end services are scrambling to expand their offerings to survive the year. And because no one knows what restaurant dining will look like in the near or distant future, the booking services and their hospitality clients have had to act quick.
Tock, which traditionally focused on reservations at high-end fine dining establishments, is preparing to enroll retailers to its platform in the coming weeks. "This is the week both small and large businesses realized the rolling quarantines will last for the coming year," said Tock CEO Nick Kokonas, and as owners wrap their heads around staggered opening strategies, "they're seeing that reservations are one of the more realistic ways to do it."
Existing clients had to shift their programs overnight. Thanks to the addition of a new tool that allows customers to book 15-minute increment slots to pick up or receive their delivery, Tock's fine dining members "figured out how to do carryout" during the first week of the outbreak, said Kokonas. The option helped Tock add over 1,100 international restaurants since March, which Kokonas said is currently bringing in around $2 million in takeout and pickup sales daily.
This demand for timed slots goes beyond food, said Kokonas. Tock has seen interest from "everyone from automobile dealerships to grocery stores to farms" for reservation booking technology to aid their reopenings, said Kokonas, who also co-owns restaurant group The Alinea Group. He also confirmed a women's apparel chain is another new Tock client preparing to use the site for styling appointments. "Like our curated delivery bookings, retailers are going to have to give customers a similar high end, safe experience to survive long term."
Earlier this month, OpenTable announced its own groceries tech solution, "free of charge," aimed at businesses looking to control crowding in their stores while allowing shoppers avoid long wait times on premise.
According to the company, the trip-scheduling tool is available for grocery stores, major retailers and "restaurants turned pop-up markets," So far, OpenTable says over 100 locations are live across several metro areas, including New York, Washington D.C., San Francisco Bay Area, Los Angeles and Chicago, that include chains like Woodman, DeCicco & Sons D.C.'s local farmers. Pop-up markets inside restaurants that have signed onto OpenTable are Los Angeles' Gwen Butcher Shop & Restaurant and San Francisco's Prairie and Tartine Manufactory, among others. 
OpenTable's chief technology officer, Joseph Essas, told Modern Retail that the company sees an opportunity in helping all sorts of businesses operate at modified capacities. "Our hope is for this new solution to provide similar support for retailers and grocers to help them safely manage the influx of shoppers."
Meanwhile, these platforms are expanding features for restaurants too. These businesses saw their operations shifted overnight, said Resy chief marketing officer Victoria Vaynberg, prompting the platform to reconfigure its existing functionality. Throughout May, Resy will roll out several front and backend tools, which are expected to all "have longevity" beyond the pandemic, said Vaynberg.
They include Automated Capacity Monitor, which allows restaurant managers to set a capacity limit on their dining rooms to avoid exceeding local occupancy regulations. Meanwhile, the Open Date Alert lets restaurants alert subscribers to their reopening date. Mobile Waitlist, which allows guests to join a live queue when within close proximity of a restaurant, is another way to reduce crowding at the host stand and bar area.
By the end of the month, restaurants can integrate Resy at Home for ordering and contactless pickup without being charged commissions, which also includes waived service fees for diners.
The company, which was acquired by American Express in 2019, is also fast tracking more new tools too. "It's become clear that revenue diversification is top of mind," said Vaynberg. For example, restaurants that previously would have never considered take out now see it as an essential part of their business going forward. "This provides an interesting opportunity as far as bringing different types of establishments onto Resy."
As Kokonas put it, the days of wandering and window shopping may be gone for the time being; coronavirus has ushered in the next phase of food pickup. "I think retailers are going to turn to appointment based visits indefinitely," he said.