DTC brands are partnering up to create communities (and save on customer acquisition costs)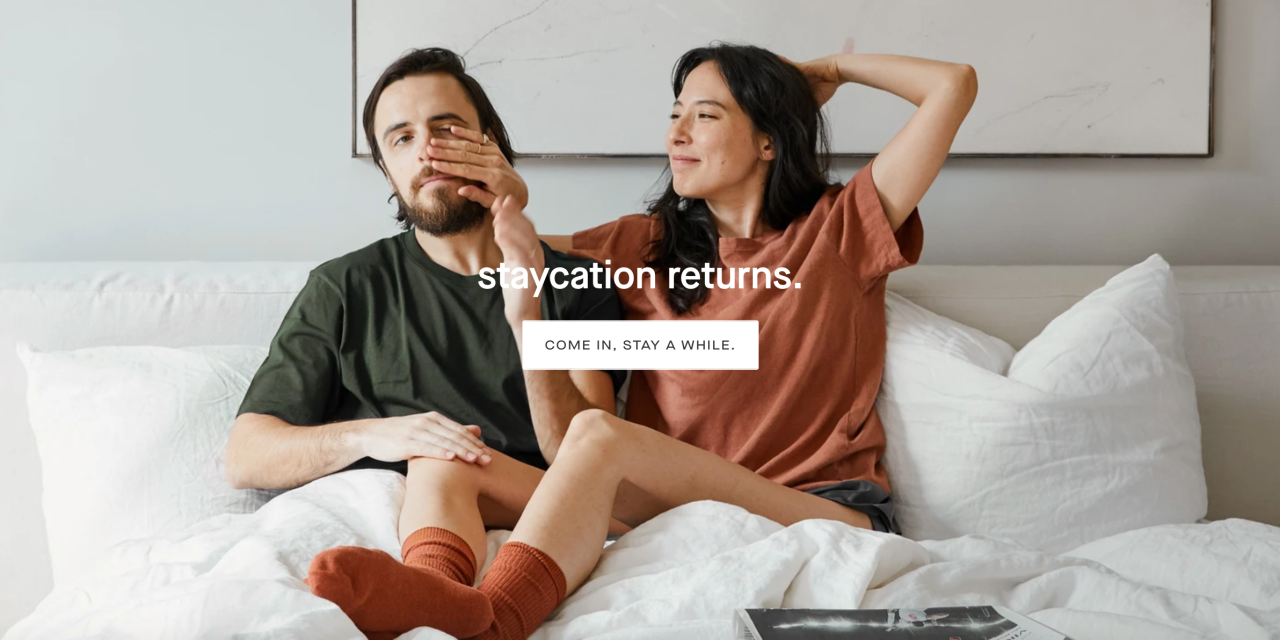 With more need to cut through marketing saturation than ever, brands are consolidating content to reach overlapping customers. They're trying to conserve cash, resulting in an accelerating rush to be a brand curator.
This month marked the debut of several brand community concepts in this vein: DTC-oriented Staycation by Maude and Elliot's Virtual Mall, along with independent sellers-focused Take Care Market.
While the three project launches differ slightly in execution, they all have a goal of attracting new eyeballs during this retail slowdown period. All three talk about community as a way to stay afloat, with a focus on customer acquisition and cheap visibility. Times are tough, with dozens of companies laying off and furloughing staff; but the emerging tactic of tapping into a so-called community is a way to differentiate one's brand; banding together has become a popular marketing trope among the e-commerce industry. 
Collaborations among digital consumer brands, mainly consisting of product launches, have been used in the past to acquire customers cheaply. However, this new iteration of the trend differs by encouraging multiple brands to rally around a cohesive marketing strategy.
Staycation by Maude, spearheaded by the sexual wellness brand, is being described as an online publication of brands "brought together to do good and help you de-stress—at home." In addition to the giving back aspect, the site is meant to feel like "the ideal apartment" to reflect the wellness needed during this tense climate. 
This is the digital followup to last year's physical Staycation launch, in which the company curated brands at its New York popup. While the website wasn't originally planned to go live this month, with so many people home, Staycation ramped up by recruiting founder friends of Maude CEO Éva Goicochea.
The coalition of nearly two dozen established and newer DNVBs — including Great Jones, Cora and Brooklinen — will push their content to the joint "staying in guide" as they navigate coronavirus' effects. The branding idea, said Maude's senior manager of marketing and content Lily Sullivan, is: after years of the retail startups investing in in-house blogs, Staycation can bring their individual audiences together for crossover discovery and variety. 
Sullivan, who's heading the project with Goicochea, stressed that unlike the physical showroom, this version isn't being used as a shopping platform. And while participating companies don't pay a fee to be on-boarded, they're required "to offer more than products to the audience." For example, cooking-focused startups Brightland and Great Jones, which have been producing daily virtual events, are contributing food related content.
Content creation has long been a cornerstone of digitally-native brands' growth strategy, said Sullivan. This is especially true for those with limited products, who aren't constantly "dropping new colorways" to keep customers' attention. Accompanying email subscriptions are also important for last click attribution, and so the Staycation weekly digest is to keep the community in the loop on the companies' news and product announcements.
Communities of affiliated brands are always great for acquiring new customers and building connections, "especially during times when ad spend is reduced," said Laura Russell, director of strategy at digital ad agency Adlucent. "The benefits have been two-fold: it comes at little to no cost to them," and also gives customers a sense of support from their favorite brand during these uncertain times, said Russell. 
On the independent sellers end, wellness-focused Take Care Space this month launched Take Care Market, a collective platform "where consumers can discover small businesses." Founder Ji Bowlus said she came up with Market as a way to address the impact brick and mortar closures have on artisan sellers. Many of them, herself included, typically rely on a mix of e-commerce and physical markets for revenue. So when the pandemic hit, "We thought 'How are we going to sell our goods?'" she said. Because consumer discovery has gotten increasingly difficult and costly for craftsmen on merchant marketplaces like Etsy and Society6, she said the urge to create a new space was even greater. 
With many taking up hobbies like cooking and crafting, one way to reach new customers is by catering to these newfound habits, noted Bowlus. She cited gourmet provisions brand Old Salt Merchants, whose sales have spiked since being featured on Take Care, as a successful example of this demand.
Bowlus said she hasn't spent dollars on advertising the site yet, instead relying on Take Care's existing social reach and her community of merchants and their large followings. Like Staycation, for merchants to be featured on Take Care Market is free; They have the option to provide cross promotions, such as product samples and 20% promo codes for referred shoppers who make a purchase through the platform. 
She hopes collaborations between founders will be the key to retention if their businesses survive. "They don't want to lose that customer they've developed a loyal relationship with," Bowlus said, and in the meantime this is one way to maintain a connection and make sales. 
The digital mall that e-commerce back-end provider Elliot came up with lives on a collaborative Google Sheet, and virtually mimics the traditional brick and mortar retail plaza — chock-filled with clip art and other nostalgic aesthetic touches. The page features a range of contributed content by Elliot-affiliated brands for the platform's partners and their adjacent networks. This includes graphics of a food court with direct to consumer food and beverage brands and a Mean Girls table, as well as a "girl power" floor with stores like Glossier and Mejuri jewelry.
The Elliot team acts as administrators, granting access to those who want to edit and add their own content to the spreadsheet, where inside jokes are encouraged.
The mall's featured tenants, whose sites are linked to, include DTC houseware brand Miracle, Daily Harvest and Recess. Elliot is also hosting weekly founder-led shopping sprees on Zoom, with the latest featuring ZibraIQ's Tiffany Zhong, who shared her "favorite Elliot mall brands" and give away products.
According to Elliot co-founder Marco Marandiz, the company "created this mall so that our friends in DTC and e-commerce" can share and discover products in a unique setting. While Take Care Market and Staycation are consumer-facing, Elliot's B2B approach — the entire project is focused on its alleged community of e-commerce brands — is to appeal to potential new clients.
The company's behind the programs say they've seen good results thus far. Maude, for example, said Staycation is receiving positive feedback from brands and customers. "We're still adding more people, and have brought on six more brands since launching last week," confirmed Sullivan, who said the site received 2,500 unique views on launch day, as well as email newsletter sign ups to date. 
Whether these programs have longevity remains to be seen. Garin Hobbs, director of deal strategy at growth marketing company Iterable said he "doesn't see these online communities lasting too long beyond the pandemic." Hobbs explained that when companies disconnect this type of content from the products or services they sell, "consumers lose the psychological connectivity" to the brand. 
While the model helps with acquisition and discoverability, it also risks losing some control of the overall brand experience, as well as the search and traffic analytics that help inform companies' strategies. Furthermore, after discovering a company, consumers are likely to head directly to its website to engage or buy, Hobbs said.
Still, there are benefits to brand communities, such as giving smaller DTC companies affiliation with larger brands by merely existing in the same space. Beyond the topical messaging surrounding the pandemic, Hobbs said the "community" trend won't fully disappear. He described it as the latest step in the evolution of curated subscription boxes, in which online communities are replacing the brand awareness those boxes aim for. "The model is evolving with e-commerce and is likely here to stay."
That's at least what these new coalitions say they are banking on. "We're banding together to weather the storm," Bowlus said. "Not just during this hardship, but for the long run."