DTC brands are sponsoring second-tier sports to find new audiences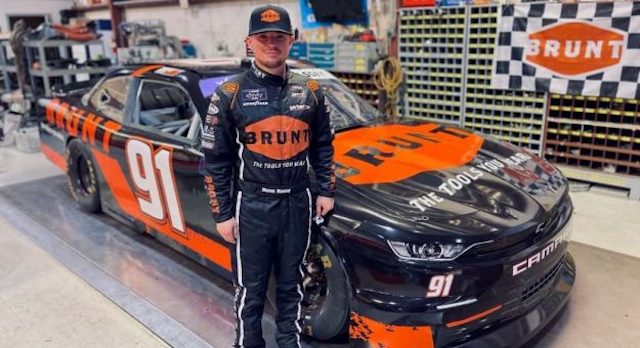 Brunt Workwear
As brands try to find new ways to reach new audiences, some DTC startups are turning to sports advertising. 
But instead of pouring millions of dollars into halftime commercials, a number of DTC brands are tapping less mainstream sports and their respective players, including racing, bull riding and surfing. These companies include DTC workwear brand Brunt Workwear, sustainable footwear brand Cariuma, Peloton and Vuori, among others. 
As digital advertising costs continue to increase, startup brands are looking to diversify their advertising channels. Many startups have relied on out-of-home campaigns and pop-ups to create buzz around their products to augment digital channels. But with events returning, more of these companies are looking to lesser-tried advertising tactics, such as specialized sports and athlete sponsorship.    
Going where the fans are 
Brunt Workwear began its NASCAR advertising venture with a partnership with up-and-coming driver Mason Massey, who drives for BJ McLeod Motorsports. 
Brunt founder Eric Girouard said that the company, which launched in 2020, made the conscious decision to expand its marketing channels early on. This meant not only decreasing its reliance on Facebook and Google ads, but also thinking outside the box to increase awareness among workwear customers. 
That's where professional sporting events come in, Girouard said. 
The idea to work with NASCAR came from Brunt's post-purchase surveys, many of which cited sports ranging from auto racing to football as major interests. "But we knew we wouldn't get an NBA or NFL spot anytime soon, so starting with a more specialized sport seemed more feasible," he explained. 
When sponsoring a NASCAR team, a brand typically works with the group on sponsorship deals and brand placement, including where logos show up. For instance, there can be multiple brands on one car — with the more prominently featured spots being more expensive. On average, a NASCAR sponsorship can cost anywhere between $200,000 and $1.5 million. Girouard did not disclose the Brunt-Massey deal, but confirmed the figure was a lot more affordable for the company compared to advertising within the top four U.S. sports. 
Then there is the accompanying broadcast attention, Girouard said. "Not only are we reaching 100,000 people in the stadium, but also millions more at home," he said. "During our NASCAR-related events, we see our website traffic jump as much as 14%," said Girouard. 
Since last year, the company has sponsored two races, and will be doing six more this year.  
To support the sponsorship, Brunt's marketing team runs social media and email campaigns to promote the event in the weeks leading up to the race. "We also do a lot of live broadcasting on social media during the day of the event, followed by a recap of the drive," he said. This livestream tactic has helped increase engagement among Brunt's followers, generating thousands of views and comments on its Instagram and TikTok pages during the event. "We also got the drivers and bull riders to wear and post about our products," Girouard said.
More recently, Brunt continued its sports advertising run by sponsoring bull riding. In May, the company announced its sponsorship of Professional Bull Riding, partnering with bull riders like Cody Teel and Eli Vastbinder. "A lot of bull riding fans, who are often blue collar workers, responded well to our presence," he said.
Baking sports into the brand's image
Footwear brand Cariuma is also tapping into sports for creating brand awareness. Cariuma has been working with surfers and skateboarders since day one. Since they founded Cariuma in May 2018, co-founders David Python and Fernando Porto focused the branding on board sport culture, specifically skateboarding and surfing. 
The company sponsored skaters Briana King, Jennifer Charlenne and Sierra Prescott in its first year, and has continued to grow its roster of ambassadors since. 
Porto told Modern Retail that in choosing young athletes, "they need to be 100% aligned with our values and our approach to the communities." The goal, according to the company, is to work with up and coming millennial and Gen Z skaters who promote sustainability and wildlife.
"Of course they must be really talented skaters and surfers — and I believe we have chosen some of the best in the world — but on top of that, it should be a cohesive and authentic group of great individuals," he said. 
This athletic marketing approach has paid off for the DTC brand. The brand's sales have grown by 3.5x since it started its Skateboarding and Surfing sponsorship divisions in October 2020. And during the Summer Olympics run last year, the sales of Cariuma's Skate shoes grew 5x compared to the previous month. At the time, Cariuma-sponsored skateboarders took silver and bronze at the first-ever Olympic Skate competition in Tokyo last year, with Kelvin Hoefler of Brazil taking Silver and the U.S.' Jagger Eaton taking Bronze. The win helped further increase Cariuma's profile among the sport's players and fans. Additionally, Cariuma's skater ambassadors have given direct feedback to help create the Catiba Pro Skate shoe.
This is not the first time brands have jumped onto trending sporting events. Last summer, Peloton chased Olympic fever during the Tokyo games. The company ran commercials to promote its Champions Collection, featuring several athletes like runners Usain Bolt and Allyson Felix. Last year, DTC coffee brand Drive Coffee entered a multi-year partnership with Formula 1, becoming the official coffee provider of the racing division. Meanwhile, athleticwear brand Vuori got on the pickleball brand advertising trend early on, by sponsoring the Major League Pickleball tournament last fall. 
Targeting these communities has quickly become part of the marketing playbook among retail companies. "There's a lot of opportunities for brands to connect with their local communities. I'm thinking specifically where their headquarters are or in underserved communities," Julianna Kirschner, lecturer for the Annenberg School for Communication at the University of Southern California, previously told Modern Retail. Kirschner added that these campaigns revolving around emerging sports can be a great way to boost brand awareness, and have a great payoff to marketers who bet on the sports' popularity early.
Some brands, like non-alcoholic beer startup Athletic Brewing, are also looking into sponsoring college athletes, now that advertising regulations have loosened up.
Choosing sports beyond the big leagues is a way to save advertising dollars — given that primetime football, baseball and basketball ads can cost brands millions. With the rising costs of mainstream sports advertising, well-funded companies in tech and cryptocurrency have taken over sponsorships in recent years. For instance, during the 2020-2021 regular season, the NBA brought in a record $1.46 billion in sponsorship revenue from companies like Microsoft and Coinbase. Meanwhile, the National Football League surpassed that figure, garnering $1.62 billion in brand deals during the Covid-hit 2020 season.
While a big gamble, reaching audiences of sports communities is helping these brands grow their audiences. For Brunt Workwear, tapping into more sports communities will be a key to growing its customer base in a more sustainable way, said Girouard.
"We're looking at some other unique sports to work with, and hope to build out a full sports marketing strategy in the coming year," he said.