DTC furniture brand Floyd is launching a resale marketplace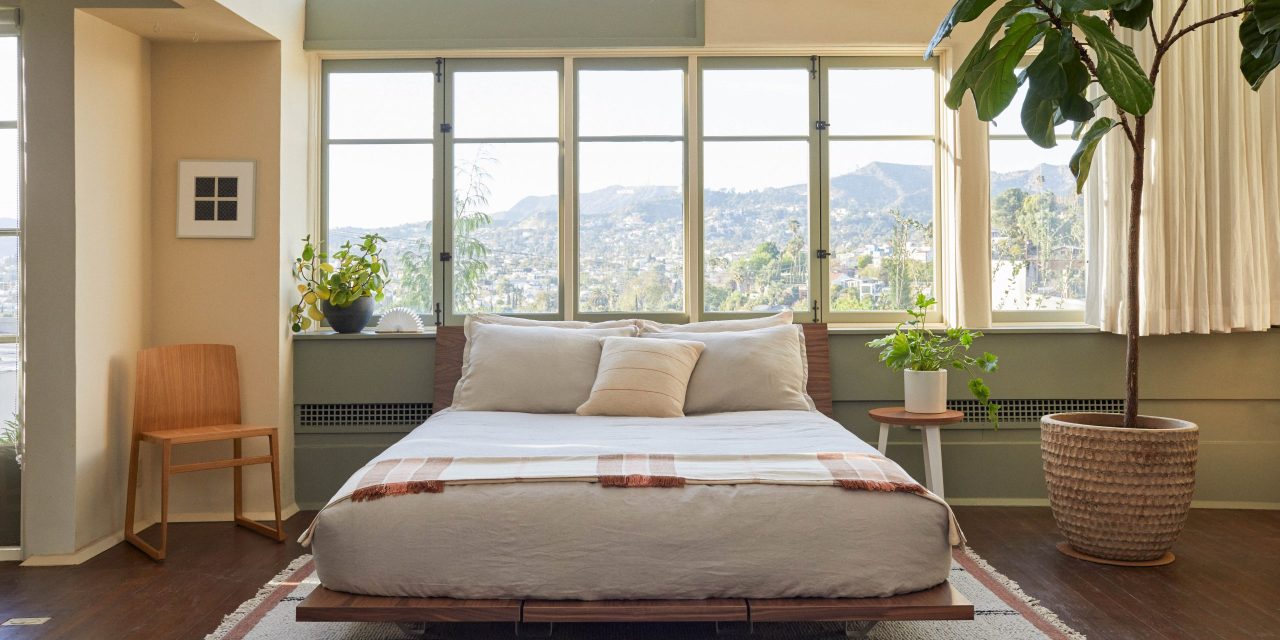 Image via Floyd
DTC brands are joining the secondhand trend.
Furniture brand Floyd, which launched its flagship bed frame back in 2015, is adding a resale component to its business. The program, called Full Cycle, arrives on the heels of a major year for the homeware brand; Floyd's annual sales doubled between 2019 and 2020, and month-over-month sales continue to increase this year, according to the company.
Over the last few years, the Detroit-based startup has expanded beyond the bed frame into other parts of the home. The company currently has five product categories, including sofas, tables and storage. It has plans to launch outdoor furniture in the coming months.
Floyd co-founder Kyle Hoff told Modern Retail that "the most sustainable thing is to not buy furniture, but we're aiming to own the full life cycle of our furniture." The brand's original ethos was centered around creating long-lasting products that don't end up on sidewalks — and eventually in landfills — said Hoff. A secondhand marketplace, he explained, is the next logical step in achieving the sustainability mission. Listings will include customer returns and products that "didn't quite meet quality standards," said co-founder Alex O'Dell.
"While we want customers to keep our products forever," said O'Dell. "We know that lifestyles change and sometimes people have a reason to move on from their Floyds." The founders were partially inspired by secondhand programs by Patagonia and Finnish furniture brand Artek's "2nd Cycle" outlet.
In order to launch the buy-back program, Floyd redesigned its entire reverse logistics program. The company now offers at-home pick up for returns, which are then sent to its own warehouses throughout the U.S. to be listed on the Full Cycle site. (Floyd does not charge a return rate, but the cost is baked into the original shipping fee, which ranges between $5 and $149.) At Floyd's fulfillment centers, used and returned products will be inspected and graded. They'll then get marked for damage, if necessary. The listings will be discounted between 15% and 50% off.
Selling imperfect products online — which typically feature manufacturing mistakes or dents — is a new challenge. "We want to ensure it's going to be a satisfactory purchase," said Hoff, so every product will have accompanying imagery, taken at the fulfillment center. The program will start out with the company's own "imperfect" factory inventory, but the company hopes to soon have consistent listings from both customer returns and buy-backs. According to O'Dell, unlike secondhand clothing listings that require sizing details, Floyd's limited range of products will help keep resale inventory streamlined.
This isn't the first time Floyd has sold imperfect goods. "We've done this in an analog way via our Floyd Shed sale in the Detroit metro area," O'Dell said, which saw a positive response from customers. "The website lets us bring it to more markets." 
Having a site dedicated to selling imperfect inventory is increasingly popular among direct to consumer brands. Last October, ceramics brand East Fork launched a "seconds" platform, with those items discounted 25%. According to the company, customers can get access to seconds listings by donating to a non-profit/grassroots organization or cause of East Fork's choice. The site is a followup to the brand's existing resale marketplace — the East Fork Flea Instagram account — where customers can buy and sell used or discontinued East Fork items.
In the past, retailers like Madewell and Nordstrom have tested resale by partnering with existing secondhand marketplaces, such as ThredUp. However, brands are increasingly looking to build out their own used gear programs. Recent examples include Patagonia, REI and Lululemon. On the furniture side, Ikea offers returned or imperfect items in its stores' "As Is" section.
Emily Pfeiffer, senior analyst at Forrester, said that some brands — DTC ones in particular — want to protect their reputations and the perceived value associated with them. "They're choosing to manage their own secondhand markets so they can confirm the authenticity and condition of items before sending them back into the market," Pfeiffer said. Launching in-house buy-backs also helps retain ownership over the secondhand customer and lets the company benefit from additional sales on those same items, she added.  
According to Floyd, entering the secondhand market also opens the brand up to new consumers looking for lower price points. "It's an alternative we hope consumers will discover during their browsing," said O'Dell.