Facing an existential threat, link-in-bio companies are pivoting to direct selling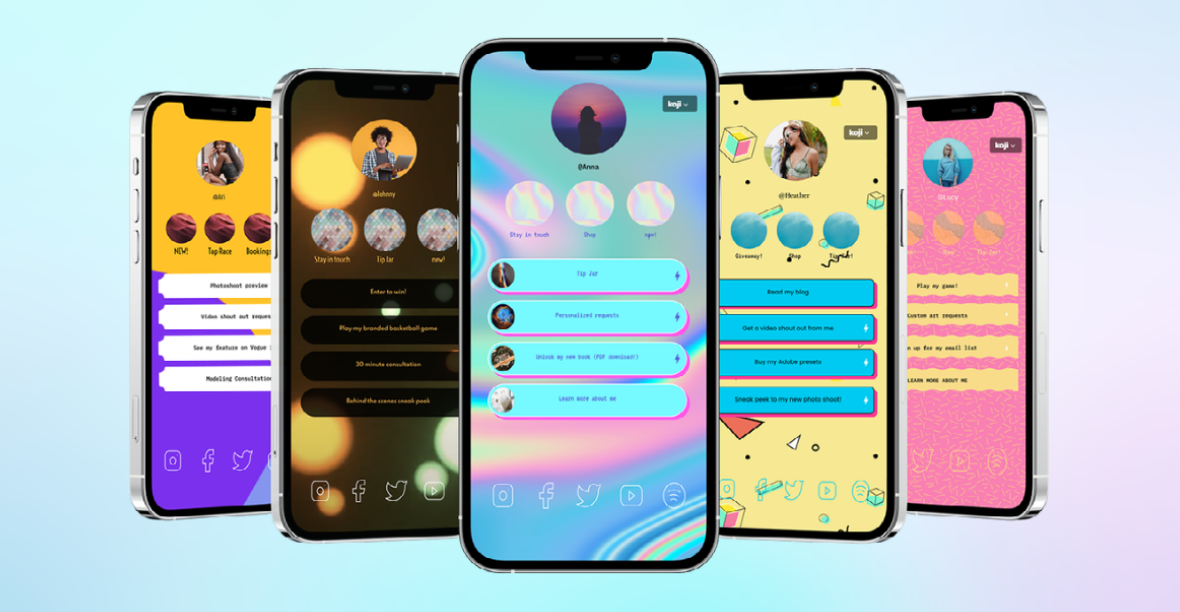 To stay afloat, link-in-bio companies are increasingly expanding into direct selling.
Since the launch of Linktree in 2016, link-in-bio companies have tended to offer a relatively unsophisticated service: when someone clicks a link in the bio of, say, an Instagram user, they can see a series of stacked links of that creator's choice — usually links to their other social channels, their websites and their Amazon affiliate pages.
But in recent months, these services have increasingly expanded beyond just helping creators direct their followers to other sites. Facing a potential threat in the form of Instagram, TikTok and Twitter building in-house tools like affiliate programs, link-in-bio companies are rolling out paywalled content, Cameo-like plugins and ads in order to help creators monetize. Increasingly, these companies are also building digital storefronts, where anyone who clicks a link in bio can toggle through various products that a creator has for sale — a shift that not only helps link-in-bio companies stay relevant but also represents the latest example of e-commerce and product discovery migrating to Instagram and TikTok.
The link-in-bio company Koji, for instance, recently rolled out a tool that lets creator set up a very simple storefront and sell both physical and digital products through the platform. Koji, a relative newcomer to the link-in-bio race, has 17,000 users, including influencers like Loren Gray. Its CEO, Dmitry Shapiro, told Modern Retail that creators have begun to use the new e-commerce tool to sell, for instance, custom organizer templates to their fans. He expected more influencers to offer physical products soon. The link-in-bio company Beacons, meanwhile, has built similar functionality that, for now, allows creators to sell mostly e-books and videos. And Linktree, one of the largest link-in-bio companies, recently partnered with the custom t-shirt maker Spring (formerly called TeeSpring) in order to add Spring storefronts to links-in-bios that showcase a creator's available merch.
"E-commerce has long been a key revenue stream for many creators, and this trend was only accelerated during the pandemic," said Alex Zaccaria, co-founder and CEO of Linktree, in an email. "We want to remove as much friction as we can between a visitor arriving on a creator's Linktree and then becoming a customer of that creator."
The rise of link-in-bio storefronts is important because commerce-related links are a big part of the use for a link in bio. Influencers enrolled in affiliate programs — be it Amazon's or otherwise — have used these servives to link off to products they recommend. Linktree told Modern Retail in January that 375,000 Linktree users have Amazon links in their links-in-bios.
"Affiliate programs are really popular," said Koji's Shapiro. "[For] creators today, even though they have a bunch of options for how they can try to monetize their engagement, the affiliate program is still arguably the simplest one."
When link-in-bio companies first appeared, they were designed to solve the "single-link" problem. For the rising class of creators — who often sold different products while promoting various websites and brand partnerships — the one-off link that Instagram offered felt limiting. But if a creator wanted to sell their own merch or other products, until the last two years, neither social platforms nor link-in-bio companies gave than easy way to display their own stores.
Now Instagram and TikTok are each building native affiliate tools, which would allow for influencers to promote products and earn affiliate commissions through each app's internal shopping features. That could threaten some of the logic of links in bios, since it would mean that people no longer have to click external links in order for influencers to earn commissions. Lia Haberman, a UCLA professor who studies influencer marketing, previously told Modern Retail that, in the long term, she expected that links-in-bio were facing an uncertain future. "I think that the link in bio one day will become just a very quaint memory of how creators drive sales or post affiliate links," she said.
To survive, these companies are innovating at a rapid pace. Koji has built a system of mini-apps that allow creators to monetize their followings, the beginnings of what Shapiro expects to be a link-in-bio equivalent of an app store. These apps let creators add tip jars, quizzes, custom videos that fans can pay for as gifts and paywalled articles, and they all appear on a creator's link in bio. Earlier this year, the company began trialing a series of small-scale advertisements — which it calls "Billboards" — on the links in bios of creators. The default cost of a Billboard is tiny, just $20, but Shapiro said he's "seen them go for over $500 for a day." Koji makes money by taking a cut of all of these transactions — like an app store — but the company claims that creators get between 85% and 95% of their revenue.
Zaccaria said that, for now, Linktree doesn't take any commission from its creators who launch digital storefronts. He added that, since partnering with Spring in early June, "we've had thousands of creators adopt the initial features and gain hundreds of thousands of clicks on their products." Though Spring is the first partner, the company is looking to add more e-commerce partnerships.
The flurry of innovation among link-in-bio companies, of course, has a fundamental challenge to overcome: social media companies are making it less likely that their users will click external links at all. On Instagram, which said it is looking to expand its Shop feature to a greater share of independent creators in the coming months, visiting a digital store on a link in bio involves at least slightly more friction than viewing a store on Instagram.
Shapiro said that there are a few reasons he's still optimistic about link-in-bio companies. For one, he said, creators operate on many different social platforms at the same time, and links-in-bios let them standardize their offerings — their shops, their paywalled content and so on — to their fans. He also argued that link-in-bio companies can innovate at a much faster clip than social platforms. In a document he shared, outlining his view for the creator economy, he said that that while he "fully expect[s] networks to add native features that may be similar to Koji mini-apps (tip jars, ability to sell things, etc.)," he added "it is clear that networks innovate extremely slowly, while independent developers creating mini-apps can innovate radically faster, take more risks, and explore new ideas."
"Today everyone is a multi-platform creator," he told Modern Retail. "As you start to use native features with each of these platforms, you very quickly become overwhelmed with your ability to manage all of these." Instead of managing a series of very different social tools at once, he said, "what you really want to do is route them off to your link in bio."