Fashion retailers take on the rental industry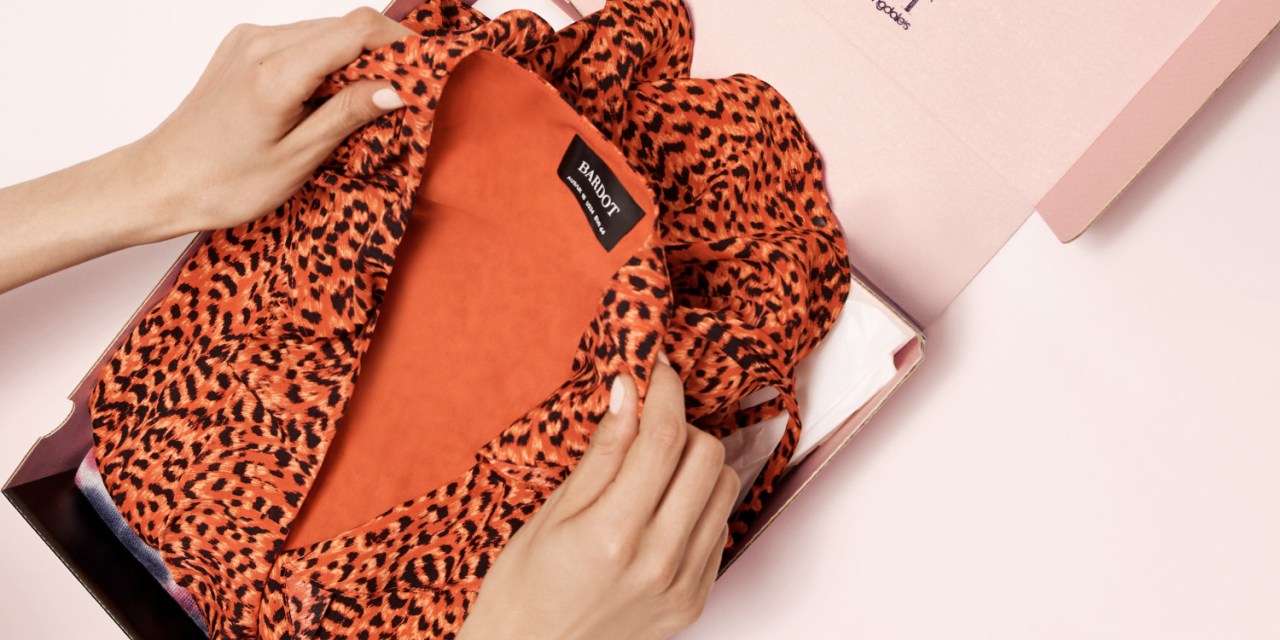 The subscription model that Rent the Runway helped popularize has prompted established retailers to launch their own in the past year. From department stores like Bloomingdale's and Nordstrom, to smaller brick and mortar companies like Banana Republic and URBN, all announced their own version in 2019.
The rental industry is big: It hit the $1 billion mark in 2017, and is due to reach $1.85 billion in 2023. The model does come with its own added expenses, which include shipping logistics and dry cleaning costs, but for many retailers, is a much-needed additional revenue stream.
This rapid addition of rentals across retail has some industry analysts concerned that a shift to accommodate changing shopping habits can eventually hurt the more profitable clothing sales sector, which still accounts for the majority of the market. Rental revenues currently only make up 1% of the overall apparel market in the U.S.. And while subscription models are meant to generate consistent earnings, thanks to built in monthly fees, market saturation can eventually impact individual retailers' customer retention rate. For renting customers, mounting monthly costs across multiple clothing brands could end up costing hundreds of dollars, resulting in a similar subscription fatigue that's hit streaming platforms.
Despite all this, in the last year a wave of retailers unveiled dedicated rental subscription as a means to improve falling revenue, showing they trust there is room for rental services to become part of a longterm strategy. Here's a rundown of who is doing what.
Nordstrom
One of the earliest adopters of subscription boxes is Nordstrom, thanks to its acquisition of Trunk Club back in 2014. Since then, the company has gone on to partner with partner with Rent the Runway on the in-store self service kiosks, Drop Box. The company has expanded the partnership to 29 stores across the country to cater to initial positive reactions from its customers. 
Bloomingdale's
In August 2019, Bloomingdale announced the launch of My List as a way to loan customers clothing, shoes and accessories at a flat monthly fee of $149. At the time, general merchandise manager of ready-to-wear Denise Magid said the company is betting on millennials' preference for renting over ownership, giving examples like Netflix and Spotify as success stories. "Fashion is no exception and our customer is no exception—she wants variety, discovery and experience," Magid said.
Macy's
Like its subsidiary Bloomingdale's, Macy's announced in 2019 it's "exploring" rental as part of an overall strategy to improve margins. The struggling retailer partnered with resale startup ThredUP, which specializes in sustainable rentals and secondhand clothing selling.
Banana Republic
The Gap Group's Banana Republic announced Style Passport last August, an $85 a month service that covers unlimited exchanges, returns and cleaning. While hopping on the trend may seem like an obvious business decision, the retailer is also utilizing its for its data. As CEO and president Mark Breitbard said in the announcement, Style Passport is being used "to gather valuable insights from a highly interactive customer base that can be used to design future product and experiences."
Rebecca Taylor
Leaning on the premium end, the contemporary womenswear brand launched RNTD in 2018, at $159 per month. which includes shipping, returns and item laundering. The company, which was recently acquired by Vince Holding Corp., has made RNTD a major focus, with plans to grow it into a reliable revenue stream.
Urban Outfitters
Last July URBN announced Nuuly, its own subscription service for $88 a month, which lets shoppers borrow from all three of its brands: Urban Outfitters, Anthropologie and Free People. The service offers in house designed pieces, as well as third-party labels and vintage items.