For food delivery services, private label is the next battleground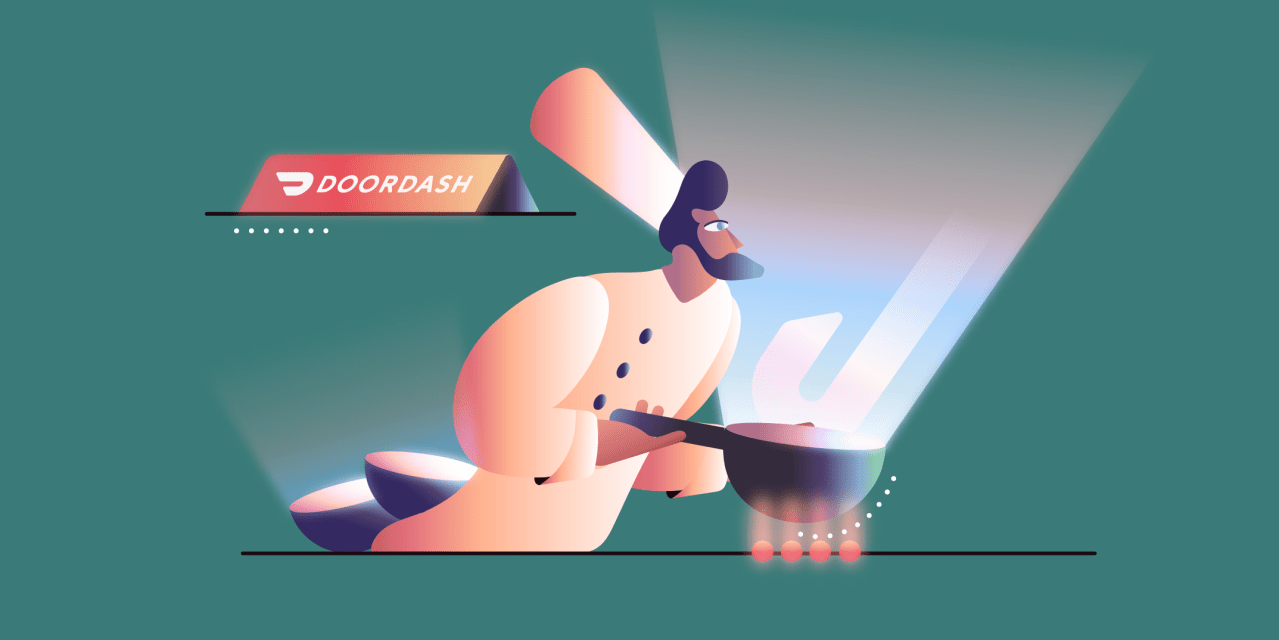 Ivy Liu
This story is part of 'Now What?' Digiday Media's 2021 fall preview, a look at how media, marketing and retail have changed over the past 18 months, and what it means for their futures. Check out the rest of the stories here.
As the food delivery market matures, third-party operators are betting that creating their own, private label meals will help them stand out.
2020 was a boom year for delivery services like DoorDash, Grubhub and GoPuff. DoorDash saw revenues skyrocket 267% from the year prior, while Grubhub was up 39%. GoPuff does not publish revenue figures, but it has already raised over $2 billion this year. (It had raised just under $1 billion previously.) But maintaining that growth even after the lockdowns fade has not been easy — and to earn more revenue on the orders that are coming in, these companies are trying out a bevy of new strategies, including advertising and private label.
This summer, two delivery services — GoPuff and DoorDash — have each taken preliminary steps toward deploying private label food products. GoPuff, for instance, launched its own line of ghost kitchens — or food preparation hubs without storefronts attached — from which the company plans to produce meals from existing brands as well as its own private label recipes. GoPuff has also been hiring for a merchandising specialist focused on private label, and it has already accumulated some of its own brands — including the coffee brand Bandit — through acquisitions. DoorDash, meanwhile, has been rapidly expanding its ghost kitchen program, DoorDash Kitchens. It now has its own mac-and-cheese brand called The Local Mac and pho and ramen line NoodleUp, according to HNGRY, most of which is assembled through a Chowbotics foodservice robot. (In an email to Modern Retail, however, DoorDash disputed the report and said that it was only using its technology in order to help existing restaurant partners more quickly make meals.)
Delivery services began with a simple concept. They use third-party drivers to deliver food or household goods directly to customers. But as they run up against the financial challenges of that model, these companies are finding that brokering orders alone might now be able to sustain them. As a result, they seem to be taking a higher-margin business model that grocery stores have perfected and trying to tailor it for delivery.
New revenue strategies
Few of these companies have figured out how to make food delivery into a profitable enterprise — DoorDash, for instance, still has only turned a profit once, in the second quarter of 2020. In its most recent earnings report, DoorDash said it lost $198 million across the first six months of 2021. Other food delivery companies, like Uber Eats, have not publicly discussed a foray into private label meals, but they have battled the same struggles to earn back the money they sink into deliveries. Uber Eats, for example, lost $161 million last quarter. These companies are asking, "how can we find concrete revenue streams to offset the fact that we aren't profitable yet?" said MaryEllen Lynch, a principal consultant who tracks private labels at market research firm IRI.
Food delivery already has very slim margins. One estimate found that, on a $36 food order, after all costs are subtracted out, DoorDash only earns a $.90 profit on average. What's more, Lynch said that many delivery companies have ended up losing a lot of their money paying for wrong deliveries or subsidizing free or low-cost deliveries to entice new customers. "They have to figure out ways to offset that," she said.
One popular strategy for making back that money is to invest in advertising. Instacart now makes 20% of its revenue from advertising, and in July, GoPuff announced it was creating its own ad platform — the idea being that monetizing space in their apps can make up for losses on actual deliveries. These include ad placements within GoPuff as well as targeted ads outside of the app. Uber Eats is also testing ads.
Private label, although in its infancy, appears to be another testing ground. The model has already proven its value for decades in physical retailers like Kroger or Costco. Private label sales in supermarkets grew 13.2% last year, becoming a $27.3 billion market.  
An old strategy for new businesses
Hetal Pandya, co-founder of Edison Trends, an analytics firm that — among other things — focuses on food delivery, said that offering private label meals could be a way for a given delivery company to stand out. "They can actually provide the consumer choice in certain areas where there isn't a certain type of restaurant," she said. Using private label offerings creates "consumer choice and consumer stickiness."
Pandya said that, should third-party delivery services create their own products, it would follow the same trend she's seen among what she termed "conduit companies" — companies ranging from grocery stores to music streaming services that aggregate other people's content or brands. Spotify, for instance, has begun releasing its own exclusive podcast content in order to attract listeners away from other streaming services. Meanwhile, stores like Target and Costco have drawn loyal followings for their own private label brands; in its most recent earnings report, Target announced that its private label product sales were growing faster than other brands. "The food delivery companies are similar, and they're an aggregation of certain products," she said.
That doesn't mean she expected that delivery companies would pivot entirely away from their existing restaurant or other retail or brand partners — Pandya said she imagined that private label, if it does roll out more widely, would only become part of what these delivery services offer. In the case of Costco, for instance, "the profit mix for generic brands from Kirkland doesn't mean they aren't going to sell the P&G brands but the fact that there is a mix is giving them the extra percent of profitability," she said. "I bet that is the strategy that these companies are executing."
Lynch said she expected that, in the food delivery space, private label will be positioned less as a unique food experience that can draw consumers on its own merits — "I don't think they're going to produce some kind of really unique, differentiated meal," she said — but rather as a way to earn higher margins on everyday meals. 
If that does happen, said Lynch, that would raise some thorny questions for delivery companies and their restaurant partners. "In delivery it's pretty interesting, because, similar to in the store, they will be competing with their branded partners, and will that impact that [relationship]?" she said. "That's something that's untested, that's new territory."
There are other reasons to think that delivery companies are poised to embrace private label. Pandya pointed out, for instance, that these companies could end up using their extensive data on the state of the restaurant market in order to find regional gaps in the market — say, a town without Vietnamese food nearby — and fill it with their private label offerings. That's not just speculation, either. Colin Wallace, a former head of innovation at GrubHub, recently told the Washington Post that DoorDash is locating its ghost kitchens and building menus based on data from restaurants it does delivery for. Wallace said, "Amazon is in hot water for this now, but DoorDash is doing the same thing with DoorDash Kitchens."
But one clear trend is that, if private label becomes a future battleground for food delivery services, it won't just be third-party delivery services like DoorDash and GoPuff competing for customers with their own branded meals. Lynch said that traditional grocery stores are themselves investing heavily in ghost kitchens, and she expected they would join the fray. Kroger just announced a partnership with Kitchen United for grab-and-go meals (though, for now, the company said it would be using existing local and national brand names for those meals).
This past year, Lynch said, grocery stores "gained a lot of sales because of the decline in the restaurant business. They want to maintain as much of those sales as they can." Having private label meals available for delivery or grab-and-go pickup is one way to maintain that momentum, she said. "They can actually cannibalize quick-serve restaurants if they do it right."