Gaming products are infiltrating home goods retailers and brands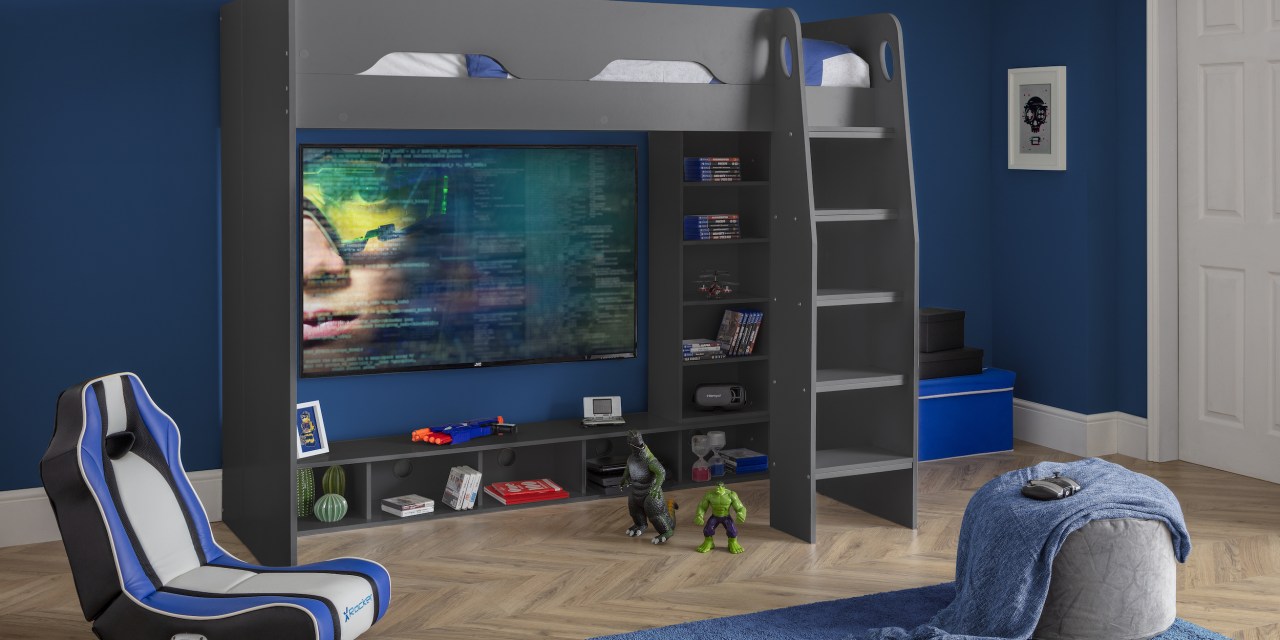 Happy Beds
Growing demand from consumers is spurring more retailers to offer gaming furniture within their home goods assortments. 
Walmart, Best Buy, Wayfair and Argos are increasingly catering to gamers with specialist products such as ergonomic chairs, desks, storage space and accessories. Retailers and brands cite gaming as a growth category that allows them to target a broad range of consumers, from teens to millennials to parents.
Once the stronghold of niche technology hardware brands, the gaming furniture category has consequently experienced a flood of new entrants, including Ikea and office and home furnishings brand Herman Miller, which debuted new gaming collections in 2020 that they continued to refine this year with new items. In order to steal share from tech companies, traditional retailers are forging partnerships with esports brands, hiring professional players to shape their strategies and approaching gaming from an interior design lens.
The popularity of the gaming sector is causing more industries to sit up and take notice, according to Tom Wijman, market lead at games and esports analytics firm NewZoo. "Non-gaming companies are interested in the video games market because there are 3 billion gamers across the world this year," he previously told Modern Retail. "Gaming is the most popular form of entertainment globally."
Like its big-box rivals, Walmart — which sells PC and console hardware and software — has a dedicated gaming furniture section on its website, and has been increasingly marketing this part of its home goods vertical. Due to its focus on affordability, it allows shoppers to browse gaming chairs and desks based on price points, such as sub-$200 and sub-$100 items. Walmart's gaming furniture page also links to complementary products such as mini-fridges, coffee makers and video games merchandise including bedding.
A Walmart spokesperson told Modern Retail via email that gaming chairs have been a popular holiday gift over the past few years. With big box retailers losing out to online services as sales for digital games have overtaken physical, Walmart has highlighted its hardware which includes gaming PCs, notebooks, peripherals and consoles. In 2018, it teamed up with Esports Arena to hold competitive gaming tournaments inside its stores. The program is now available in 14 Walmart locations, with four more due to open soon.
Meanwhile, businesses that lack the scale of a big-box retailer are experimenting with gaming goods on their own terms. In the U.K., Yorkshire-based beds retailer Happy Beds this year launched a gaming bedroom section after witnessing an increase in demand for gaming furniture during the pandemic, a spokesperson for the company said. Its range of 20 gaming beds includes high sleepers that include wall space underneath the bed frame for a large TV, or up to three monitors for PC gamers, along with built-in shelves for consoles and games.
Happy Beds, which saw a 102% increase in revenue in the year leading up to April 2021, claims it is now the U.K.'s second-biggest bed retailer after 11 years of trading. 
Some of that growth has come from its gaming range. The retailer's year-over-year growth across the entire category was up 56% between January and mid-October, while growth for gaming desks surged by 1,500%. Demand has remained strong into this year, according to the company; site searches for "gaming" increasing 570% year-over-year in the first two weeks of April.
The main target for the beds are the parents of children aged between 6 and 13 years old, while the company also sells gaming chairs and desks that allow it to reach older shoppers. Buoyed by the segment's results, Happy Beds recently teamed up with a U.K.-based video games influencer, known on Instagram as @Natashasgaming, to create promotional content. The 25-year-old, who also blogs about gaming, provides feedback on the retailer's products to help shape its marketing strategy.
According to Happy Beds, its research on the sector revealed there was a market for children's beds that maximized floor space by housing the large amount of hardware families own. "We found that more and more children have TV's, consoles or PCs in their bedrooms," a company spokesperson said. "Many families now have multiple consoles across the house and it is not uncommon for families to have two of the same console in the house."
Those sentiments are shared by other retailers. Both Argos and Wayfair, for instance, provide interior design tips for gaming rooms on their site. The focus is on creating more space by showcasing chairs that perform several functions, including those with built-in speakers, and larger desks with more storage space.
Herman Miller, meanwhile, has touted gaming as a major growth opportunity thanks in part to the overlap with its existing categories. After launching into the segment last year with a gaming chair made in collaboration with tech manufacturer Logitech, the company launched several more chairs, including the $1,445 Aeron chair.
"Our gaming business, which is also part of our seating business…has been phenomenally successful," Herman Millar CEO Andrea Owen said on an earnings call in September. "And just to remind you, well that's a [$169 billion] toy market that we have just scratched the surface [of]."