GoPuff is leaning on partnerships in a bid for last-mile delivery dominance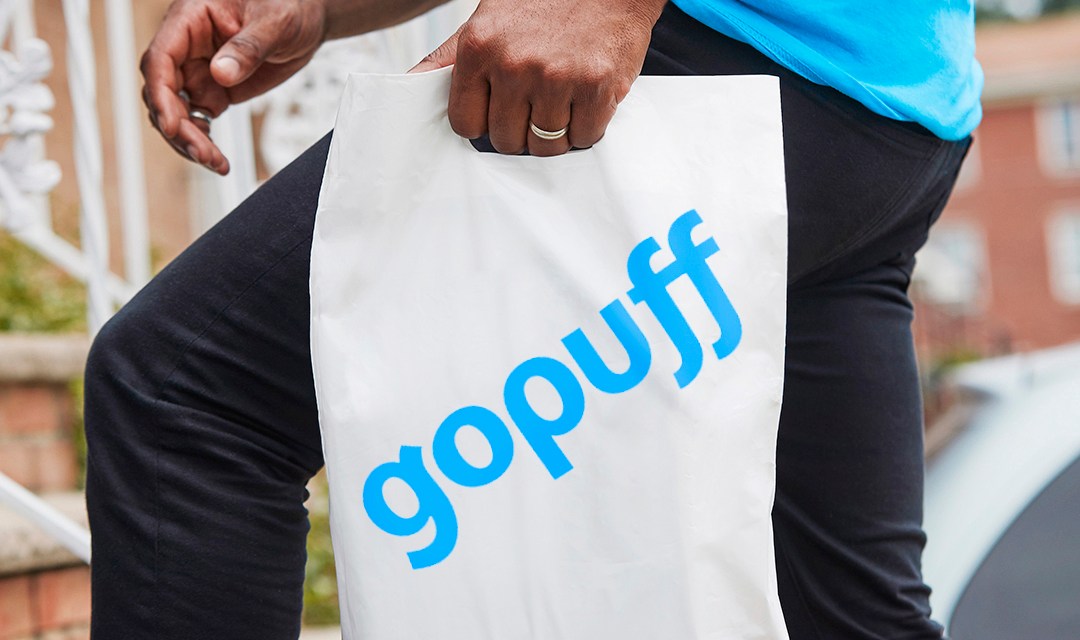 The same-day land grab delivery continues, with delivery-only convenience store GoPuff ramping up acquisitions and partnerships.
Last week, Philadelphia-based GoPuff announced an acquisition of the UK-based Fancy, making a play towards international expansion of its last-mile delivery service of essential products in under 30 minutes. This comes after another partnership announcement with Uber's grocery delivery business earlier in the week, as well as an acquisition of adult-beverage-retailer and California-start-up BevMo in November.
As the pandemic has sped up the growth curve of last-mile delivery, GoPuff has adjusted by quickly expanding into new areas and new geographies. Still, as competitors like Instacart and even traditional-brick-and-mortar retailers also ramp up their same-day delivery efforts, GoPuff's expansion is capital-intensive. All of these delivery services, including GoPuff's, have to prove that they can be consistently profitable.
Unlike other last-mile delivery services that function as a middleman between a consumer's favorite store or restaurant and the consumer's front door, GoPuff operates with its own inventory, hosted in 250 plus "micro-fulfillment centers" in over 650 US cities. Founded in 2013 as a snack-focused, delivery-alternative to convenience stores, the company has since expanded to categories including grocery, home, baby, and pet food. In March 2021, GoPuff doubled its valuation from five months prior to $8.9 billion, with a $1.15 billion round of funding.
In 2020, the company served more consumers in the single year than in previous years combined, and saw an 8o% increase in micro-fulfillment centers' geographic coverage, according to a GoPuff spokesperson. Driving some of that growth was the company's more unique offerings: GoPuff's consumers ordered 2.5 times more pet products and GoPuff's baby products saw 5 times more customers in 2020 than 2019.
Moreover, the company's sales were boosted by an influx of first-time home delivery users in 2020. Liz Buchanan, head of North American consumer intelligence at NielsenIQ, suggested that these users were here to stay.
"More than 22 million people bought groceries online for the first time in 2020" Buchanan said in an email, citing NielsenIQ data. "With shopping behaviors in 2021 largely shaping up as a continuation of 2020 trends thus far, delivery—and the faster, the better—is poised to factor prominently at the top of grocery shoppers' lists."
GoPuff's first acquisition was the November sale of liquor and wine retailer BevMo for a reported $350 million. This deal allowed GoPuff to "bring goPuff's operations to California" and "operate coast-to-coast," said its co-CEO Josiah Knutsen in a statement about the deal. A recent HNGRY newsletter reported that GoPuff is now turning BevMo's former brick and mortar locations into a hybrid of a micro-fulfillment center and a consumer-facing store.
GoPuff's latest acquisition of the Manchester-founded Fancy also pushes towards geographic expansion, except this time across the pond for the first the company's first UK-focused push. GoPuff's partnership with Uber further expands its US footprint.
The new partnership will mean that Uber Pass and Eats Pass members, those with subscriptions to Uber's unlimited ride and unlimited delivery programs, will have access to GoPuff's product supply via the Uber app itself. Buchanan thinks the partnership between Uber and GoPuff will be a symbiotic one. Uber has had long-term struggles with profitability, particularly as demand for rideshare apps plummeted over the pandemic. Uber Eats is one bright spot in the company's financial performance and Uber has furthered its delivery positioning with acquisitions of Postmates, Cornershop, and Drizly.
"By fusing Uber's engaged U.S. consumer base with GoPuff's expertise in instant needs delivery, the partnership will take aim at Instacart's dominant space in the grocery and daily essentials delivery business," said Buchanan. "Uber will also take advantage of Gopuff's network of micro-fulfillment centers, hyper-local logistics, and driver network as part of the expansion of its Uber Eats app into grocery, convenience, and alcohol."
However, the last-mile delivery industry has its challenges.
GoPuff will also have to stay ahead of competitors. Over the course of the pandemic, Instacart has partnered with major retailers Walmart, Sephora, and Bed Bath and Beyond, amongst others, to expand its offerings beyond grocery. Amazon also continues to iterate on its grocery and delivery services, combining Amazon Fresh and Prime into a single service, and using its Whole Foods acquisition to build a premium and unique product offering.
And like same-day delivery before it, last-mile delivery requires a large cohort of drivers to deliver a wide variety of products almost instantly. While GoPuff is able to avoid the problems of working with other vendors due to its unique micro-center model, it still has to update its stock regularly and carefully monitor drivers without the benefits of order foresight or efficient route planning that longer delivery schedules allow for.
"In a sense, all e-commerce is economically unfavorable to self-service retail," said Keith Anderson, SVP of Insights at e-commerce analytics firm Profitero. "It's even harder when you are dealing with instant gratification because you have far less ability to plan efficient routes. A good way to think about the economics of shipping and logistics is the longer you have, the more economical."
A recent report from The Information raised questions about GoPuff's profitability. An unnamed source told the publication that GoPuff's losses totaled about $150 million in 2020. GoPuff told the Information that the markets in which GoPuff has been operating for at least 18 months are profitable while declining to comment further on the state of the company's profits as a whole.
The profitability struggles in delivery has resulted in what Anderson calls a "land-grab" for economic sustainability over the next five years. Amongst this land-grab, come acquisitions and partnerships, like GoPuff's latest partnership with Uber.
Despite the deal as collaborators, the two companies are continuing to operate their own separate operations as well, operations that do have competitive overlap.
"Ultimately at this point, it is about aggregating demand and funneling it through one network of couriers, ideally with more points to pick up from and fulfill from," said Anderson. "In terms of what's in it for GoPuff and Uber in a partnership like this? …Without knowing some of the nuances of what they agreed to, it's, as is increasingly the case, a bit of a co-op-etition scenario."