Hard seltzer brands flood the U.K. in anticipation of a sales boom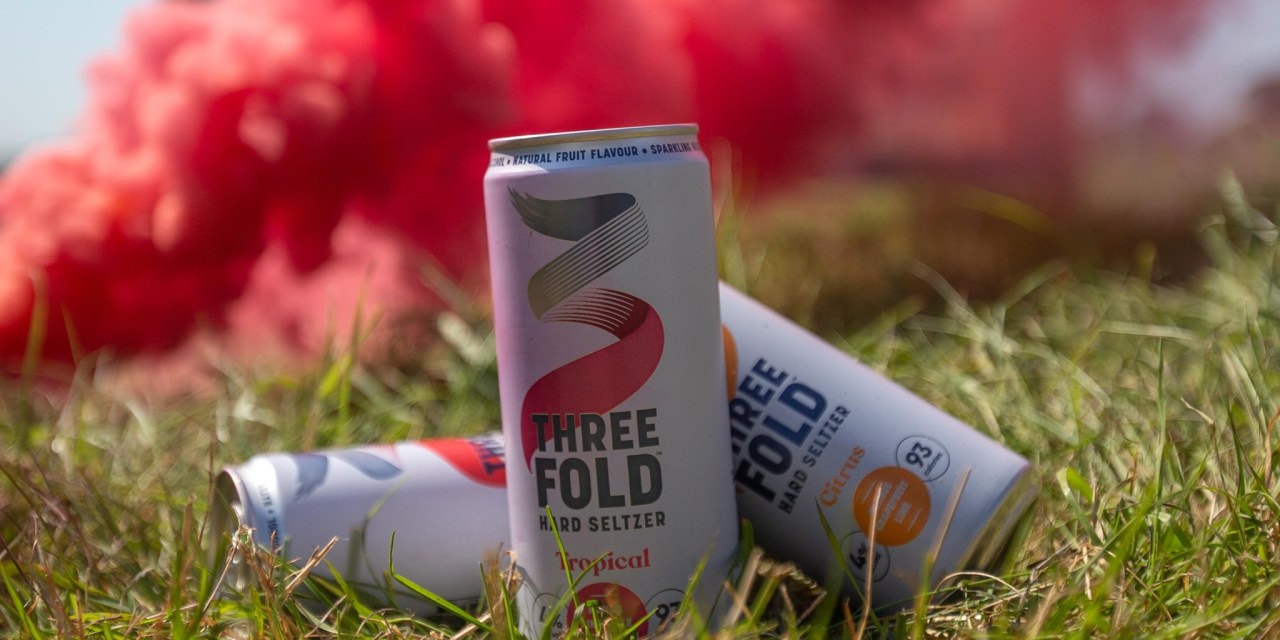 Three Fold
A throng of hard seltzer brands have launched in the U.K. in the hopes of replicating the category's breakout success in the U.S. 
Svelte and stout cans in brightly colored packaging that denotes the bounty of flavors inside (from raspberry to mango to rose and hibiscus) increasingly line the shelves at supermarkets and online. Even pubs and bars are offering the low calorie tipples alongside regulars, like G&T and a pint.
Hard seltzer witnessed a hot streak in the U.S., accounting for $2.7 billion in retail sales in the 12 months to June last year. But, with the hype now tempering, a number of alcohol brands — both established and startups — are hoping to keep growth apace by targeting the U.K.
More than 50 hard seltzer brands are available across the pond, according to IWSR Drinks Market Analysis, with volume growing by 960% in 2020. By comparison, the total ready-to-drink category in the U.K. posted 3.7% growth last year. This year, hard seltzer volume is forecast to grow by another 170%, and by about 90% compound annual growth rate between 2020 to 2025.
The category is home to big beverage makers including Diageo (Smirnoff Seltzer) ABInBev (Bud Light Seltzer and Mike's Hard Seltzer distribution) and Molson Coors, alongside local independents like DRTY, Served and Berczy.  The abundance of brands is both a blessing and a curse. While it helps to raise consumer awareness, it also ramps up competition in an untested space. 
Canadian brewer Molson Coors is throwing its weight behind the category. The company was a first mover into the U.K. market, after securing a distribution partnership with hard seltzer brand Bodega Bay. In the U.S., its offerings include Vizzy and Coors Hard Seltzer. It also produces and distributes Topo Chico Hard Seltzer as part of an agreement with the Coca-Cola Company. The company said it doubled its share of the U.S. seltzer market in the second quarter to become the fourth in total segment shares. According to NielsenIQ, White Claw and Truly together capture 75% of the U.S. market.
"While it's still early days in Europe, we're expecting the hard seltzer category to follow a similar pattern to the U.S.," said Kevin Fawell, off-trade sales director at Molson Coors Beverage Company.
The brewer is backing its new hard seltzer, Three Fold, to the tune of £5 million ($6.92 million) — marking its biggest brand investment into a new U.K. category. The injection of funds includes a digital, social and out-of-home media campaign. Molson Coors also struck a new sponsorship deal for the fledgling brand to be an official drink for Tough Mudder, the U.K.'s annual mud and obstacle run.
"Creating a hard seltzer of our own with mainstream appeal felt like a natural next step given the momentum in this space," Fawell said. Anticipating more demand, the company poured £25 million ($34.6 million) into its Burton-upon-Trent brewery this year, including work to install a new hard seltzer canning line.
Molson isn't the only company spending money in the hopes of infiltrating the U.K. Investors have been piling into local hard seltzer startups in the hopes of capturing a slice of a bubbling market. 
DRTY, a London-based brand co-founded by a former Diageo employee, snared £500,000 ($692,000) in a funding round; rival Berczy snagged £475,000 ($658,000) from a U.S. private equity group, along with extra funding from the Virgin Start Up Scheme; and investors in hard seltzer brand Served include pop star Ellie Goulding and the former boss of supermarket chain Sainsbury's.
After launching as a pure DTC brand, Berczy has expanded to 300 stores across the U.K. including Planet Organic and Eat 17. Its online model has had an impact on much of its operations, influencing its marketing, supply chain and retail strategies, co-founder Nick Graham said. Next year, Berczy is looking to grow by over 200% by leaning on its six distribution partnerships.
"The DTC approach allowed us to develop a really scalable supply chain straight away in a far safer environment; once you get in the bigger retail and wholesale channels, not fulfilling orders resulting in stock outs can be really detrimental," Graham said. 
After a rise in interest during the summer, it's no surprise that more brands are diving into the sector. Over the past year, Google searches for hard seltzer in the U.K. peaked in the last week of July. The growth in online activity correlates with the easing of coronavirus restrictions in the country. 
The hype around the category could be warranted. There are a number of overlaps between the U.S. and U.K. markets that may result in a similar sales trajectory for hard seltzers. These include cultural similarities like language and a trend toward healthier lifestyle choices among consumers, said Richard Corbett, research analyst at IWSR Drinks Market Analysis.
"The fact that hard seltzers have proven themselves in the U.S. to be gender neutral should be an advantage in the U.K.," he added, referencing its equal appeal with both men and women. In that sense, it's viewed as a more modern alcoholic beverage compared to the gendered stereotypes associated with other drinks, such as beer.
However, brands will also have to be wary of local obstacles around awareness and expectations. According to Berczy co-founder Graham, the U.K. consumer has come to expect fuller flavors from beers, wines and the sugar-packed drinks normally found in cans. "Whereas [fizzy alcoholic water] is by its nature muted with refreshment at the core," he said. The term "hard seltzer" also does not mean much to the average Brit, Graham noted.
He continued: "Brands in the category therefore have the added responsibility to get their story right in order to win over potential customers."