HelloFresh and Starbucks highlight the challenges of union organizing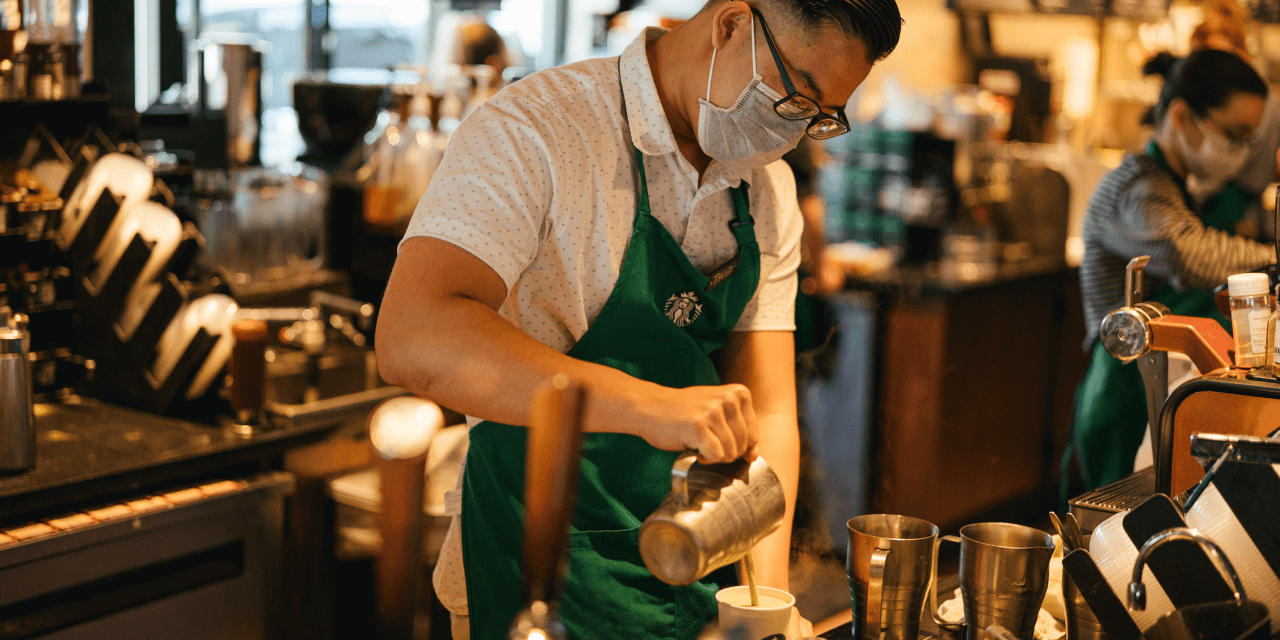 Starbucks
Over the past week and a half, a Buffalo Starbucks store voted yes in a National Labor Relations Board (NLRB) election on unionization while a Richmond HelloFresh factory voted no.
In the midst of a pandemic putting extra pressure on essential workers and a labor market with sky-high job openings, low-wage workers at retail and foodservice companies are increasingly attempting to unionize. Cathy Creighton, director of Cornell University's Buffalo Co-Lab said over email that the recent slate of unionization efforts is taking place alongside the so-called "Great Resignation." Workers, said Creighton, are growing tired of roles that "involve long irregular hours, low pay and few benefits" where they are "risking exposure to COVID or experiencing regular verbal abuse from customers in public-facing occupations."
As a result, more workers are looking to make a change — whether that is quitting their job altogether, or attempting to unionize their workplaces. A recent Gallup poll found that support for unionization is at 68%, the highest it's been since 1965.
Earlier this month, a Buffalo, New York Starbucks voted yes on unionization, making it the first American, corporate-owned Starbucks to do so. Meanwhile last week, HelloFresh's Richmond, Virginia warehouse voted no. While the two companies' NLRB elections led to different results, both highlight the complexity of unionization and the issues facing low-wage labor today.
Starbucks says "yes"
Last week, three Buffalo-based Starbucks locations voted on unionization. At one — an Elmwood location — the baristas and shift supervisors voted "yes," 19 to 8. At the second location workers voted "no." The vote of the third location, meanwhile, is in legal dispute.
Starbucks has nearly 9,000, company-owned U.S. stores and — while workers in Alberta, Canada voted yes to unionization last year — this marks their first yes-union vote on a company-owned Starbucks in the U.S. The United Food and Commercial Workers International Union currently represent a handful of store-within-store, franchisee Starbucks employees after a similar organizing movement in the 80s.
"The vote is very significant," said Todd Vachon, director of the Labor Education Action Research Network at Rutgers University. "This group of workers demonstrated that even in the face of significant opposition by a very well-resourced and anti-union employer it's possible to beat the odds and successfully organize a union."
Despite the success of the movement, however, uncertainty abounds. Three other Buffalo locations and one Arizona location are also in talks to unionize, and the next steps for the Elmwood location are unclear.
Throughout the Buffalo process, Starbucks has insisted that a union is not necessary. "No partner has ever needed to have a representative seek to obtain things we all have as partners at Starbucks," said CEO Howard Schultz in a letter to employees following an open forum in Buffalo.
Starbucks executives asked employees to vote no directly via a letter in October. They argued that a union vote should be done at once across all Buffalo locations rather than on a store-by-store basis, as Starbucks' workers are allowed to take shifts at multiple regional stores.
These moves to sway its workforce have been dubbed "union-busting" by some workers and organizations in favor of the union. Over the course of August to December — the timeline of the unionizing efforts — a variety of top-level executives have descended on Buffalo with unannounced store visits, according to Casey Moore, a Buffalo Starbucks barista.
Wilma B. Liebman, a former chairwoman of the NLRB, told Salon that these visits undercut the idea of "laboratory" voting conditions (e.g., untouched and uninfluenced) and said, "It's hard for me to think that [employees] would not be coerced."
Vachon added that while Starbucks is mandated by law to honor the vote and "bargain in good faith," he worries that "they may attempt to drag out the bargaining process and stonewall all proposed workplace improvements in hopes of never achieving a first contract."
"The first goal of anti-union employers is to prevent the union from forming and, if they fail in that regard, the strategy switches to preventing the union from successfully bargaining a first contract, thus essentially killing off the union," said Vachon. "With enough public attention and pressure, it will be more difficult for Starbucks to do this."
When asked for comment by Modern Retail, a Starbucks' spokesperson pointed towards Schultz' latest employee letter in which Schultz said, "we feel strongly that all partners in Buffalo should have a voice in the elections, which may unfortunately not be the case. "
Schultz added, "While we recognize this creates some level of uncertainty, we respect the process that is underway and, independent of any outcome in these elections, we will continue to stay true to our Mission and Values."
HelloFresh says "no"
HelloFresh has been in the midst of a similar campaign. Workers alleged unsafe working conditions and injuries while working on the floor as primary concerns for unionizing.
Still, employees in Richmond, Virginia on Wednesday voted "no" in an NLRB election on unionization following a similar "no" vote at a HelloFresh facility in Aurora, Colorado. The Aurora location voted "no," 166 to 91, last month, and on Wednesday, Richmond voters voted "no," 289 to 198.
However, as with Starbucks, a wide variety of employees, academics and pro-union activists have condemned HelloFresh for what they allege are union-busting tactics. Late last month, Vice revealed internal HelloFresh slacks showing that company executives directly asked workers to vote "no." Kate Walpert, the company's vice president of brand marketing, said she was looking to hear workers' "experience with unions (negative)" and "things you want to tell people (e.g. vote no)"  for an anti-union video that the company was putting together. Moreover, executives announced they were tracking pro-union social media posts from people claiming to be employees.
"Hopefully, this Union stuff goes away soon," the company's customer service reportedly team wrote on Slack on October 1.
In response to Modern Retail's request for comment on the Vice article and unionization efforts more broadly at HelloFresh, a spokesperson said over email, "The outcome of these elections affirms that HelloFresh employees do not want to be represented by Unite Here and reflects our employees' trust to work in their best interest. We have emphasized throughout this whole process that we support a free and fair election."
However, pro-union media too has accused the company of interference in their efforts to cover the organizing at HelloFresh. Josh Miller-Lewis, creative director at digital publication A More Perfect Union, said that the publication had posted a video highlighting workers' perspectives on why they wanted a union.
"One morning, a couple days I think after we posted the video, [we got a message] from Twitter, saying that they had removed our content because of a copyright claim on the video… from the company's social media manager," said Miller-Lewis. "They pointed to moments in the video that they claimed violated their copyright, a couple of clips that we had used from HelloFresh promotional videos."
In response, A More Perfect Union filed a counter claim and put out a second video where they removed the sections that HelloFresh had claimed copyright on. "A few days ago, we got notice from Twitter that they're restoring our original version as well," said Miller Lewis.
HelloFresh responded, "It is our duty to correct misinformation and mischaracterizations of our company. The request to remove the More Perfect Union video was due to a blatant copyright violation of HelloFresh content, which has since been remedied in the new version posted by the account."
More broadly, the HelloFresh unionization efforts highlight what Vachon described as the "uphill battle" of U.S. unionizing efforts as well as major companies' reticence to embrace the model. Still, both Vachon and Creighton are optimistic about the future of labor organizing in America.
"The Starbucks campaign has gained international attention which will reach the consciousness of the American worker, said Creighton. "It seems likely the unionization effort will spread, and is already spreading from Buffalo, to Arizona, to Boston."