Earnings
// February 24, 2022 ■ 4 min read
Home Depot continues to grow more quickly than rival Lowe's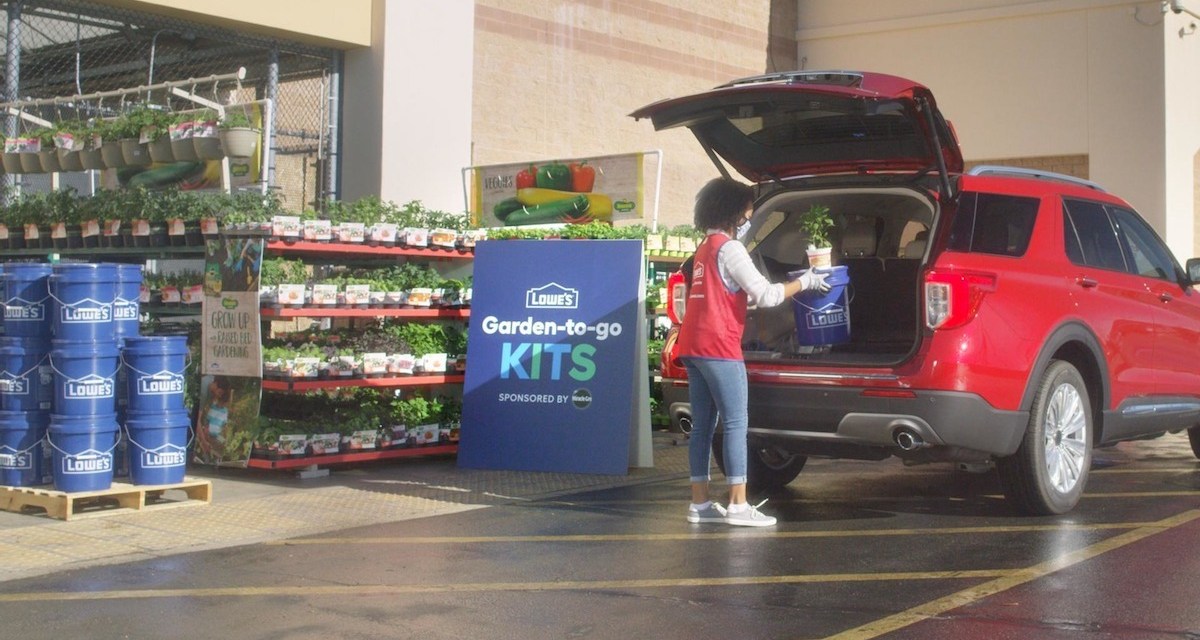 Lowe's
While home improvement retailers Home Depot and Lowe's have both been able to sustain pandemic-driven growth, Home Depot continues to grow faster than its biggest rival.
On Tuesday, Home Depot reported that net sales rose 10.7% year-over-year to $35.7 billion during its fourth quarter, with comp sales up 8.1%. Meanwhile, Lowe's reported on Wednesday that total sales grew 5% in the fourth quarter to $21.3 billion, and comp sales were up 5%.
The two grew modestly during the fourth quarter compared to the blockbuster growth they saw over the last two years, and their projections for the fiscal year 2022 are mixed. Lowe's raised its revenue projections for the fiscal 2022 year, while Home Depot is giving more conservative projections, only projecting a slightly positive sales increase. 
Over the next few months, both home improvement retailers may also be able to tap trade professionals to maintain momentum — an area that Home Depot has historically been stronger in — the companies said. Executives said pros make up about 50% of Home Depot's sales. Lowe's did not share exactly how many of its sales came from pro customers during the fourth quarter, but that revenue from that segment was up 23% year-over-year.
"We've grown the business by over $40 billion over the last two years," Home Depot CEO Craig Menear said during a call with investors and analysts. "For context, prior to the pandemic, it took us nine years from 2009 to 2018 to grow the business by over $40 billion. So to achieve that level of growth in two years' time is truly a testament to our investments, our teams and their exceptional execution."
Eyeing the pros
Record growth in the home improvement sector was largely driven by consumers during the first half phase of the pandemic as they tackled do-it-yourself projects at home. But, as the pandemic progressed, sales from professional contractors rose.  
"The real driving force of the sector is now the professional who continues to be busy with construction, repairs and remodels," ​​Neil Saunders, managing director of GlobalData, said in emailed comments. "Although Lowe's has done a lot to improve its proposition with this constituency via the 'Lowe's for Pros' program, this is not its natural territory — it still plays second-fiddle to Home Depot which is the destination of choice for many tradespeople. The company needs to pull out all the stops to remedy, or at least rebalance this, if it is to make further gains."
Compared to Home Depot, a large chunk of Lowe's business has historically come from DIYers. Professionals have historically only accounted for 25% of its sales. But that might soon change.
Lowe's CEO Marvin R. Ellison said the company has been nabbing market share across DIY and pro markets thanks to its Total Home Strategy, which is designed to enhance the customer engagement and increase its focus on professionals. "In 2021, we increased comparable sales by 6.9% while generating over 170 basis points of operating margin improvement, with our relentless focus on productivity and enhanced pricing strategies," he said in the earnings report. "We remain confident in the long-term strength of the home improvement market, and our ability to expand operating margin."
To grow its Pro business, Home Depot has invested in new delivery centers over the past several years to appeal to home professionals. These centers allow Home Depot to more easily deliver building materials and bulky products. The retailer also offers this customer group loyalty program, as well as pricing programs that offer custom quotes and discounts exclusive to pros.
What home improvement retailers are expecting next
Experts said both home improvement retailers stacked up well in comparison to last year's fourth quarter when Home Depot and Lowe's sales grew 25.1% and 27%, respectively. Home Depot's sales for the fiscal year were $151.2 billion, and Lowe's were $96.3 billion. 
"Of course, we're not going to have that drastic boom that we had when everybody was at home indefinitely and spending a lot of time in their house, therefore, spending money on it as well," said Julie Gillespie, head of market research at TipRanks. "I think we'll see [growth] slow for sure, but I don't think it's going to completely go away."
Due to challenges with the supply chain and inflation, companies have had to pass along costs to consumers, Gillespie said. But demand for home improvement products is still quite high, she added. "When some of these restocking orders come in, they're out the door just as quickly so the demand is still there for sure."
For Michael Baker, managing director at D.A. Davidson, the most unexpected finding from Lowe's is the fact that the retailer raised its 2022 outlook. Lowe's said it anticipates sales for the fiscal year 2022 to be between $97 billion and $99 billion, assuming lumber prices will normalize later in the year and the pro segment outpaces DIY. Meanwhile, Home Depot opted for a more conservative outlook. It expects sales growth and comp sales growth for the fiscal year 2022 to be slightly positive.
"Only three weeks into the year [and] they've already increased their outlook relative to what they previously thought only two months ago," indicating that business is going well for Lowe's, Baker said. "I think there is a concern that higher interest rates might start to slow down housing and housing-related sales, but at this point, it seems like Home Depot or Lowe's aren't yet seeing that."