How board games are going digital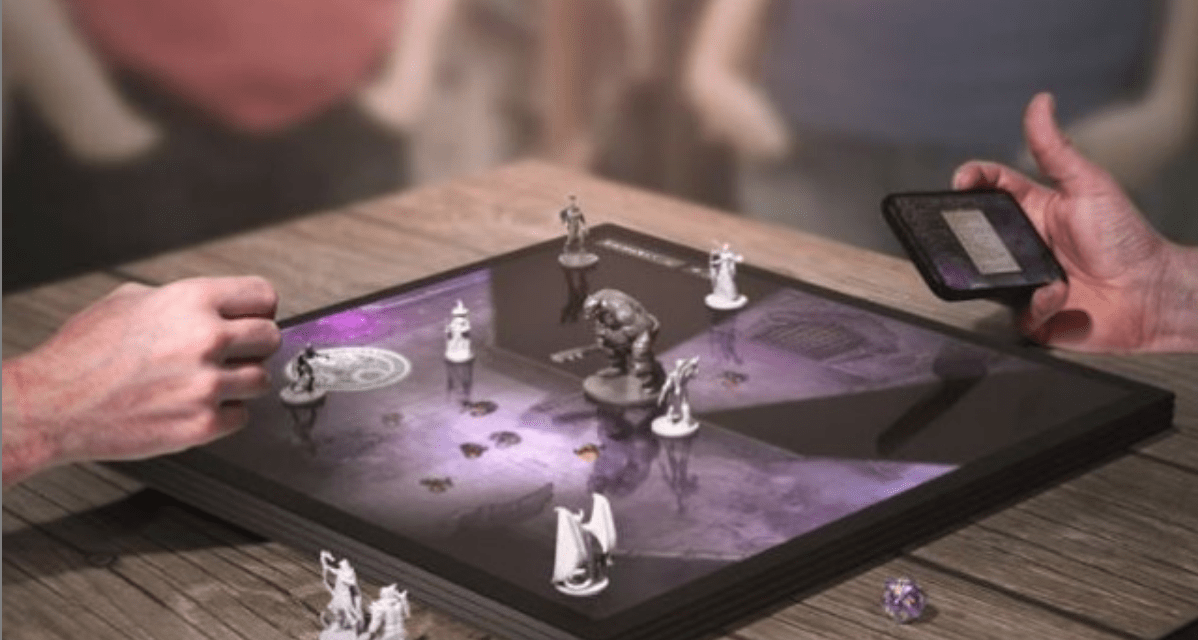 Last Gameboard
A new class of tech startups is leading the way for digitized board games..
In recent months, a few companies have announced the launch of different versions of a digital game board — a technology akin to iPads the size of a small table that essentially lets people play an assortment of digitized board games.
One of those is the Infinity Game Table from Arcade1Up, a company that traditionally manufactures equipment; another is SquareOne, from the startup Wizama; and finally, The Last Gameboard, which raised $4 million in May, is planning to enter beta next month. While the Infinity Game Table is fully digital — both the game board and all of the pieces are digitized — SquareOne and The Last Gameboard each give players the option to put down physical pieces or cards on their tablets.
These game boards are small projects with, so far, limited audiences. What's more, with steep prices that can exceed $700, adoption could be limited only to superfans. But they do seem to be arriving at the right moment. As companies pop up to create digital tabletop games that more closely resemble their real-life counterparts, big-name board game makers like Hasbro and Asmodee are betting that their futures lie in finding ways to blend the digital and physical versions of their projects, too. Downloads of mobile tabletop games exploded during 2020, and while some of that growth has lagged more recently, developers are eager to catch up to the trend.
Digitizing board games is not, on its own, entirely new. Since at least 2012, Hasbro has made its most popular games, like Monopoly, available as mobile apps. But these apps have run up against a fundamental problem: gameplay on such small devices is clunky, and it is hard to recreate the experience of communal gaming.
Game board makers say that they have the solution. "In the last five years there's been completely virtual digital tabletop platforms that have emerged, [but] they become either video games or they become very clunky user experiences," said Shail Mehta, the creator of the Last Gameboard.
Mehta's goal was to create a technology that mimics the way people have played board games for centuries. When she developed her product, she asked herself, "where is this intersection between digital and physical?" she said. "We think technology is at this point where you can deliver both." She built a touchscreen gameboard — shaped like a Monopoly board — that displays each game digitally but still responds when people play with physical pieces.
What companies like hers promise is access to a wide library of tabletop games that users can toggle between. The Last Gameboard offers access releases from prominent game makers like Asmodee through a $15-per-month subscription model, while other game boards let users buy digital tabletop games like they would apps from an app store. (The Last Gameboard's site lists Dominos and Terraforming Mars among its games, though Mehta said more are on the way.)
How game makers are investing in digital
Mobile tabletop game sales exploded last year, during the height of the pandemic — but there are some signs of it leveling off. That makes for a perfect opening for new digital game board platforms that aren't reliant on mobile devices.
Craig Chapple, a mobile insights strategist at SensorTower, told Modern Retail that spending on U.S. mobile tabletop games has increased 40.1% from the year ending in July 2020 to the year ending in July 2021, from $502.2 million to $703.8 million — though, notably, installs of games fell 12.1% during that period. Data from App Annie suggests a similar trend; according to the firm, downloads of tabletop games on iOS and Google Play dropped from 154 million between January and August 2020, to 112 million downloads during the same period a year later.
A few game development firms in particular have made retrofitting board games for the digital ecosystem an increasingly significant part of their overall business models. Asmodee — one of the largest board game makers after Hasbro, with games like Catan, Pandemic and others in its catalog — has increasingly focused on developing its games for digital. In February, Asmodee acquired one of the most popular hubs for discovering and playing digital games, the online platform Board Game Maker. Board Game Maker said it had 5 million members at the time of the acquisition, and claimed to have witnessed 600% growth during the course of 2020.
That isn't just unique to a few niche platforms or game makers. For Hasbro, one of the largest makers of traditional board games in the world, digital gaming represents one of its fastest-growing segments. This past quarter, Hasbro said that its digital gaming revenue jumped 118% year over year, a stat that was driven by the launch of Hasbro's most popular games, like Magic: The Gathering Arena, on mobile. "Digital is going to be a growing part of the business," the company's CEO Brian Goldner told investors.
The rush to digital tabletop gaming is buoyed by activity on Twitch, which has proven to be as popular among board game fans as among traditional video gamers. Dungeons & Dragons, for instance, has seen a revitalization on Twitch and YouTube — one of the most popular channels, Critical Role, streams D&D games to over 1.3 million subscribers. Even chess has become a Twitch hit. Over the past year, people watched 138 million hours of chess content, up 166% from the same figure the year before.
Challenges to scaling remain
While digital game boards are having a moment now, they come with steep price tags: The Last Gameboard console costs $699, and the Infinity Game Table costs between $650 and $850 depending on the size. SquareOne has yet to release its prices, but the price listed on its Kickstarter was $600.
Given that, other firms are attempting to improve the experience of digital board gaming more cheaply. Roll20, for instance, hosts a marketplace of digital tabletop games designed for your browser. Roll20 pairs up interested players and then gives them tools in their browser — like video chats — in order to make the experience more collaborative. The company told Modern Retail that it hit 8 million users in January 2021, up from 5 million in March 2020.
For the game board makers, the road to convincing a large share of people to shell out $600 for a digital game won't be easy, and it may ultimately hinge on the assortment of games they are able to license. If too few developers decide to adapt their games to these game boards, they might not be worth it even for fans who care deeply about the quality of digital games.
But a foray into the digital space opens up analytics opportunities for game developers, too. Mehta said that one benefit for game-makers is access to data on how users are actually playing their games. "Video games have this massive advantage where they know how players are playing," she said, and "they can curate content to that." She pointed to companies like Netflix, which have begun using fine-tuned data in order to develop and curate content. Until now, "with tabletop, that doesn't exist," she said.