Q&A
// May 26, 2021 ■ 6 min read
How Christie's is preparing for art auctions of the future with digital investments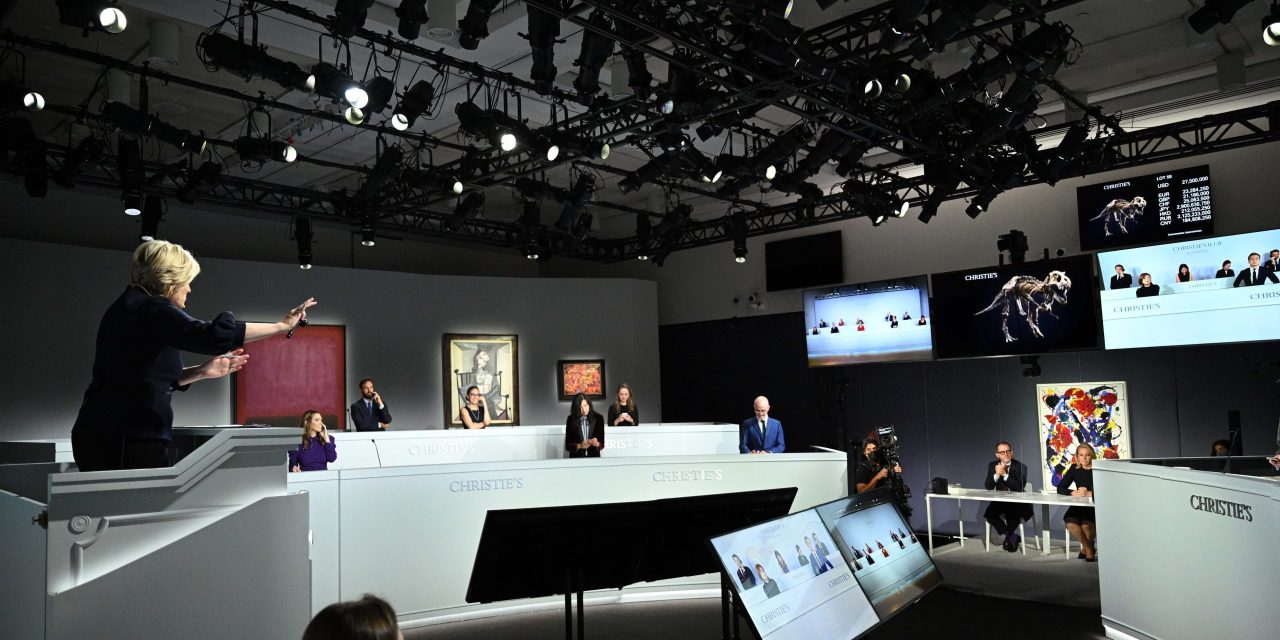 CHRISTIE'S IMAGES LTD. 2021
The 250-year-old luxury and art auction house Christie's is building a hybrid digital and in-person retail experience as it prepares for a post-pandemic future.
The pandemic posed challenges for courting Christie's luxury and high art auction consumers who were used to a white-glove, in-person treatment before purchasing goods worth millions. Aggregate auction sales at Christies, Sotheby's and Phillips struggled particularly in the first 7 months of the year, down 43% in aggregate. While sales picked up toward the end of the year, Christie's saw a 25% drop in annual sales in the full year of 2020, year-over-year.
However, Christie's says its pre-pandemic investment in digital marketing as well as a willingness to experiment with high-production livestream auctions and virtual reality product merchandizing during the pandemic helped it navigate uncertainty. Over 90% of Christie's tradition client base started "engaging with us digitally" over the past year, Christie's global head of corporate and digital marketing, Matt Rubinger, told Modern Retail.
Now, Christie's is hopeful for a return of some in-person audience members in its New York auction in November. But the auction house still experimenting with new digital strategies, such as the sale of Non Fungible Tokens (NFTs).
Rubinger spoke to Modern Retail about how the art and auction house is thinking about how much to invest in digital as in-person events return, as well as where Christie's fits into the NFT boom. This interview has been edited for length and clarity.
How did Christie's shift to digital experiences during the height of the pandemic?
We had already begun introducing virtual reality experiences, augmented reality experiences, additional imagery, super-zoom technology, 360-degree photography. It was no longer an option whether people were going to come and see the objects [in person]. [Christie's shoppers] had to engage with them online and we had to be sure that we created the excitement and the emotional hook that you have to have to make a purchase like that. That side of it was somewhat more straightforward.
What was more of a challenge at the time was imagining a live auction without any clients in the room. There is a huge amount of energy and momentum driven by the hundreds of people in the room bidding.
The first step was that we had to convert our [auction] space. Our auction rooms have converted from an auditorium with a stage to full production studio sets with trussing and lighting and cameras and control rooms. We have probably more than quadrupled the number of production people that are required to create these events. [Our auctions] shifted from an in-room theatrical experience to a highly produced live stream event.
What are some of the challenges with pivoting to digital strategies in fine art and luxury goods in particular?
On the luxury side, [for] some [areas] like photography and prints, the transition was a bit easier because people had an understanding of what it is they are looking at. [What was] challenging was at the super-high end, what we call the evening sale — the masterpiece level in post-war and contemporary art and impressionist and modern art…
There was some trepidation whether or not clients would engage and whether they would spend at that level, without having seen the object in person. [However], overwhelmingly our traditional clients moved digitally in terms of engagement. Of our traditional client base, the percentage of those who starting engaging with us digitally was in the 90s. The next question was, would they bid in the seven and eight figures without having seen the piece in person? The numbers were certainly not in the 90s, but it was double digits.
What has this year looked like for Christie's? How might this digital and in-person mix shift as we move towards a post-pandemic future?
Just two weeks ago, we had the biggest sale of the first half of the year and [it was] extremely successful, including the first $100 million painting to be sold by an auction house since the pandemic started. [This is] really a sign that the energy and the momentum is back, but we still weren't allowed to have clients in the room.
On the one hand, our view is that we are not ever going to be a fully virtual, digital business because we sell physical objects, one-of-a-kind paintings. On the other hand, now that all our clients are now smoothly, easily and happily engaging with us in a virtual and digital way, we need to make sure that we are allowing for both of those experiences.
For our next major sales season in November, we are very excited — if things continue the way they are now — to welcome clients back into the room to combine the two experiences.
What we added this season — and what I'm really looking forward to in future seasons — is our virtual audiences. We partnered with Microsoft, and taken a bit of a nod from the NBA last year [in] looking at how they used Microsoft Teams and Microsoft together to have a real virtual audience. For our sale two weeks ago, we had four "virtual skyboxes…" Rather than our [traditional] physical skyboxes, we had about eighty people across four different virtual rooms that were actually on screen in the auction room. It was a first-time experiment, [but] my vision is that in future seasons, as we move back into a hybrid experience, that our clients will have the choice.
Christie's sold the first purely digital work of art ever offered by an auction house with digital artist Beeple's collage in March and has since continued selling NFTs. Can you speak a bit about the Christie's experience with this technology and what it might mean going forward?
It's a very exciting new world for all of us, and it could go many different directions. Christie's has taken the approach of being an early mover. Us selling the Beeple work in Feburary for $69 million dollars… that will forever be the sale. It's what everybody looks to as what has kicked off the market.
The next step is that we are being very careful as a brand to consider where Christie's belongs in this conversation. [We] have two places in particular where we are focused, where we really have an authentic position.
One of them is quite obvious: the digital art space. Of course we would lean into artwork in a new medium. What we saw with the Warhol announcement last week is a good example of that. Warhol is a major blue chip artist for Christie's and he created digital artworks that have now been tokenized and we're partnering with the Warhol Foundation to sell those at auction for charity.
The other place where we belong is at the very top of the market. We are not just an auction house that sells fine art, we also sell collections and estates and collectibles and memorabilia and luxury goods. When you get to the height of collectability, Christie's also has a place in that conversation.