How co-working is taking over retail and hospitality spaces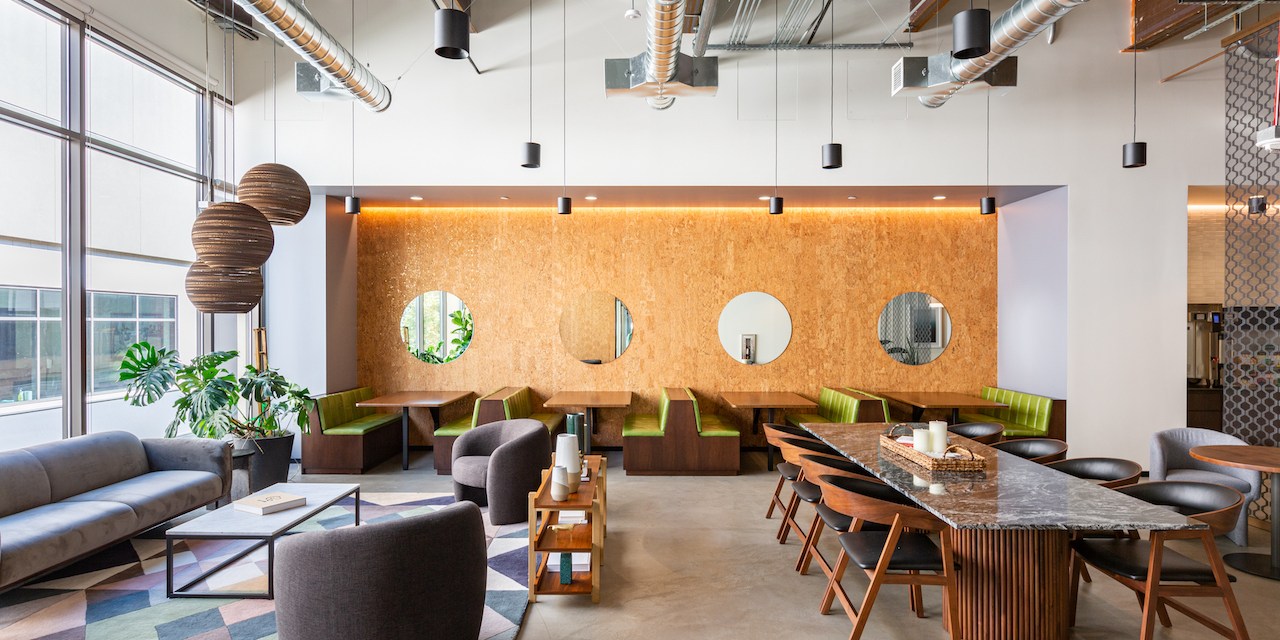 Image via Industrious
Co-working spaces are increasingly creeping into retail.  
Earlier this month, Saks Fifth Avenue announced it will convert sections of its stores into WeWork co-working spaces. Meanwhile, other co-working competitors like Industrious are increasingly looking to open more locations in partnership with malls, while some restaurants are looking at creating a co-working space as an additional source of revenue. 
With many remote employees looking for alternatives to working from home, co-working space providers are hoping to capitalize on the flexibility. Companies like WeWork, Regus and other competitors began by opening co-working spaces within existing office buildings in city centers. However, the changing needs of customers are pushing them to get creative with their locations. Co-working companies are instead increasingly looking to open locations in different types of locations — and are partnering with businesses that have been hit hard during the pandemic in order to to do so. 
Industrious, which specializes in managing private offices and suites and has locations in over 50 cities, is doubling down on retrofitting abandoned retail spaces, mostly within shopping malls.
"I wish we had made a bigger bet on malls earlier," Industrious CEO Jamie Hodari told Modern Retail. As more suburban workers no longer want to commute into the city, "a workplace in a mall meets many consumers' needs.
In the past two years, Industrious opened office locations in malls across the country, including New Jersey's Short Hills Mall, Scottsdale Fashion Square in Arizona and in the Philadelphia Fashion District. In July, the company opened its newest location at the One Colorado Shopping District in Pasadena, Calif. — which was converted from a shuttered Crate & Barrel. These formats, Hodari explained, have become some of Industrious' best performing locations and are attracting foot traffic from locals. 
Industrious added about a million square feet of locations in 2020. Last year also saw Industrious introduce its "Work from Hotel" concept, starting with Brooklyn's Wythe Hotel. Some new locations were taken over from other co-working office providers whose contracts ended. Others came via inbound requests from landlords approaching the company, Hodari said. As of June, Industrious surpassed pre-Covid revenue, with the office provider selling 3X to 5X more units compared to 2019. 
Early on, some companies were nervous about companies having their teams meeting in a mall, many have come around, said Hodari. Now, however, "most customers feel comfortable in a mix-use space as more of them stitch together a daily workday." As a result, the company has been increasingly moving away from traditional office buildings. 
However, there are challenges to converting former retail spaces, Hodari said. "Sometimes we have to build out an entire defunct department store into a productive space." For example, many stores' interiors that face the malls' hallways don't provide much natural light. So Industrious focuses on opening in the "end caps of the mall," which typically have dedicated entrances and parking space, said Hodari.
It's not just traditional retail real estate that's being taken over by remote offices, but hospitality spaces too. Increasingly, restaurant and bar owners are adding dedicated workspaces as well. 
Justworks, a startup that provides businesses with payroll and HR services, has been experimenting with sponsoring remote offices this summer. In June, the company launched a campaign with The Infatuation in New York City focused on providing drop-in workspaces in participating restaurants' outdoor area.
Julie Brodsky, director of marketing at Justworks, said that while Justworks focuses on software services, the campaign gives its small- and medium-sized clients an affordable way to reconnect teams in-person. "We partnered with The Infatuation to find minority and women-owned establishments to support," said Brodksy. The campaign, which runs through September, includes outfitting outdoor dining huts with branded murals.
Moshe Schulman, partner at restaurant Kindred in Manhattan (which participated in the program), said the Justworks campaign builds on Kindred's existing workspace. Kindred's outdoor co-working area costs $25-per-tables, and includes charging stations, WiFi and unlimited coffee all day. Another incentive is the option to keep the table and stay for happy hour or dinner.
"We started Work from Kindred last September as a way to offset slow business," said Schulman. Previously, the restaurant was closed during the day, and focused on dinner service. "It's been an additional source of revenue that saved us from closing last year." 
Kindred currently averages 50 reservations per week. While summer reservations have slowed down, Schulman said the restaurant expects a busier fall as it continues to run Work from Kindred until Thanksgiving or Christmas, depending on the weather.
"We expect to see a steady stream of people to come back as the weather cools down," he said.