How DTC home cleaning startups are mapping out their 2022 growth plans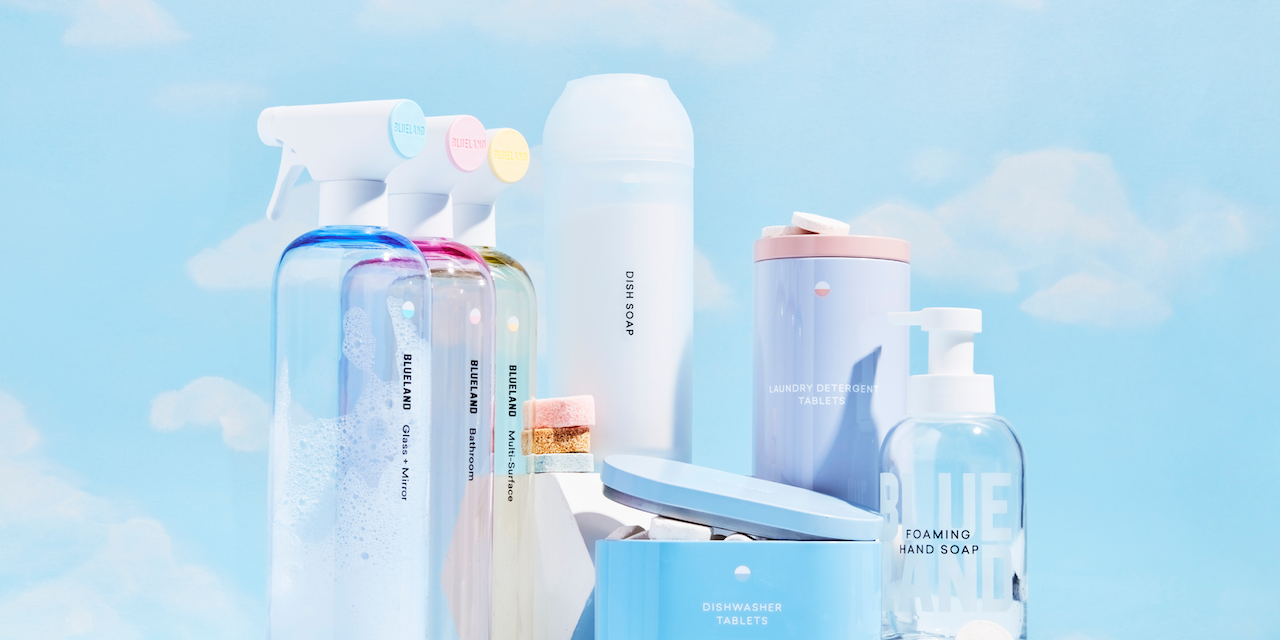 Image via Blueland
When the coronavirus spread throughout the U.S. in 2020, direct-to-consumer cleaning brand alternatives received an influx of new customers. 
Back then, brands like Grove Collaborative, Blueland and Branch Basics experienced a spike in sales due to panic-buying, which raised these brands' profiles in 2020. 
Two years into Covid, the demand for cleaning products has subsided compared to the beginning of the pandemic. However, these direct-to-consumer players are trying to maintain growth momentum in various ways. Some startups have started focusing more on digital customer retention and launching new products. Other companies like Grove Collaborative and Blueland are also plotting their next physical retail expansion. 
Overall, sales are still growing. At the end of 2021, Grove Collaborative reported $383.7 million for its full-year revenue, up 5.3% year-over-year and 64.6% on a 2-year basis, according to its recent fiscal report. And as of this past February, Blueland grew over 400% year-over-year.
"Consumers' relationship with cleaning has evolved"
Sarah Paiji Yoo, founder and CEO of Blueland, told Modern Retail that when the coronavirus first hit, there was concern that sustainability would take a backseat to single-use disinfectant brands like Clorox and Lysol. "But since then, people have come around to understanding how our formulas work," she said.  
Many of the cleaning startups that have launched in recent years focus on refillable cleaning solutions, positioning themselves as sustainable alternatives to basic household products. Blueland, for instance, sells concentrated powder tablets that are mixed with water to help reduce plastic spray bottles. These models have also attracted venture capital over the past few years. According to a 2020 Digital Shelf Institute report, between 2015 and 2019 investors pumped $3.3 billion into CPG brands that are trying to disrupt traditional conglomerates' offerings.
Paiji Yoo said that over the past two years, "consumers' relationship with cleaning has evolved." Blueland, which launched in 2019, closed a $20 million Series B round in February, which will be used to grow the company's team and invest in R&D, said Paiji Yoo. The company is also planning an expansion into personal care later this year.
"We've seen incredible retention from those early cohorts of Covid customers," Paiji Yoo said.  She added that about 90% of Blueland shoppers place refill orders through the website. 
"Our business is still mostly DTC, despite selling in retail," she said. The 2022 plan is to reach more consumers through physical retail partners that now include West Elm and The Container Store, which Blueland entered last year. "2022 is an exciting year because we'll be pushing into retail in a much bigger way," said Paiji Yoo.
Similarly, Tim Murphy, CEO of non-toxic cleaning brand Branch Basics, said the green cleaning category is seeing a swing back to a middle ground. "Consumers are now somewhere between stockpiling Lysol and trying better for you variations," Murphy said. He added that two years into the pandemic, "people are feeling the side effects from cleaning with harsh chemicals."  
Branch Basics, which launched in 2017, sells liquid concentrate kits and refills for surface cleaners and laundry detergents. The company is still relatively small player in the space, Murphy explained. Like other startups, the coronavirus pandemic pushed the company forward by a couple of years thanks to the adoption of e-commerce, he said. 
"Since 2020 we've maintained a similar rate of repeat customers, which speaks to the sustained interest in better-for-you surface cleaning products," Murphy said. Currently, one-third of Branch Basics' revenue comes from subscriptions, Murphy said. This year, one of the company's plans is to roll out new products, and it's considering an Amazon store via Fulfillment by Amazon.
Still, the most effective method for sustaining sales is educational content, said Murphy. For Branch Basics, this includes social media and email newsletters. "These serve as our retention strategy by getting customers back on our site," Murphy said.
Pushing into the next stage of growth 
Grove Collaborative, which is currently preparing for its SPAC public offering, has experienced its biggest growth period over the past two years. The company, which was founded in 2012, has weathered multiple waves of home cleaning product trends, said CEO Stu Landesberg. "There were times when this category wasn't happening at all," he said. Grove began as a marketplace offering assortments from third-party brands like Mrs. Meyer's and Seventh Generation. However, over the past few years the company has been focused on growing its own private labels. 
Still, Grove Collaborative has experienced slower-than-anticipated growth in recent quarters The company's fourth-quarter sales were down 6.2% year-over-year, but up 27.9% compared to 2019, according to the company's recent full-year financial report. The company also laid off 17% of corporate employees in March to "reduce operating expenses and strengthen key strategic areas across the business," ahead of its SPAC offering, according to Retail Dive's report. The company declined to comment further on the layoffs.
Landesberg maintained that overall interest in Grove's expanding assortments remains strong over the past two years. This is partly thanks to new private brand launches in the personal care category, Landesberg said. For example, February had the startup's biggest fulfillment day ever — due to a number of exclusive collaborations after the new year. One collection collaboration was with interior designer Jeremiah Brent, featuring limited-edition dish soaps, dispensers and candles, among other home accessories. Landesberg also said that the company has sold nearly six million refillable surface cleaning systems to date. 
Now, the company is focusing on perfecting its assortment. "Next up, we're going plastic-free category by category," he said. Grove, which carries single-use products from third-party brands, is increasingly focusing on its zero-plastic and refills cleaning bundles. "We're applying refill formats to beauty and skincare, like bar shampoo as opposed to bottled," Landesberg said. 
Outside of expanding the Grove Co. flagship private brand, the company is also doubling down on its new pet and kids lines. 
Grove's personal care line, Peach Kids, started with six bath products last year and has since expanded to an array of personal care SKUs. This year, the company will continue to add more products to the line. The petcare expansion, meanwhile, is a reaction to the influx of pet ownership among Americans. Landesberg noted that over 80% of Grove Collaborative customers own at least one pet, which inspired the company's push into pet-grooming products last December.
Finally, like Blueland, a bigger push into retail is on the horizon for Grove Collaborative. 
Last year, the company entered Target as its first physical retailer, which Landesberg said has shown promise for the green surface cleaning category. "We'll be adding new retailers to the mix this year to get into more doors," Landesberg said.