'Our real commitment is to the community': How EatOkra is building a marketplace for Black businesses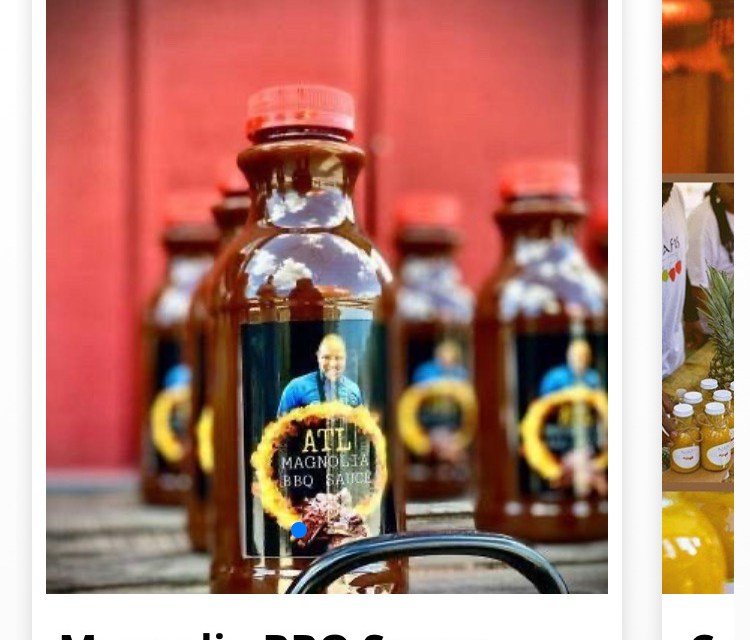 Screenshot, via EatOkra
Startup EatOkra wants to become much more than a Yelp for Black business.
Since its launch in 2016, the app has built up a catalog of Black-owned restaurants, joining the ranks of websites like WeBuyBlack that direct consumers to Black-owned businesses near them. Its first few years of life were relatively quiet — but this past summer, during the height of the Black Lives Matter protests, the app exploded in popularity. Fast Company, Forbes and dozens of other publications wrote about it. For the two founders, Anthony Edwards and Janique Edwards, that moment created a boom.
"This time last year, we had about 20,000 downloads," Anthony Edwards told Modern Retail. "Now we're at about 300k downloads." In recent months, EatOkra has secured high-profile partnerships, including an integration with Apple Maps, and the number of Black businesses listed on the service jumped from 3,000 to 6,700 — mostly restaurants, bars, food trucks and so on.
EatOkra's current iteration looks a lot like Yelp: users can filter by location and food type, leave reviews and find contact info and open hours for restaurants in their area. Although businesses are mostly heavily indexed in cities, EatOkra encompasses the whole U.S. But Edwards said that he thinks a lot more is on the horizon, including new features that would let users buy from businesses — and even home chefs — directly in the app. And in a dire moment for the Black business community, EatOkra wants to become something bigger — a cross between a Yelp and an Amazon that supports Black entrepreneurs and facilitates localized e-commerce across the world.
"EatOkra is in its infancy," Edwards said. "There's so much opportunity that we can do in the food and beverage space that we want to take advantage of."
An especially dire time for Black businesses
EatOkra's growth ambitions are coming at a difficult moment for the Black small business community. While the pandemic has shuttered businesses across the country in record numbers, it has proven to be especially devastating for Black entrepreneurs. Black entrepreneurs were about two times more likely to have to close their businesses than non-Black peers. In total, 41% of the country's Black-owned businesses shuttered between February 2020 and April 2020 alone. (That rate has almost certainly gone up since.) By contrast, only 17% of white-owned businesses shuttered in that same period.
Compounding the inequities is the fact that Black business owners received PPP loans in trivial numbers compared to other business owners. According to one recent paper, Black small businesses were 30 times less likely to receive government loans than their non-Black peers. Only 0.3% of Black business owners were given the loan money, compared to 9% of non-Black owners.
"The [Small Business Administration] did not prioritize business owners in underserved markets, including business owners of color," said Felix Kabo, a researcher at the University of Michigan, who published the study on small business loans. The disparity can be traced to a number of factors, including lack of targeted information, lack of access to the big financial institutions that distributed the majority of PPP loans, and the fact that many Black entrepreneurs did not have the same resources to apply for loans as larger companies.
Kabo is still untangling the degree to which the disparities in loan assistance contributed to the closure of Black businesses. But he said a connection is likely. "It makes sense to me that if someone is drowning and you throw them a rope and a lifeline, they may not get hauled onto the lifeboat right away, but they have that hope," he said. "But if someone is out there in the middle of the ocean with 20-foot waves and nothing in sight, at some point they might go, well, this is it, there's no help coming."
EatOkra has seen that pain firsthand — according to Kevin Edwards, who works on the company's customer success team, "every day we get an email or a phone call or a text message that someone listed on the app has either temporarily or permanently closed," he said. The average business on EatOkra is a "smaller mom and pop," and has little access to capital or other sources of wealth. "They've been really taking it on the chin in the last ten months or so," he said of these businesses.
Building an online marketplace
At the margins, EatOkra might be able to help. It wants to become an e-commerce hub that includes all kinds of Black businesses — both traditional brick-and-mortar businesses and others. The company has been rolling out a marketplace feature, which highlights a series of one-off products — BBQ sauce, artisan teas, hot sauce, granola — from a mix of brick-and-mortar restaurants, ghost kitchen operators and individual distributors who regularly work with grocers like Trader Joe's. Right now, the marketplace is in a beta phase, and only a couple dozen products are listed on it. But in the coming months, the company wants to open up the marketplace to private chefs, caterers and even home cooks. "It's kind of like our mini Amazon within EatOkra," Anthony Edwards said.
EatOkra has acquired most of its capital through crowdsourced fundraising campaigns, but to monetize itself, the company is also building out a subscription plan that gives businesses extra promotion in exchange for a fee. For now, when a user clicks one of the stores listed on the EatOkra marketplace, it takes them to that store's website. But co-founder Edwards said that by the third quarter of this year, he expects that the app will be facilitating pickup orders for businesses — though at least so far, he has no immediate plans for EatOkra to offer logistics and delivery services the way UberEats does. He also has plans to expand EatOkra's reach into Canada, South Africa, the UK and other countries.
Kabo said that services like EatOkra can help boost local commerce. "It can remind the community that your local business that's been there since 1937 is a great asset in times of trouble because they understand the neighborhood, the community, very well," he said. But directing shoppers to Black businesses is only part of what's needed to undo the inequities faced by Black entrepreneurs. He pointed to structural solutions — for instance, channeling more loan money to local banks and community development institutions, rather than big banks, in order to get more relief to Black business owners.
Ultimately, EatOkra doesn't see itself as another Yelp or Amazon or even Uber Eats. Those companies, Anthony Edwards said, are "100% industry focused, industry first." That is, they're linked to the larger restaurant business. By contrast, he said, "our real commitment is to the community. That's the driving force really behind EatOkra. It's not just about food and beverage. It's about people."
He pointed to the fact that the app's second-most-popular feature is its "Stories" section, where EatOkra highlights the personal experiences of businesses listed on the app. That so many people flock to content tells him that there's something different about the average EatOkra user. "The type of people that are downloading and using EatOkra are interested in reading those stories," he said.