How Extend is trying to become the warranty provider for the DTC boom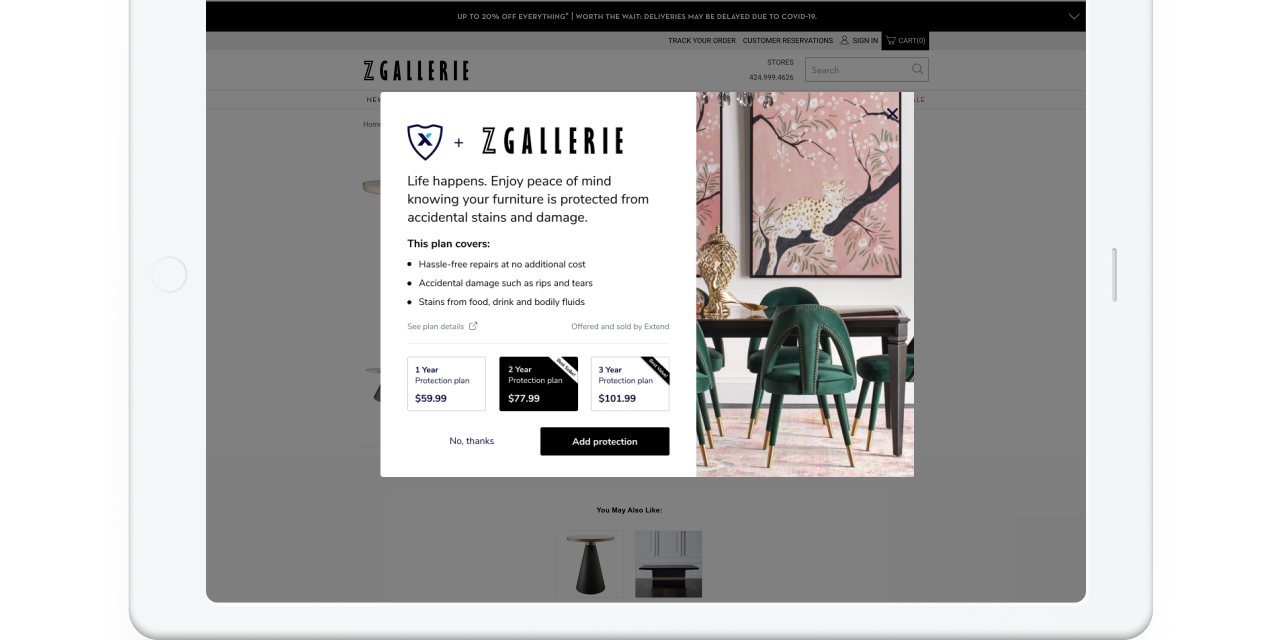 Extend X Z Gallerie
On Wednesday, Softbank-backed, insurance unicorn Extend announced that it had become an obligor — a licensed insurance provider that can now design and underwrite customized product insurance plans in-house.
Traditionally, extended warranties — the extra-cost plans that allow consumers to repair or replace damaged products at no- or low- cost — were primarily offered at large retailers like Walmart or Best Buy and supported by large insurance companies like Allstate. Apple, however, was a pioneer in the product insurance space with the launch of AppleCare in 2011. The retailer innovated in the space simply by making terms and conditions easier to read, allowing people to instantly purchase AppleCare plans while buying their iPhone, and allowing customers to file claims online. Now, Extend, wants to be "the AppleCare of everything," said Woodrow Levin, CEO and co-founder.
By underwriting plans in house — rather than relying on preset plans from larger providers — Extend is working to expand its ability to offer more customizable plans more quickly than legacy providers. In turn, many of the platform's clients are digitally-native startups like fitness bike brand Peloton or conflict-free diamond jeweler Brilliant Earth that want to give consumers easy-to-understand, low-cost protection options. As Extend and other tech-focused insurance platforms like Clyde or Mulberry grow, consumers have more ways than ever to buy extended warranty plans — but it doesn't mean they will.
End-to-end, customizable product insurance
Extend was founded in 2019 as a company that helped brands more easily integrate extended warranty offerings on their brand sites and in-store. Initially, Extend partnered with larger insurance companies to underwrite its insurance plans.
In 2020, the company sold "about 150,000 plans" and, in 2021, "well over two million," said Levin. In May 2021, the company reached a unicorn valuation of $1.6 billion after a $260 million Series C funding round. Earlier, Extend told Tech Crunch revenues were expected to rise 400% from 2020 to 2021. Extend makes money by collecting a service fee from brands when consumers opt-in to one of their product protection plans.
Levin said that that Extend wanted to become an obliger — underwriting product plans in-house and thus taking on the balance-sheet risk of these plans — in order to become a "full-stack" provider, owning product insurance from start to finish. End-to-end service, for Extend, means striking a mix of partnerships with platforms like Shopify to integrate insurance offers into brands' stores, communicating with customers about claims and now, writing plans in-house.
"We used to partner with insurance companies to underwrite these programs which was a great start, but it hamstrings us in the type of coverage we can offer, how quickly we can go to market and what type of customer experience that we can deliver," said Levin.
Quick integration into online storefronts as well as unique and adaptable plans for its "merchants" — the brands and retailers using the platform to supply product coverage — are core differentiators for Extend. Traditional protections, said Levin, are often "cookie cutter" and applied universally rather than customized to smaller brands, specific products or e-commerce.
Extend, however, offers customizable protection plans. For Roomba-maker iRobot, for example, Extend needed to find a way to add specific coverage for a unique issue.
"The Roomba would roll over pet doodoo — I don't have a better way to say it — and it would break the machine and that was obviously not covered on the manufacturer warranty," said Levin. He said that Roomba came to Extend and said, "hey can you come up with a program that covers machines running over that in the extended warranty program and we said 'absolutely we can.'"
Customers, meanwhile, can quickly file claims online with a AI chat bot "named" Kayley, 24-hours a day. Ninety-eight percent of claims, said Levin, are handled completely within under two minutes.
The challenges of modern product insurance
Katie Thomas, lead of the Kearney Consumer Institute, said over email that "for a consumer to opt into warranty, it needs to be communicated simply, easy to use without a lot of hoops to jump through and address what a consumer will need."
Extended warranties, however, can be a difficult subject for shoppers to navigate, as they struggle to figure out when and how they will need to use these plans. A study at University of Pennsylvania on 45,000 transactions from 1998 to 2004 found that 20 to 40% of consumers opted into protection plans. However, looking at 1,000 participants who transacted during the period, the same researchers found that consumers often overestimated how likely something was to break. When a product's break rate was 5%, consumers overestimated at 13%, for example.
In turn, a variety of publications suggest that product warranties are often not worth the cost. Consumer Reports once found, for example, that repairs were often comparable to warranties and that consumers were better placed to fix later than protect now.
Still, Thomas added that warranties are perceived as trust-building offers.
"When the Kearney Consumer Institute surveyed consumers about how to build trust, they told us that the top elements to build trust were honesty, authenticity, and consistency," said Thomas.  "Warranties fall into a mix of the honesty and consistency buckets."
Moreover, Levin added that because Extend used "data-driven" technology to better calculate risk, the platform can better "understand the loss ratio behind [risk] in order to put a product out there that is relevant to consumers for the product they need each and every day."
Going forward, while Extend has often focused its efforts on integrating with e-commerce brands, the platform is hoping to partner with more brick-and-mortar retailers in 2022. Extend services 600 merchants online but is also live in over 7,500 brick-and-mortar locations of these brands. Extend's technology is currently used in Advanced Auto Parts and Mattress Warehouse stores, but brick-and-mortar expansion is a focus for Extend in 2022.
"79% of all consumers bought offline last year, so we can't forget about that," said Levin. "We don't want to we don't want to ignore where the majority of commerce that's happening today."