How Google is trying to improve product search with its latest update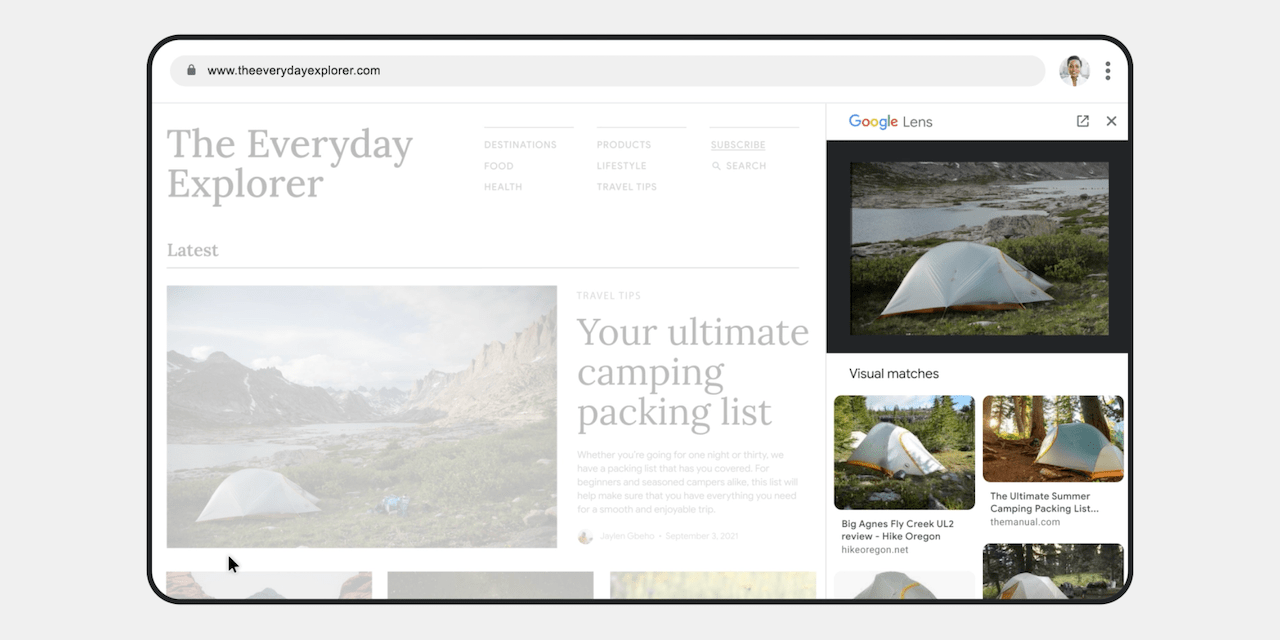 Image via Google
Starting this week, Google Shopping is rolling out an update in hopes of making online shopping easier.
The update give the Search tab a new look and features improvements and several new interface updates. These include the ability to better search in-store inventory, integration with Google Lens and design changes the company said help "window-shop right from Search." Google announced the update at its Search On event on Wednesday.
Matt Madrigal, vp of merchant shopping at Google, told Modern Retail that the latest update is aimed at making product search on Google more visual. "The goal is to move away from blue links," he said. 
The update builds on its Google Shopping strategy over the past few years, the company said in the release. Some recent changes include eliminating listing commissions on Google Shopping  — previously, merchants paid a 5% to 15% fee for "Sold on Google" listings — and partnering with Shopify to allow sellers to auto-sync their sites' products across Google properties. Over the past year, Google Shopping has also added more features like price tracking and filtering products by local retail availability.
This latest move is likely in response to Amazon becoming a bigger starting point for customers' search journeys. As of 2018, Amazon's engine has dominated product search. According to Jungle Scout's 2021 Amazon Advertising Report, 74% of U.S. consumers begin their product searches on Amazon. Over the past two years, Google's product search market share has declined from 54% to 46%.
With this, Google is trying revamp the entire product search experience. One of the biggest focuses with this latest update is on "changing what you see when searching for apparel," said Madrigal. Going forward, product results will be interspersed with styling guides, visual feeds and related YouTube videos. "It's meant to make it easier to window shop your favorite brands while discerning new ones." For example, when searching for an item like a "cropped jacket," customers will see a feed of different colors and styles of jackets alongside availability at local shops and content featuring the item.
Meanwhile, Google Lens — the company's image recognition technology — will soon be integrated into Search on Chrome. The tool will allow users to select images, video and text content and see related results on Chrome. Similarly, iOS users will get a Google Lens button in the Google app, which will show shoppable images similar to uploaded or pasted product photos, said Madrigal. All these consumer-facing features are intended to help drive traffic to merchants' websites, especially as holiday shopping ramps up, he noted. 
Despite Amazon's product search dominance, Google is hoping the enhancements will draw customers to Google Shopping. He noted that with these features being free to all sellers, Google's feed will feel organic. This is in contrast compared to Amazon's sponsored-heavy results. 
According to Google, the recent Shopping updates have been producing meaningful results. Since beginning to overhaul its shoppable search tab, Google has seen an increase in both merchant listings and consumer search numbers, said Madrigal. In the past year the platform has seen a 70% increase in product inventory, as well as 80% in growth of merchants, with the majority of them made up of SMBs, he noted. 
Product searches that include "available near me" have grown 100% globally since last year. Meanwhile, the search rate for discount codes has increased 50% since, which has helped merchants offering deals "stand out better," Madrigal said. 
This summer, Google began working on new loyalty features, which show customers pricing based on their rewards membership. The tool is currently being piloted with Sephora to showcase Sephora Insider tier pricing. 
Looming in the background is the specter of the holidays. In a survey this month, FullStory found that the majority of consumers intend to start their search for holiday gifts on Amazon (80%), followed by a retailer's own site (50%) — with Google coming in third place at 36%.
Meanwhile, in addition to Google, other platforms are trying to improve their search capabilities, said Kirsten Newbold-Knipp, CMO at FullStory. For example, Facebook and Instagram have been focusing more on social shopping while marketplaces like Etsy are also coming on strong. Earlier this year, for example, Etsy's search interface began to heavily surface related product listings — based on keywords and images.
FullStory's survey shows that one in five shoppers plan to start their holiday gift search on Etsy this year. "So it's not surprising to see Google looking for ways to exert more influence on consumer shopping," Newbold-Knipp said, especially as it continues competing with other platforms for ad dollars. 
According to Eli Finkelshteyn, CEO of search and discovery AI provider Constructor, an improved user experience will be beneficial both to customers and brands. "Amazon's domination of search and product discovery is a bad thing for everyone except Amazon," Finkelshteyn said.