How Gopuff is building its fresh food delivery concept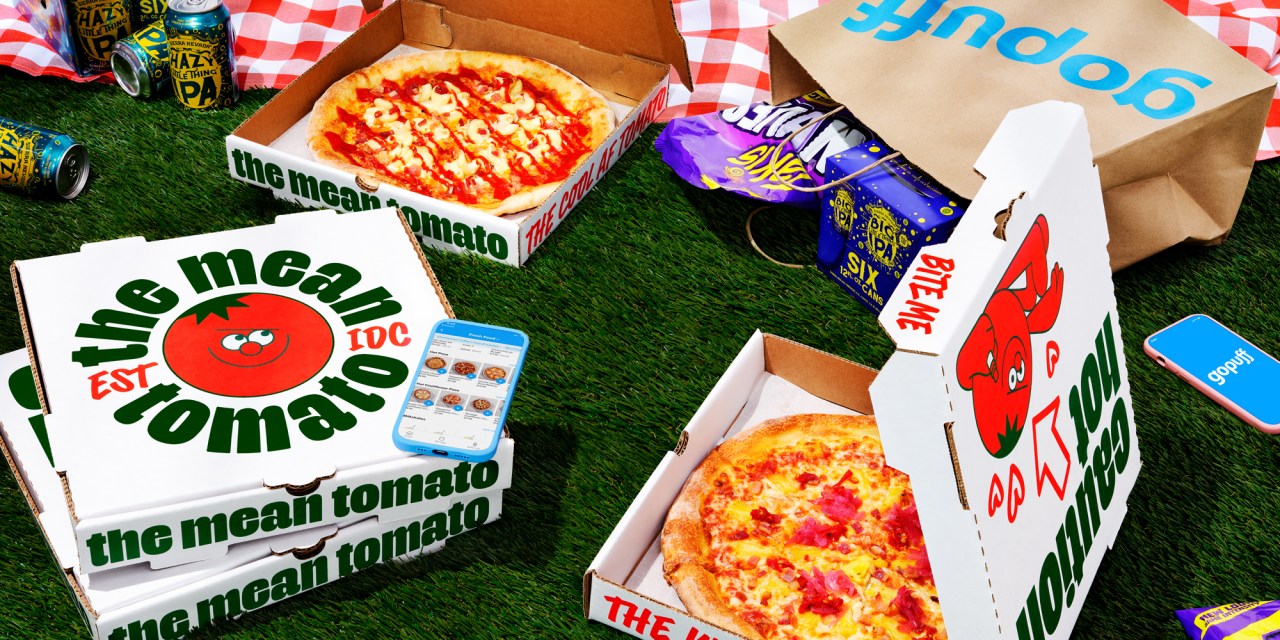 Gopuff
Gopuff is betting on freshly prepared food to grow its rapid delivery service.
The company's newest division, Gopuff Kitchen first launched last July – and has since been tested in select markets. Through Kitchen, Gopuff has rolled out several branded dishes in collaboration with upstart food and beverage brands like Truff and Chamberlain Coffee.
According to Gopuff, Kitchen is its next area of growth focus, alongside its private label brand Basically. These collaborations will continue to roll out in the coming months, and are being heavily promoted on Gopuff's app and marketing channels. Despite the already-competitive takeout delivery industry, Gopuff is betting that its in-house operations and micro fulfillment centers will set its service apart. Currently, between 10% and 20% of Gopuff's orders contain a kitchen item, according to the company.
To build out Gopuff Kitchen, the company brought on Amelia Riba as vp of the division in March. Riba had previous tenures at both CPG conglomerates, such as Pepsi and Nestle; She came to Gopuff from Pizza Hut and Burger King's parent company Yum! Brands. In late 2021, Gopuff brought on Alan Morgan, former culinary director at Whole Foods, as its director of culinary. Gopuff Kitchen currently operates in over 70 delivery zones, according to the company, mostly concentrated in major cities such as New York and Miami. However, the company will be expanding in the coming year. 
"I think with all the consumer changes over the past couple of years, there is a big opportunity to build out the fresh food side at Gopuff," Riba told Modern Retail.
Gopuff Kitchen started out with pizza, which Riba said is a major category among dinner and late-night delivery. The company began pilot testing the concept about nine months ago. "The most important thing is providing a twist on classic delivery categories – like pizza, burgers and chicken," she said. 
Earlier this month, Gopuff Kitchen launched its first brand under its kitchen division, called The Mean Tomato. The brand offers ​specialty pizzas efaturing flavor combinations from sauce brands Truff and Mike's Hot Honey, as well as sides and desserts. Late last year, Gopuff Kitchen approached Truff about launching a collaboration – featuring The Mean Tomato pizza drizzled with Truff's signature black truffle hot sauce. The partnership came after Truff began selling its products on Gopuff in early 2020.
In the past couple of weeks, Gopuff Kitchen rolled out bacon and cheddar tots, as well as chocolate and caramel waffles. 
Riba added that Kitchen is focused on getting customers to bundle freshly prepped hot meals in the same order as their daily CPG essentials.  "Our vision is to have a platform where we have our own branded concepts, plus partnership concepts that we prepare in our own kitchens delivered all together." 
The unique aspect that sets Gopuff apart is its ownership and control of the full customer experience, Riba said – including the customer service interactions and dark kitchens in Gopuff's fulfillment centers. She pointed to this model as a contrast to how traditional delivery platforms, such as Grubhub and UberEats, work when partnering with existing local restaurants.  
"Our own team is responsible for preparing and delivering each order," Riba said. Each kitchen has operating hours based on local market needs. For instance, some kitchens are open starting at 10 a.m., and will make deliveries as late as 1 a.m., she added.
Gopuff Kitchen items have helped grow average order values and help Gopuff reach customers during different parts of their day. "Over time, we're seeing the basket size increasing among these users," Riba said.
Riba said that among Gopuff customers, the first Kitchen order "is typically a trial, but we see them [customers] coming back and start an order with a kitchen item," she said. 
Cuisine locality is another big area of focus for Gopuff Kitchen, Riba explained, as the company seeks to partner with popular local chains. For instance, the company is currently testing a burger collaboration with local chain BurgerFi in Florida.
Another recent partnership featured made-to-order coffees and lattes made with coffee from influencer Emma Chamberlain's company. The brand, Chamberlain Coffee, started selling on Gopuff last August. The freshly-made menu items debuted in New York last month, "and have done very well," Riba added.
For CPG brands, Riba said there is an opportunity to partner with Gopuff on made-to-order collaborations. "We have a team reaching out to CPGs interested in our kitchen concepts," she said. The move is in line with rapid delivery's growing courtship of CPG startups. 
Riba said the biggest challenge of growing the Kitchen division is creating awareness around it. The other challenge is "providing food credibility." Within the crowded delivery landscape, she said "we want to give the customer a unique experience that has a brand behind it." 
Gopuff has faced a number of challenges in recent months. The company laid off 3% of its global workforce, a total of 15,000 employees. This month, the company announced it will be closing down up to 22 low activity fulfillment centers – underscoring the expenses of scaling quick delivery in high-cost areas.
John Mercer, head of global research at Coresight Research, said that Gopuff's ambitious hot food operation has some advantages and hurdles. 
"They [Gopuff] are well positioned based on proximity, but retrofitting a substantial number of dark stores as kitchens and/or opening a swathe of new dark kitchens would incur meaningful investment," Mercer said. 
Furthermore, Mercer said that Gopuff is entering a relatively mature market for restaurant delivery – "one that's better developed than rapid grocery delivery and already has major incumbents." At the same time, these competitors are also moving in the opposite direction by expanding their grocery offerings, Mercer explained. 
So far, Gopuff Kitchen has focused on dinner-time dishes. Next, the division will expand into lunch items and eventually build out a breakfast menu.
"We're betting on fresh food because being vertically integrated gives us an advantage," Riba said. "Having the fulfillment centers gets the food to our customers faster."