How Harry Rosen used chatbots to help its 11-person customer service team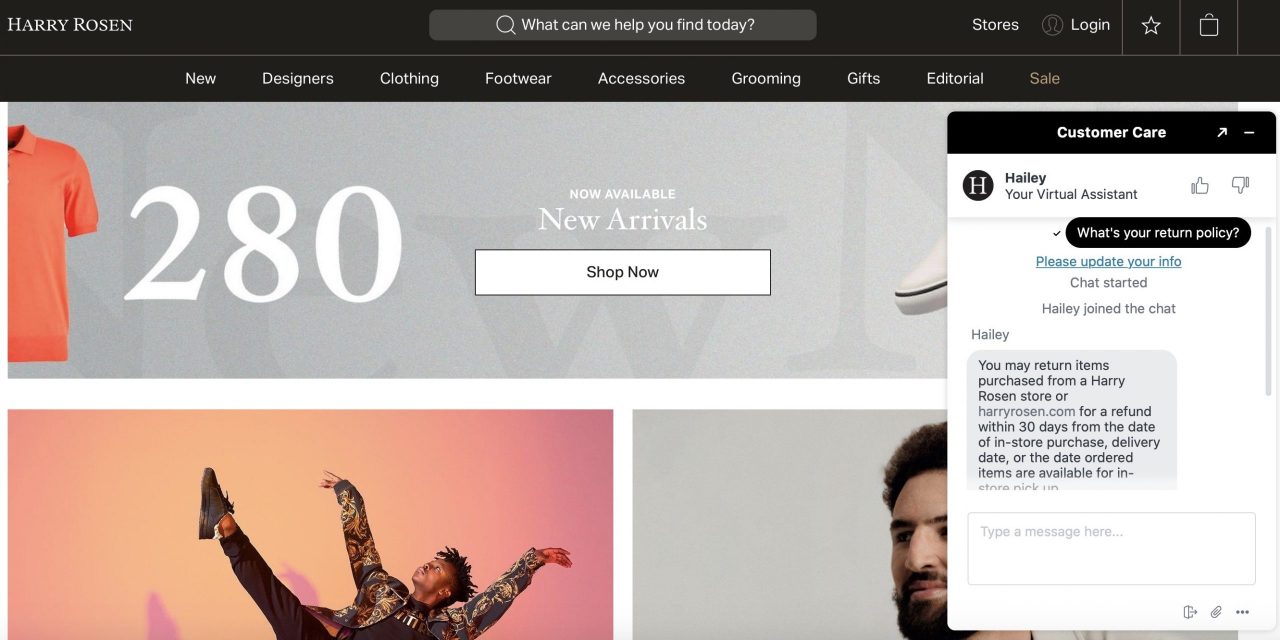 Image via Harry Rosen
Legacy retailers like Harry Rosen are increasingly leaning on automated chatbots to provide customer service. 
The menswear retailer has been using bots to build out its customer service capabilities over the past year, in order to deal with the uptick in shopper inquiries that corresponds with the rise of e-commerce sales. 
The Toronto-based retailer first deployed chatbots in November 2020, with the first phase focused on answering simple, pre-loaded questions such as inquiries about current store hours and promotional deals. Now, the chatbot is integrated with the retailer's back-end system to provide live updates — like order status and cancellations, exchanges, and garment alterations. 
Currently, the bot is answering over 70% of tickets via chat at a 95.63% accuracy, according to the company. The accuracy rate refers to instances in which the customer doesn't open another ticket to resolve their issue. 
"When we first decided on AI chat, there was some concern about it taking over the customer service reps' jobs," Manuel Maciel, executive vp at Harry Rosen said. "But we wanted to integrate it to reduce repetitive tickets for our associates." 
The company currently has a team of 11 e-commerce customer service associates, which experienced an onslaught of customer inquiries when stores first shuttered in 2020. The retailer operates 17 brick-and-mortar stores across Canada, and until 2020 the majority of its revenue came from in-store sales. As of last year, 20% of Harry Rosen's sales come from e-commerce, compared to about 5% during 2019. As Harry Rosen's online business has grown in the past two years, so has the need for a more streamlined CX operation, said Maciel.
"At one point, we had a seven-day backlog of tickets and morale among associates was awful," Maciel explained. The AI bot also helps provide the agent with context to the inquiry before they begin interacting with the customer, he said.
Harry Rosen, founded in 1954, had relied on providing customer service via its in-store associates over the years. "Our customers expect premium service, and we weren't providing it online at the same level as we do in person," Maciel said.
During the retailer's early days of operation, founder Harry Rosen's personal rolodex served as a database where customers' birthdays, kids' names and anniversaries were then used in personalized interactions with customers, Maciel noted. Now, the idea is to build a digital customer experience that mimics that level of personalization, which he said can only realistically be done with some sort of automation. 
Creating that experience through the website was a challenge, especially when the pandemic had customer service tickets skyrocket, Maciel explained. 
Initially, like other retailers, the company moved its in-store associates to handle digital customer care. However, that strategy was expensive and inefficient, according to Maciel, leading the executive team to bring an AI chatbot tool into the workforce to offload some of the repetitive CX inquiries. Working with AI bot provider Netomi, Harry Rosen's team began triaging tickets based on the customer inquiry's need and urgency level. 
The more the bot has evolved with the information fed, the more complex its inquiry handling has become. 
"Now, customers can ask things like: 'do I qualify for a certain promotion?' or 'can I get a price adjustment on a recent order?'," Maciel said. The chatbot also offers updates on customers' ongoing alterations, providing live updates on what part of the tailoring process the item is currently in. 
"The bot has helped us retain talent, where we've only had one turnover in the past 18 months," Maciel said. He added that as the chatbot capabilities deepen, the retailer hopes associates are freed up to do more complex CX tasks. In some instances, an aggravated customer may be asking for replacement of a damaged or missing item in their order, which a human associate has to sign off on. "With less tickets to handle, they can do more customer outreach or support another department." 
The chatbot also became an asset during major shopping periods. For instance, for this past holiday season, the retailer didn't have to add seasonal agents to handle the increase. By the end of 2021, ticket resolution time was down to a few hours, compared to several days the previous year's holiday season. 
Over the past few years, AI bots have become the first line of customer-brand interaction for good reason, said Forrester analyst Max Ball, who covers customer service and chatbots. 
"Covid, in particular, has flooded contact centers and that load is still very high for many retailers," Ball explained. "Chatbots are a wonderful way to handle initial contact and create a triage of inquiries." 
There are also signs that e-commerce bots are becoming more popular among customers. According to a new Tidio report this week, about 88% of customers "had at least one conversation with a chatbot within the past year." The data also showed that 62% of the 1,600 consumers surveyed said they're open to using customer service bots, rather than waiting for a human agent. 
Ball also noted that bots tend to change the agent's job by allowing them to focus on complex tickets, as opposed to spending shifts answering mundane questions. The key, for brands, is to provide clear and useful answers on behalf of the CX team, Ball said. "There will always be inquiries that humans have to resolve, but the more successful chatbots get the more willing customers are to try them again," Ball said. 
Maciel also foresees the chatbots becoming increasingly useful when Harry Rosen launches international shipping and fulfillment later this year. "We want to improve that accuracy percentage rate, especially as we scale our e-commerce presence," he concluded.