How internet culture and Instagram changed the rules of internships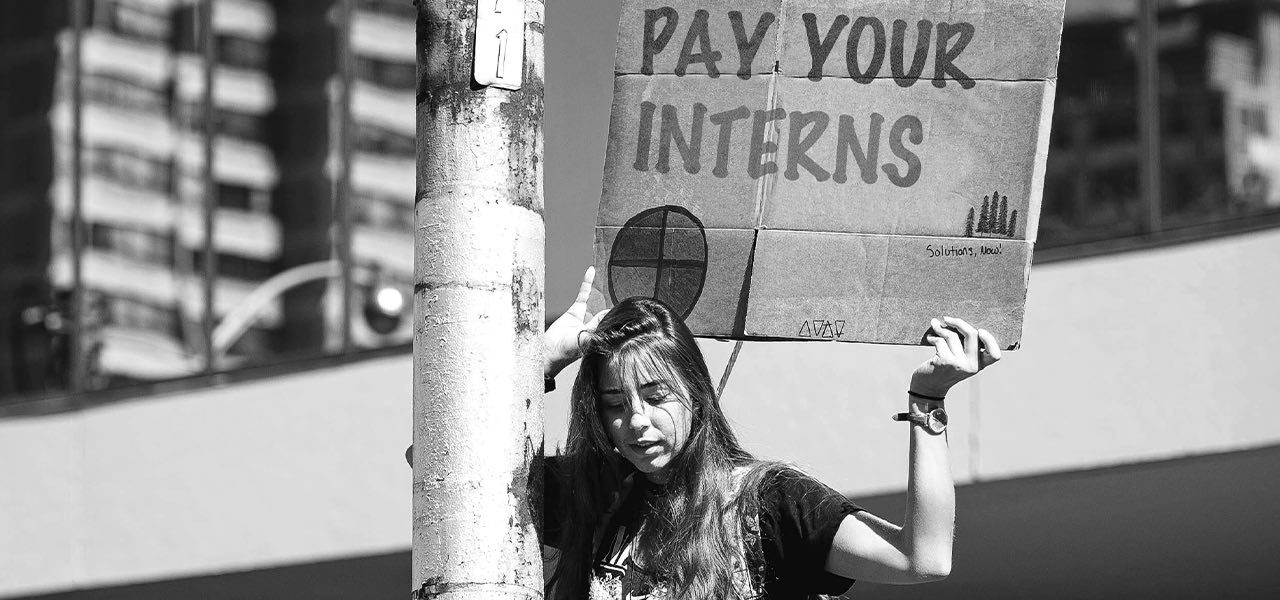 When 21-year-old Hunter College student Kenneth Pabon began looking for a fashion internship during his spring 2019 semester, he took a little bit of a different approach to finding his gig. Pabon did not use Hunter College's career advising office or scour online job boards like LinkedIn, where he does have a profile, or Indeed. Instead, he Instagram direct-messaged two of his favorite fashion influencers, Sophie and Charlotte Bickley, sisters behind the website and social media accounts Yin 2My Yang.
"I saw Sophie and Charlotte were looking for an intern to take pictures of them during New York Fashion Week, so I immediately DMed them and two days later, they hired me," says Pabon. "I didn't have any other prior internship experience, but they could see based on my Instagram that I was a trendy and stylish person."
It's a distinctly Gen Z approach, one that is changing the way people look for, and land internships. Historically, New York-based fashion companies have passed internships off to wealthy family friends or those in the know, even when formalized HR departments exist. It was formalized even on TV: Between 2006 and 2008, Lauren Conrad, Whitney Port and Emily Weiss (now Glossier's founder and CEO) were featured on the reality TV show "The Hills" as interns at Teen Vogue. That undercurrent ran through the plotline of Bravo's "Gallery Girls" and "Girls," which both aired in 2012.
Since that time, New York has firmed up its laws on unpaid internships, by and large eliminating those that don't offer college credit or some level of compensation. But the rise of social networks have allowed a more diverse pool of intern talent — those that may not have trust funds or an Ivy League education to be considered for covetable fashion positions. In turn, interns are also able to ask for more.
Pabon, like many of his college-age peers, has recognized that social media platforms have broken down career barriers in once-guarded creative industries. Another intern, Maia Brown, a 20-year-old sophomore at Pace University, also found her freshman-year internship at wellness and health platform AllBodies via Instagram.
Though Pabon is an English major, he thought the opportunity to be behind the scenes of NYFW could be a savvy entry into the world of fashion. He was right. After working as the Bickleys' unpaid intern for under a month (he did not receive college credit for this position with Hunter), Pabon was hired as their paid personal assistant. He works anywhere from 20 to 40 hours a week for the sisters while also maintaining a full college course load. Post-graduation, Pabon is interested in possibly pursuing an influencer career of his own or working as a buyer – his boss and mentor Charlotte Bickley previously worked as a buyer at Bergdorf Goodman.
"Social media has given us a point of contact in an informal way," says Pabon. "Sophie and Charlotte saw we had similar followers and could get a sense of who I was. They liked that I just went for it and emailed them, and that's how I work for them today."
Brown had a similar experience. As a freshman, she found many traditional and legacy employers did not want to hire an 18 year old, but online platform AllBodies, with its progressive sexual wellness ethos, took a chance. Then again, Brown had six years of prior work experience: she previously wrote a style column at Baltimore-based newspaper, Capital Gazette and also wrote copy for Casper and WeWork. All of the aforementioned opportunities were paid.
Brown worked at AllBodies for six months as a paid intern, before being promoted to Digital Community Lead, where she came up with content ideas and led events. She stayed at the company for a full year going freelance.
The roles Pabon and Brown carved out for themselves demonstrate a new wave of creative opportunities in fashion and beauty. This is largely thanks to the power of the internet, particularly DTC-minded companies and influencers.
In response, the employers are changing too. Rachel Zoe, founder and Co-CEO of her namesake business, has taken a more fluid approach to internships, with mentors and one on one time. (It provides college credit, not salaries, to interns.)
But it's still mostly the network that matters. Ryan Healy, a 21-year-old junior at Pace University, has had to rely on his real-life network to get his fashion connections.
"New York City internships are impossible to get. At first, I was looking on LinkedIn and then you see 4,000 people have already applied and you realize, there is no way the employer is looking through that many applications," says Healy, who is studying to get a degree in integrated marketing and communications.
Healy scored his public relations and events internship with luxury fashion house Thom Browne through a former Pace graduate, where he has worked for the past six months. In exchange for his time with the company, Thom Browne paid for meals and transportation. But times are changing, and as the barriers to getting jobs break down, Healy and Brown are now more reticent to take positions without some sort of payment.
"Internships are always posted as unpaid and a lot of people are not driven to get that kind of internship, especially in New York because the cost of living here as a student is absurd," says Healy.
Instagram accounts like Intern Queen and Pace's Profashionals, which is a student-run organization that focuses on fashion, have been helpful to him in sifting out paid opportunities. "If I wanted to go be a banker at Merrill Lynch, I would be set at Pace, but we don't have a fashion program and a lot of schools don't, so it has been up to me to find my own opportunities."
Brown agreed. "My school has a very specific system to get credit for internships, but I also cannot afford to spend my time and not make money to support myself," she says. "When you live in New York, where you walk out your door and spend $20 on literally anything, it is important to make sure that you're financially comfortable. I don't think companies realize that because of social media and the internet, many college students have been working for years and have valuable experience. I'm not just a young person pretending to be something in a blazer."