How luxury strawberry brand Oishii ramped up production for a Whole Foods launch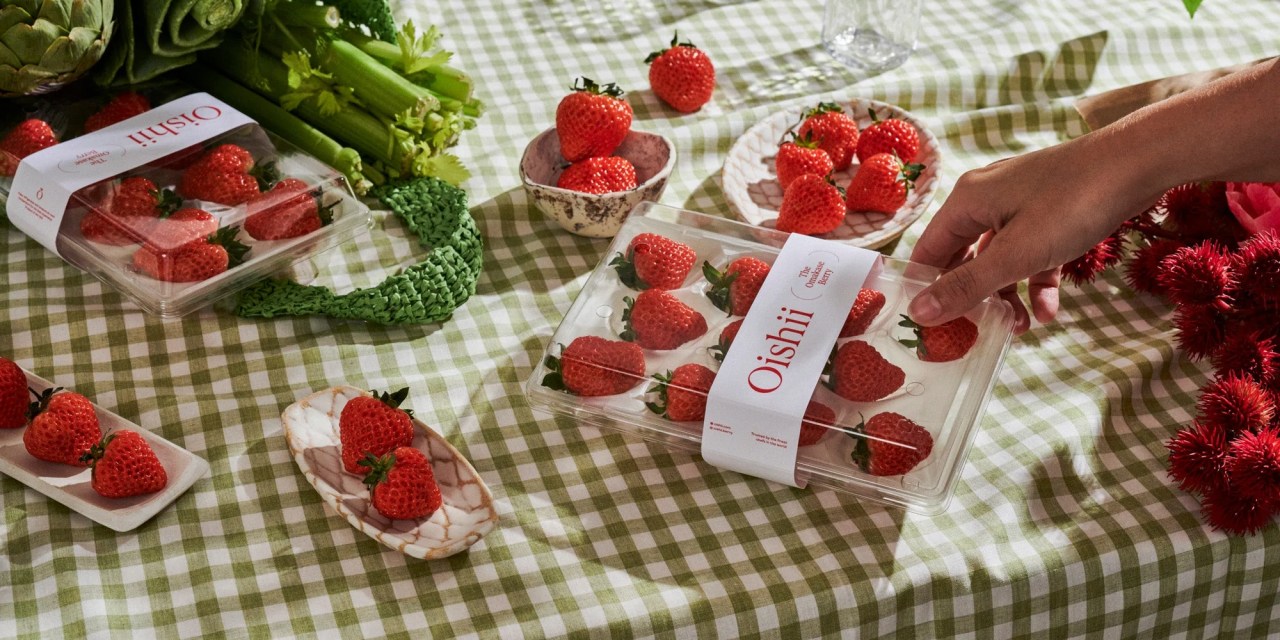 Oishii
Oishii, known for its $50 strawberries inspired by Japanese Omakase berries, is hitting Whole Foods shelves.  
Since debuting on restaurant menus in 2018, the strawberries have become known for their sweet, creamy texture and strong potent fruit aroma. They've also gained a cult following among chefs, food bloggers and social media influencers on platforms like Instagram and TikTok. Until now, Oishii's products have been sold for home consumption exclusively through its own website — and a few local specialty retailers.
But last month, the company announced its first major grocery endeavor with Whole Foods. The grocery store chain is now carrying Oishii berries for $20 per tray at four New York City Whole Foods locations, along with one in New Jersey, as part of its Local program. Despite being a relatively small retail expansion, it required significantly ramping up strawberry production.
When it first launched, Oishii was operating in a small commercial facility in New Jersey. Then, after closing a $50 million round in March 2021, the company was able to open a 74,000 square-foot operation in Jersey City, N.J. — 100 times the size of its old one — so that it could finally support retail distribution. Going forward, Oishii plans to expand its retail presence into dozens of new stores in the coming months. Eventually, the company hopes to have a wide enough vertically-integrated distribution to support retailers across the whole country.
Scaling locally-farmed produce regionally 
Oishii co-founder and CEO Hiroki Koga told Modern Retail that from the beginning, the team wanted to make the fresh produce available to as many people as possible. 
But slashing the price by more than half — that is, from $50 a tray — took nearly four years and significant capital to execute. "Unfortunately, getting there requires a lot of R&D and time to perfect the technology," Koga said. The production process is the main reason behind these berries' high cost. The seedless variety is native to Japan's winter climate, making it more time-consuming and expensive to grow in climate-control indoor farms — like the one Oishii built. 
"When we first started the business, we had a small facility with limited production," he said. The brand started out by selling its berries in Michelin star restaurants. "That's where people had the chance to try them and see what made these strawberries different from supermarket varieties," Koga said. Oishii began with Brooklyn Fare's Chef's Table shortly after launching, where the berries were served as is for dessert. Other chef clients, like Dominique Ansel and Neal Harden of abcV, followed. 
"From there, it started spreading on Instagram, with people reaching out to us about how they can buy the berries," Koga said. To supply this retail demand, Oishii built a waitlist on its website, where people could sign up to pick up a tray at the World Trade Center the next day for pickup. These days, pickup is also available at local markets, such as Kura in Brooklyn and Murray's Cheese.
"We consistently had a few thousand people on our waitlist, and it became this secret $50 strawberry that tastes great but no one can really get their hands on," Koga explained. Oishii quickly amassed a cult following, including among celebrities like Chrissy Teigen and Gwyneth Paltrow in recent years.
Following this rise, Oishii landed at Whole Foods with a cohort of local followers ready to purchase, Koga said. Since launching in New York City, the brand's inventory has sold out nearly every day. The product is still available through the brand's website at the new lower price. 
Each harvest from the indoor farm also utilizes some robotics and automation methods. This helps use 60% less energy and 40% less water than Oishii's initial manual farming methods. It's also the reason the company was able to pass on the price reduction to customers. Oishii also sells smaller trays, $11 for six medium berries, and $6 for three medium pieces.
But even with the help of larger facilities, operating a full-scale vertical farm is no easy feat. The facilities – Oishii also opened one to service Los Angeles last fall – have a team of professional farmers who tend the fruit daily. "We have a dedicated team whose only job is to physically check each berry as it gets boxed," Koga said. "It's even more strict than when it was just me and my co-founder Brendan [Somerville] packed them."
To be able to expand into other regions, the company plans to build more vertical farm facilities, though Koga did not say specifically how many. It takes farm workers a couple of months of training before they're able to do the required daily labor. "Now that we have a standard procedure and onboarding process for workers, we'll be able to duplicate the process as we open more facilities," Koga said.
Marketing a coveted grocery product
Lesia Dallimore, vp of brand and marketing at Oishii, said that initially getting the attention of high-end chefs helped establish the brand as a premium product. "There is a desire to [see] what all the fuss is about," Dallimore said.
The brand was brought on by Whole Foods' head forager, Dallimore said. "They have a dedicated foraging team that's skilled in sourcing the latest cool products," Dallimore said. 
Being part of a Whole Foods program designed to spotlight locally-grown products also helped build brand awareness. The Local program reached out to Oishii to feature info and signage of the Oishii founders on display fixtures, Dallimore said. Whole Foods uses this tactic to showcase local vendors, such as CPG brands and farmers.
"They [Whole Foods] also invited us to participate in events, like their local pollinator picnic and the new Nomad store opening," she said. In June, the brand began to organize sampling at Whole Foods locations, which has been effective in marketing the products on the spot, said Dallimore.
Now that production has scaled up, the new indoor farming process has become a major part of Oishii's marketing efforts; according to Dallimore, the new facility has taken center stage in the brand's content creation process.
"We created a video of Hiroki announcing the price drop and new launch, which became our most engaged post to date," Dallimore said. The company has also done partnerships with local New York influencers, including food bloggers, to share the Whole Foods launch news. 
Carly Sutherland, a brand and communications strategy consultant, said that as more digitally-native brands enter retail – it's important to be able to cut through the noise. "Oishii's marketing success can be attributed to several tactics," Sutherland said. For one, it has social media-led proof of concept, amplified by influencer and user tasting testimonials. Oishii's limited distribution model, combined with third-party credibility from celebrities and chefs, "further creates FOMO and hype."
"Much of the conversation about Oishii, and content that itself has amplified, is around the price point hype," Sutherland said. Now that the brand is more accessible — both in price and through the Whole Foods channel —  the challenge is in shifting the conversation to longer-term brand-building, Sutherland said. "They'd be wise in focusing on why people should continue buying from them," she said.
For Oishii, scaling its vertical farming model is also predicated on creating more frequent buying opportunities, Koga explained. For the coming year the company will continue to scale to more Whole Foods regions, alongside local grocery stores and specialty markets.
"The idea is to introduce more U.S. shoppers to Japanese fruit culture," he said. "Luxury fruit is often gifted in Japan, so we want to create similar buying opportunities at grocery shelves."