How marketplaces are using shoppable video to attract more buyers and sellers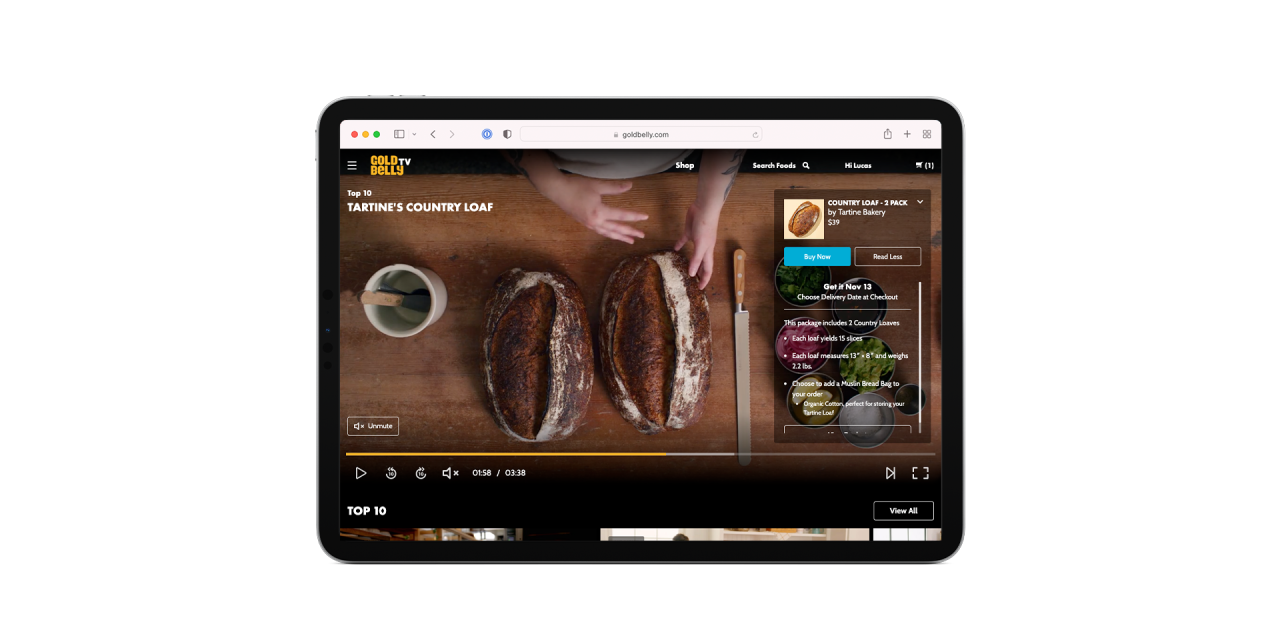 Digital marketplaces are betting on shoppable video to drive growth.
While multi-category marketplace giants like Walmart and Amazon have been investing in various forms of shoppable video for the past three years, many smaller marketplaces have only just begun entering the space.
In the last six months alone, players like Wish, Goldbelly, Instacart and The List all launched their own forms of shoppable videos on their apps and websites. Each of these companies are investing more in video for various reasons; for a company like Wish, shoppable videos are designed to drive more purchases among existing merchants and sellers, by giving customers more detail about what the products look like. Instacart, meanwhile, is trying to use shoppable video to acquire new customers on apps like TikTok, which are increasingly becoming popular places for recipe inspiration.
Using video to drive inspiration
Last month, grocery marketplace Instacart rolled out a "shoppable recipes" feature in which food content creators can link their TikTok videos to shopping lists on Instacart. Instacart was founded in 2012, but exploded in growth in 2020: some estimates suggest the retailer tripled revenue year-over-year to $1.5 billion that year.
Shoppable recipes highlight the company's plans to move beyond the purpose it served during the pandemic — getting groceries to customers as quickly as possible — and instead position its app as a place for recipe inspiration.
"Our team has been hard at work evolving the customer experience in the Instacart app from transactional grocery shopping that needs to be done every week, to a more personalized, affordable and inspirational activity," said Instacart App's vp of product Mike Bidgoli over email. "Part of that involves helping people turn recipe inspiration into action, which is where Shoppable Recipes comes in."
Currently, the feature is limited to a selection of recipes on Tasty and to a pilot of select creators. However, the company announced its plan to scale across more users, as well as to expand to creators' own individual recipes. In return for creators' link-outs to Instacart, the company rewards them with payouts based on both video engagement and orders placed through the platform.
With this initial pilot, Bidgoli said the goal is to create sales opportunities that "are surfaced when customers are at their most inspired."
Building out an entertainment arm
Gourmet food marketplace Goldbelly is making a bigger investment in shoppable video by creating its own in-house content team. Goldbelly, founded in 2013, is an e-commerce site for restaurants and artisan food purveyors to sell their products nationwide.
Late last year the platform announced it would be launching Goldbelly TV — a production house and video platform for shoppable food content.
To lead the new studio, Goldbelly hired TV producer and "Cake Boss" co-creator Art Edwards. The company has an in-house studio for chefs to film in, but will also regularly travel to chefs' own restaurants.
"We're not just dipping a little toe in the water — little short-form videos on product pages like if you were to go to Zappos," said Goldbelly CEO and co-founder Joe Ariel. "We want people to just have [Goldbelly TV] on in the background… it's the first national video platform for e-commerce."
The videos are generally three to four minutes long. They feature restaurants, chefs, cooking and behind-the-scenes stories; and link to Goldbelly product pages.
"Watching food media … you want the food that you're watching, but you have no way of getting it," said Ariel. "The realization was we could connect those dots."
Like many livestreaming retailers and brands, Goldbelly does have content featuring celebrities — Megan thee Stallion just did a video to promote a pie she's selling on the platform and the company is currently filming with celebrity chef Ina Garten, for example. However, Goldbelly also features lesser-known chefs and restaurants as well.
"We want to democratize it so that anyone with a great story and great craftsmanship — no matter where they are — can participate," said Ariel. "It could be the most high-end Michelin starred chef in the world, but it could also be a woman in Bozeman, Montana that got her start as a wedding baker that is now doing six or seven figures a year just selling on Goldbelly."
For companies like Goldbelly or Instacart, shoppable video is another way to highlight category expertise in gourmet food and grocery, respectively. While a marketplace like Amazon might offer more products from more retailers, these platforms instead highlight their specialties.
"Shoppable video creates an experience for the consumer and also allows for more education on niche products," said Katherine Black, a partner in the consumer practice of Kearney over email. "These are often the hallmarks of smaller marketplaces and can really make a difference in driving traffic and sales."
Discovery through video
For multi-category marketplace Wish, however, shoppable video is another way for the platform to deliver on its promise of "shopping made fun." Wish was founded in 2010 as an invite-only marketplace that curated individually-personalized feeds for each shopper. The platform sells across almost all product categories — predominately fashion and electronics — and is known for lower-priced items like a $1 watch or a $9 set of knives.
In February, the platform launched "Wish Clips," a software integration that allows merchants to add shoppable videos to their product pages. An apparel merchant, for example, could create a video showing how a shirt looks on a moving model, and a consumer could add that shirt to their cart directly from the video.
Wish's chief product officer Tarun Jain told Modern Retail that "content always guides commercial experiences" and, broadly, many people are consuming the majority of their content on video.
"We believe that the future of the commerce is around serendipitous product discovery… creating inspiration for users," said Jain. "That inspiration creates interest, which creates intent, which creates a purchase or a transaction."
As Wish builds out its shoppable video investments, it's looking to strengthen the relevancy of videos that it serves to its shoppers. While traditional video platforms can serve users videos from a creator they've liked before, Wish has many sellers who are selling products across a wide variety of potentially irrelevant categories.
"In the e-commerce world, you need to understand what this video is about," said Jain. "That's a big area of investment for us."
Kearney's Black said that video could also help these emerging marketplaces with new forms of data collection.
"Video allows us to go beyond clicks and dwell time on a page to understanding exactly which features are interesting and relevant to the customer, making it a treasure trove for research and for activation," said Black. "Having a marketplace that can share branded shoppable media will become table stakes in the near future and certainly enhances relevancy now."