How national retailers are working with Google on localized shopping ads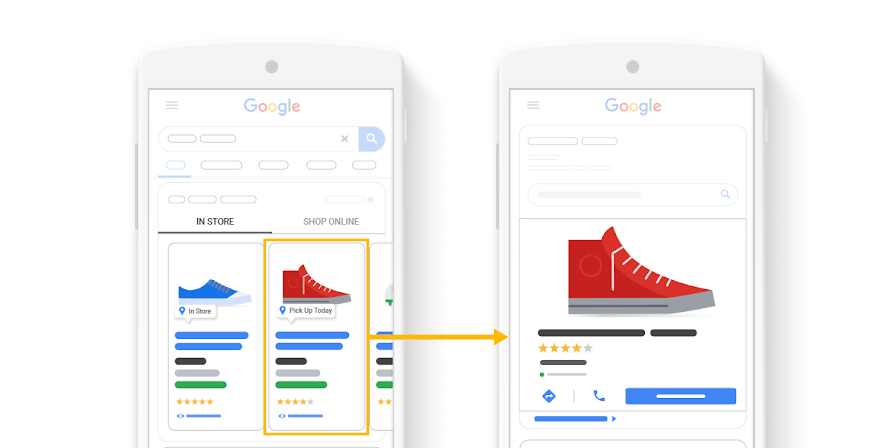 Image via Google
Localized fulfillment options like curbside pickup are becoming a bigger part of retailers' strategy to reach customers both offline and online — and advertising platforms like Google are taking note. 
Over the past few years, Google has been growing its search and accompanying advertising suite to better serve retailers' localized advertising campaigns. The tech company first launched local inventory ads back in 2014, but has built it out this past year to include several new features. The program allows brands to display their products, store inventory and fulfillment information to reach nearby shoppers searching with Google. As part of the enhancements, this past summer Google rolled out a Google Maps shopping feature, which retailers like Kroger used to surface nearby product availability.
Now, Google has been tweaking these localized search ads, in attempt to woo more big-box retail advertisers. As a result, retailers with a large number of stores, such as Petco, Michaels and Kohl's, have begun increasingly using these updated search tools. These retailers are leaning into Google's localized shopping format due to Google Search's reach among shoppers; the web engine accounts for 46% of the product search market share among U.S. consumers. As such, Google is continuing to grow its search and shopping ads partnerships with several major retailers. 
Jochen Heck, vp president of sales at Google who works with retailers on search and ad strategy, said changes to its ad offerings follow consumer shifts; more customers are starting their shopping journey online. "Through search, we're finding that the online experience is informing offline purchases," said Heck. This holiday season, Google data shows that 52% of U.S. consumers are checking for stock availability before heading to stores. "So we recently released an 'in-stock' filter to show the product at a retailer nearby."  
Last month, Google released updates to Google Ads' Insights page, allowing retail businesses to more easily see search trends and use them to inform automated campaigns like Smart Shopping and Performance Max. The tools are aimed at advertisers looking to capture increased demand for specific products, starting this holiday season.
Kohl's is one such retailer that has utilized more of these localized features. When Kohl's shuttered its stores in March 2020, the retailer joined Google's pilot program to implement curbside pickup annotations, which are tags that appear alongside product results noting what items are available for pickup. During that time, Kohl's increased its media spending — including local ads and YouTube campaigns — on trending categories such as athleisure and beauty when it launched curbside pickup two weeks after the March 2020 shutdowns. 
The retailer's investment in Local Inventory Ads — along with the increase in foot traffic and the Kohl's-Sephora partnership — helped boost Kohl's' most recent sales. The retailer's same-store sales were up 14.7% year-over-year, according to its latest quarterly earnings.
How retailers are using Google's Localized Inventory Ads
Heather Bennett, Michaels' executive vp of marketing and e-commerce at Michaels, told Modern Retail that arts and crafts retailer is increasingly trying to tie together its online and offline programs. "Many of our customers prefer a hybrid shopping experience, with over 40% visiting us online before shopping in-store," Bennett said. This led the company to push further into Google's search and shopping tools in the past year. "They enable Michaels to better serve our [customers] through dynamic campaigns that help them discover products and shop the way they want." 
Bennett said that some of Michaels' most successful recent campaigns focus on localized hybrid fulfillment options. She noted that in 2020, Michaels was one of the first U.S. retailers to promote curbside pickup directly on its product listing ads with Google. "Our BOPIS (buy online, pick up in-store) campaign, which surfaces locally available inventory, has been one of our highest-performing to date," she said.
With the holiday shopping season at its peak, Michaels is optimizing campaigns to drive customers to their preferred shopping channel, especially for categories like decorations and at-home entertainment. After the retailer's pre-Christmas shipping cut-off, "we'll shift focus more to local in-store availability for those last-minute items," Bennett said.
Jay Altschuler, vp of media transformation at Petco, said the company has also been using Google to grow its omnichannel business. "We utilize LIA [localized inventory ads] to connect pet parents to their nearest Petco pet care centers for all their pets' health and wellness needs, in real-time," Altschuler said. "Throughout 2021, LIA has been one of our most successful levers in new customer acquisition efforts."  
Petco was the first advertiser to deploy Google's curbside and same-day pick-up functionality through its LIAs. "This ad format has become crucial to Petco's e-commerce business, given that 90% of Petco customers choose either same-day delivery or buy online, pick-up in-store, when available," Altschuler said.
For the holidays this year, Altschuler said the company has maintained the localized ad strategy. "We know demand increases as we approach the busy holiday season," he said. "Our plan is to increase our presence on LIAs later in the season and maximize local promotions when available." 
In the coming year, Google is pushing further into integrating retailers' inventory database into its search and shopping programs. Walmart, for instance, is working on integrating Walmart+ into Google's LIAs to promote it to customers searching for items available at nearby Walmart stores. "We're also working on helping retailers promote their mobile app across different Google properties," Heck said.