How one CPG incubator is taking the Jonas Brothers' popcorn brand online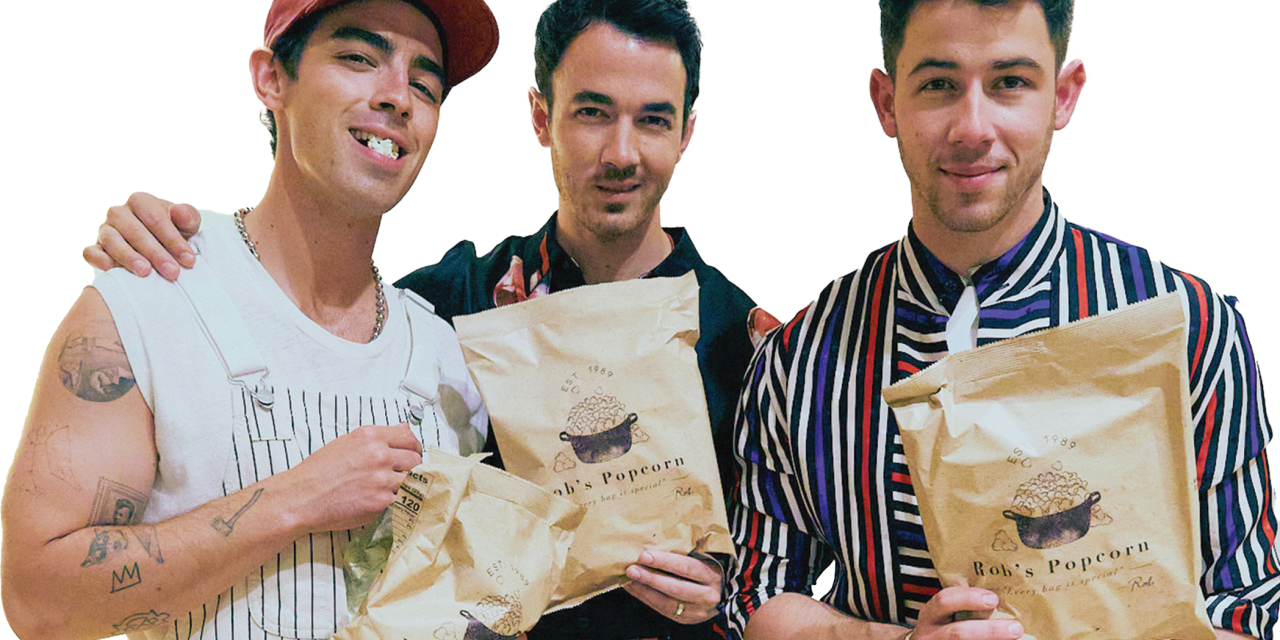 Robs Popcorn
More brands are going direct-to-consumer, and celebrity-driven brands are no exception. CPG incubator The Naked Market today announced that, in partnership with the Jonas Brothers, it is expanding distribution of the band's popcorn brand, Rob's Backstage Popcorn, nationwide by launching an e-commerce site.
In June, The Naked Market developed the brand's first popcorn product and packaging in just eight weeks to launch as a concert venue exclusive for the band's tour that started in August. Now, encouraged by the fact that more people have started buying snacks online during the pandemic, The Naked Market is launching the popcorn brand nationwide.
Rob's Backstage Popcorn started as a family-friend-made backstage snack for the band in 2019. In June, the band worked with The Naked Market to create a product with similar taste to the original and, in August, started selling the product at their concerts. Today's nationwide e-commerce launch, explained The Naked Market's CEO, Harrison Fugman, "was always the plan."
Before Rob's Backstage Popcorn, The Naked Market launched a suite of trendy snack brands including avocado puff brand Avo Crazy and rotisserie chicken chips brand Flock. The company launched in 2019 and currently has five brands in its portfolio, which its site describes as "CPG for millennials, by millennials." This is the platform's first celebrity partnership. The company closed a $6 million seed funding round last October.
Fugman explained that one reason it was able to launch Rob's so quickly was because of its in-house capabilities. The company has its own data scientists who research trending products in the CPG space to come up with what products to pursue, partners with food scientists to formulate taste on-site and builds out branding and packaging prototypes with their own designers. Generally, explained Fugman, only production is done out-of-house.
The Jonas Brothers are following a wide array of celebrities launching DTC e-commerce brand sites across a variety of categories. The Kardashians have released a series of brands as DTC-first including cleaning brand Safely and shapewear brand Skims. Jessica Alba's clean beauty company The Honest Company first launched as a DTC model before expanding to retailers like Target. Reese Witherspoon launched her apparel brand, Draper James, DTC as well.
Safely's co-founder Emma Grede told Modern Retail that the DTC model gave her and Kris Kardashian "a moment to understand our customer, understand our business, before we go into retail."
Rob's e-commerce snack launch is well-timed. Cara Rasch, a food and beverage analyst with market research provider Packaged Facts, explained that more consumers are eating snacks at home, particularly as some consumers are continuing to work from home. "Fifty-one percent of those who are working full-time from home… report that they are eating more snacks and treats," said Rasch. Packaged Facts estimated that U.S. popcorn retail sales grew 17% in 2020 to reach nearly $3 billion, she said.
Mike Black, the chief marketing officer at research firm Profitero, said that the growth is particularly prevalent in online channels. In the past, shoppers traditionally bought their snacks impulsively in-store, while on their weekly grocery trip. Last year, however, e-commerce snack sales grew 84%, amongst stay-at-home orders.
"[Almost] every month of 2021, sales of snacks on Amazon have been higher than what we saw in 2020," said Black. "It's just been consistently growing as a category on Amazon… [The pandemic] really unlocked the online channel for this category."
Earlier in the pandemic, added Black, consumers were purchasing their snacks in bulk online but now consumers will grab both single item and multi-pack snacks.
While Rob's is starting with direct-to-consumer distribution, the brand isn't banking on online-only sales. Fugman said the brand plans to go into in-store retail in 2022. It will also expand its product offerings — Rob's is launching with just one flavor in one four-pack size for $20 — to other options over the next year and a half.
"To really scale up brand and get it into everyone's hands, to take advantage of the entire market, we will need to go towards retail," said Fugman.