How plant-based ice cream startups are navigating national expansion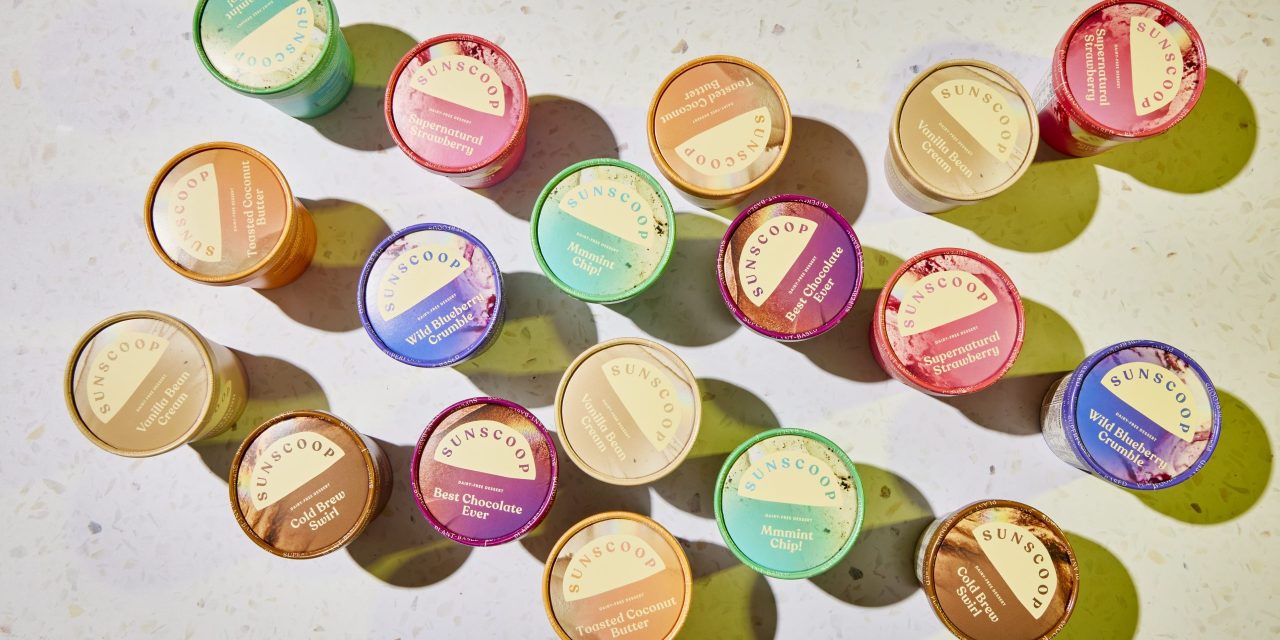 Sunscoop
Amid growing interest in plant-based products, vegan ice cream startups are eyeing national distribution.
Sales of plant-based foods grew 6% year-over-year to $7.4 billion in 2021 — and outpaced average food sales growth three times — according to a study by SPINS and the Plant-Based Foods Association. Vegan ice cream, specifically, was predicted to grow 11.1% in 2021 by Future Market Insights. In turn, many small-batch vegan creameries are growing sales and receiving outside funding. With this influx of cash, these businesses are building out direct-to-consumer shipping and expanding their retailer presences.
Last week, vegan ice cream brand Sunscoop announced it had both closed on a $2 million seed funding round and, in turn, would be relaunching its DTC site. Sunscoop launched five years ago at Smorgasburg Los Angeles, and has since expanded to over 700 retailer partners including Whole Foods and Erewhon. Last year, Sunscoop grew sales 142% year-over-year.
"With the growth of our distribution and a lot of opportunities coming our way, we really needed to raise some significant capital," said Sunscoop founder and CEO Carli Blum. "We'll be using that capital to grow distribution." Sunscoop has also ramped up hiring, hiring a VP of sales earlier this year.
Sunscoop — which sells coconut-based ice cream — had previously piloted DTC shipping in 2020. But the company stopped the service last year after a nationwide shortage of dry ice, explained Sunscoop's head of research and development, Chelsea Fisher.
"Shipping ice cream online is not easy," said Blum. "We did find a new partner." However, some changes had to be made; "This year we're not going to have build your own pack. We're going to have more pre-bundled packs."
With this latest funding, Sunscoop has has taken on a public relations team and invested more in marketing. The idea behind this website relaunch is to invest further in digital marketing opportunities. For example, Sunscoop plans to build out an affiliate link program. "Our main goal is always retail to push sales at retail, but it's going to be really great to have DTC and see the ROI on some of the marketing campaigns that we're going to be working on," said Fisher.
Thus far, Sunscoop has centered its retailer strategy primarily in more health-focused and higher-priced grocers like Whole Foods, Erewhon, Gelson's and MOM's Organic Market. The company plans to continue its retail expansion this year, however, it hopes to enter more traditional grocers in 2023.
To broaden its appeal, the company is working to expand its lower-priced items.
"Our product was generally more premium," said Blum. "It currently ranges from $7.99 to $9.99, but this year we're going to be rolling out across the country at $7.99."
Sunscoop is also releasing new products beyond the pint this year, including a novelty product in August. Traditionally, novelties are any pre-packaged ice cream treats like bars, cones or popsicles. Blum declined to share exact product specifics on the novelty release, but said the company was talking to both Kroger and Target about the new novelty for potential placement next year.
"Novelty is a great way to break into also conventional retailers," said Blum. "It's easier to get a no from a pint, but when you come to them with a novelty you have more of a likelihood of getting placement, because it's something totally unique that they've never seen before."
Like Sunscoop, the Los Angeles-based vegan scoop shop Dear Bella is also launching a DTC site to go live at the beginning of May. Dear Bella sells both coconut-based and oat-based alternative ice creams, often with Taiwanese-inspired flavors, out of a single storefront.
Dear Bella co-founder Alice Cherng explained that demand and sales had outgrown the storefront, but she and co-founder Belinda Wei wanted to avoid expansion through retail. Instead, Dear Bella decided that focusing solely on its direct-to-consumer channel would grant it more ownership and control.
However, shipping cold perishable products presents many hurdles. Cherng explained that finding the packaging to ship product in was initially difficult.
Traditionally, ice cream is shipped in styrofoam to keep it cool. But the plant-based creamery was worried about the environmental impact of the material and instead landed on a multi-layered paper product. "We really wanted to find another option," said Cherng.
Securing enough dry ice to launch national shipping — and a secure container to store it in — has also proved challenging. Dear Bella first sourced dry ice independently, with Cherng even driving out to stores like warehouse food store Smart & Final to pick up dry ice herself. Now, the company is using a partner to secure the material and storing it in a container that took five months to arrive amid supply chain issues.
Meanwhile, other vegan ice cream brands are finding success at scaling via retailer partnership.
Holding company Jaback Group last week launched almond-based ice cream brand Klimon via a retail partnership with Walmart. The launch will start in select Walmart stores, but a nationwide release is upcoming in the year.
In a press release about the launch, Jaback Group CEO and Founder Alex Cotraviwat announced hopes that Klimon's launch would help Jaback Group "continue to leave our mark on the plant-based food revolution."
As companies like Sunscoop, Klimon and Dear Bella eye national expansion, they are also looking to attract a new set of customers. Cherng said that while many of Dear Bella's customers are vegan, she believes that there are increasing opportunities for the company to tap into "flexitarians" and those with allergies and lactose intolerance moving forward.
"There's definitely both an additional awareness about the effect of dairy, as well as overall increased acceptance of plant-based ice cream," said Cherng. "This was definitely not the case, I would say, five years ago."