How resale app Mercari is incentivizing users to list more items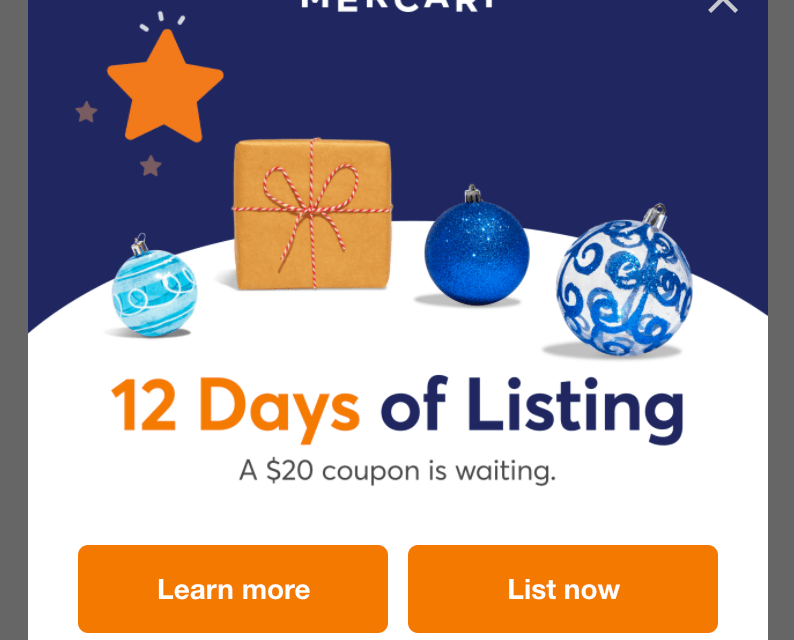 Image via Mercari
Online resale is a crowded space, and players like Mercari are working to differentiate themselves from the competition. 
Today, many resale apps look to turn their repeat sellers into buyers, and vice versa. To differentiate its offerings, peer-to-peer resale Mercari launched a series of customer engagement campaigns this past year in the hopes of converting buyers into repeat sellers.
These campaigns focused on incentivizing customers to sell their own products by, for example, offering discounts on future purchases. In December, the company also launched its rewards program, which offers users shopping credits based on the number of items they list.
These incentives have created a lift in sales and increased the flow of Mercari's overall user listings, according to the company.
Testing out ways to engage customers
Chuck Condon, director of customer relationship management at Mercari, told Modern Retail that the UX and marketing teams are "often teasing offerings to get users to come back to the app." Mercari's customer relationship management [CRM] team begins to pick up purchase and selling intent signals as soon as users list their first item, Condon explained. "We quickly start encouraging new listings while suggesting some improvements on current ones," he said. 
"For example, we run a program that incentivizes users to list an item and receive credit on their next purchase," Condon said. This gives Mercari buyers motivation to also sell on Mercari, he said.
"We're increasing the use of machine learning to predict which users are likely to have those [in demand] items," said Condon. Users get listing ideas on the homepage from tabs like "Sold in the last 10 minutes" and "Demand Surge," a section showing products and brands shoppers are currently searching for. The team also crafts marketing campaigns around seasons or holidays to continuously refresh listings.
The challenge, Condon said, is in doing this across the platform — "not just make small recommendations to hundreds of users but scale the system to reach millions of users."
The CRM team works with vendor Braze, an AI-based customer engagement platform, to develop customer communications and campaigns, said Condon. "That allows our engineers and product managers to focus on promoting the app's consumer-facing features," he explained, which include promoting them through email, push notifications or SMS, which the company is currently testing out. 
According to Condon, these tweaks are yielding results — the coupon program specifically has been popular among users. In its latest data released at the end of January, the program helped increase sales by 8.5%, with Mercari citing 184% return on advertising spend, Condon said. 
Focusing on new service Mercari Local
Mercari is also working to get more buyers and sellers to use its Mercari Local, a shopping and selling filter that allows customers to get nearby orders delivered by a Mercari-appointed messenger. The company began testing local delivery in June 2020 via a partnership with Postmates, and it's since become a big area of focus.
"Mercari Local is a great example of how we're trying to enable selling and buying for casual consumers and sellers," said Condon. Local opens up a whole new avenue for new categories, like bulky items or furniture. To popularize this fulfillment option, Condon said Mercari is working on listing prompts to recommend smarter shipping and pricing to users. Mercari Local is powered by Uber and costs shoppers $8 (which, Mercari said, in some cases is cheaper than shipping via a carrier).
The app's engagement tools also helped Mercari capitalize on the last holiday season's shipping delays. Mercari leaned onto push notifications and email marketing during the recent holiday rush. December's shipping deadlines prompted many Americans to plan ahead for gift shopping. But resale sites like Mercari used the supply chain-related delays to promote local, secondhand gifts.
A competitive resale space
Matt Moorut, senior principal analyst at Gartner, said that the pressure for resale apps to have more relevant merchandise is increasingly important. "The resale market is going to get more competitive as the size of the prize grows," he said.
"Investors will want to see a growth in market share along with a growth in the market as proof of which company to back," he said. However, multichannel marketing across push, SMS and email is becoming more common among platforms like Mercari with high app usage, Moorut said.
For Mercari, the idea is to constantly encourage customers to look around their home and list items. "Tweaking these recommendations is an area we're still continuing to invest in," Condon said.