How retailers are using Pinterest to drive e-commerce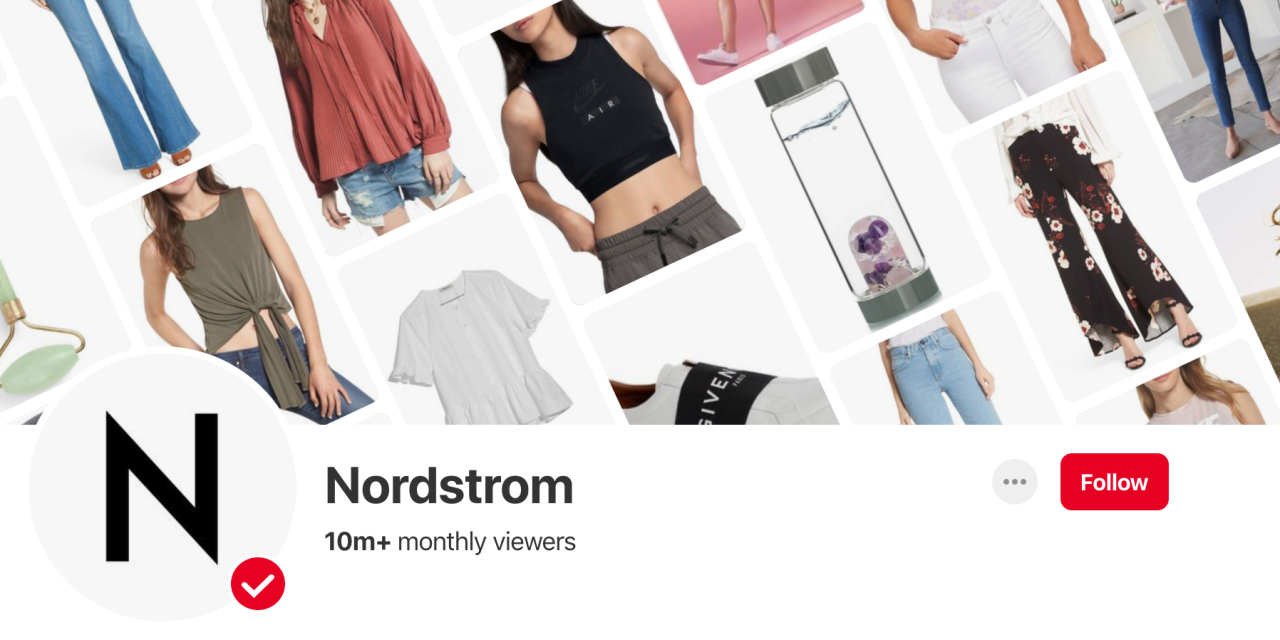 Pinterest has been trying to build out a suite of tools aimed at retailers over the past year. Since going public last spring, the social platform has added a series of products aimed at helping businesses increase their presence via Pinterest's image-heavy discoverability features, with more planned to come.
This week the company released the latest called Try On, an AR tool powered by Lens, that allows users to test lipstick shades from brands like Estée Lauder, Sephora and L'Oreal, among others.
According to the company, it's currently putting in an effort to make the site "more shoppable than ever" by allowing retailers to build custom shopping catalogs and ads, along with increased access to metric tools.
"Pinterest as a visual discovery engine simulates the window shopping experience that shoppers used to get by wandering through a shopping mall," according to the company, pointing to the platform's idea browsing component as a benefit for retailers.
The company' e-commerce partnerships now span across small businesses, DTC brands and large retailers, who have found success amassing followers on their shoppable pages. For example, L.L. Bean is currently one of the most popular brand pages on the social platform, with 9.6 million monthly viewers, where it curates boards of outdoor clothing and gear that take users to its site. Similarly, department store chain Nordstrom receives more than 10 million monthly viewers of its ad catalogs, according to its Pinterest page. 
With the ability to build custom features, retail brands like Levi's have created ones such as a personalized styling tool, "Styled by Levi's." The feature prompts users to pick from a series of images, which helps generate a personalized Pinterest board based on their picks.
The company's e-commerce push has been paying off, said Avi Ben-Zvi, director of paid social at search engine marketing company Tinuiti, whose clients include MVMT Watches and Bombas Socks, both of which have active verified Pinterest pages. "We've been adding a fair amount of clients on Pinterest since 2019," said Ben-Zvi, and that Pinterest's conversion bidding and shopping catalog tools have shown major boost to traffic since being introduced last year.
And while retailers haven't yet reached the scalability of Instagram's shopping targeting on Pinterest, Ben-Zvi said they've been seeing it as a new front for acquiring new customers.
Pinterest has long been known as the darkhorse of targeted advertising among, and it's not just fashion and beauty brands embracing it for more than curated, aesthetics-focused marketing. The popularity of home decor content on the platform has helped furniture startups gain a substantial presence. For example, as one of Pinterest's catalog partners, Joybird has been advertising its mid-century modern pieces through decorating how-to guides and a dedicated board of quick shipping items. The shopping catalog feature has been a major focal point of Pinterest's retail partnership push, with its last earnings report showing it increased brands' product catalogs by 75% quarter over quarter.
Meanwhile, Room & Board has been utilizing the promoted pins feature to acquire new customers searching inspiration boards for modern furniture ideas. According to Pinterest's metrics, "Room & Board has seen a 51 times return on ad spend on Promoted Pins campaign, as well as 33 times return on ad spend from their Shopping Ads campaign."
Pinterest's strategy to convert activity to a last touch purchase experience is still ongoing, as it continues encouraging retailers to consider it as another shopping portal. "It has a very discovery-oriented interface," said Ben-Zvi, which retailers can take advantage of as a natural, user-friendly marketing tool.