How Siete Family Foods uses e-commerce to test new products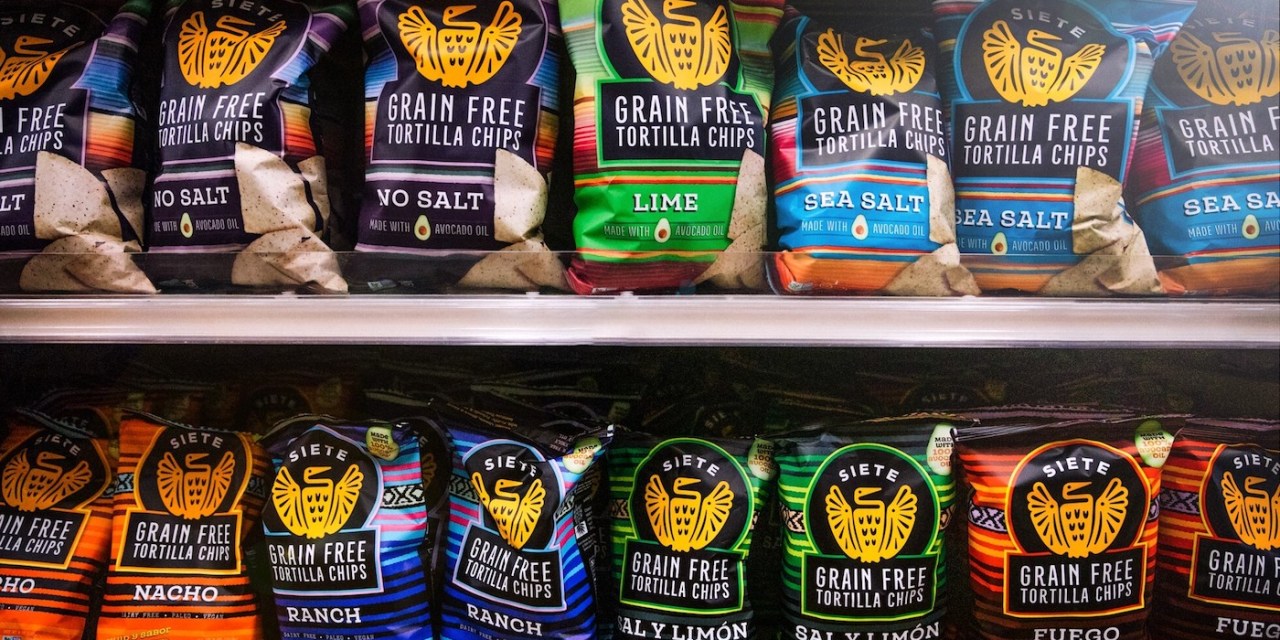 As more food and beverage sales move online, e-commerce is becoming a bigger part of food startups' strategy.
Take Siete Family Foods, which makes grain-free versions of Mexican-American staples, like tortillas and chips. The six-year-old company, which sells its products in more than 13,000 retail locations, is now using its website to test out new products before selling them in physical stores. Through a new section of its site called Small Batch, Siete Family Foods plans to launch ten new products within the next year, selling as few as 100 to 1,000 units of each new product. The goal is to gather data on what types of food Siete's most loyal customers are most interested in, and use that data to pitch retailers on carrying that product in stores.
In May, eMarketer projected that e-commerce sales of food and beverage would be up 58.5% year-over-year, making it one of the fastest-growing e-commerce categories. However, the bulk of food and beverage purchases still take place offline. Additionally, most of those sales still take place at grocery stores, where customers can pick up products from dozens of different brands in one trip. As a result, food and beverage startups like Siete are increasingly using their websites to test out new products, collect data, and build an email list of loyal customers. Meanwhile, they rely on wholesale partnerships through grocers to drive a large portion, if not most, of their sales.
Siete co-founder and CEO Miguel Garza declined to share what percentage of the company's sales come from its website versus from its wholesale partnerships. However, the company sells its products through a large number of grocery chains, including Target, Kroger, Whole Foods, Safeway and Albertsons. The company has rapidly expanded its retail presence since raising $90 million from a private equity firm last year.
Like other startups, Garza said that Siete's e-commerce sales have increased during the pandemic, particularly during stay at home orders in the spring. From roughly mid-March to mid-April, Siete Family Foods saw a 500% increase in e-commerce sales compared to the month prior. The company also experienced an 85% in new customers coming to its website during the same time period.
The company temporarily assigned a few employees — who had previously been responsible for creating in-store displays for Siete products — to instead fulfill online orders in its warehouse to support the demand.
Garza said that Siete came up with the idea for Small Batch after the success it saw from its first-ever limited edition product, grain-free mini buñuelos cinnamon crisps. Siete first released the product on its website last December, and then a second time in July for a "Christmas in July" campaign. Both times, the products sold out in a number of hours. "We then had the data that demonstrated that it was a product that the consumer was really excited," Garza said, and took the finding to its retail partners. Siete is re-releasing the mini buñuelos on its website in November, and it will be subsequently carried by a number of its retail partners, including Target, Kroger and Whole Foods.
"We are able to shorten that feedback loop with the consumer, and then have more conviction on items that we may launch in the future, or even flavors that the consumer may be craving and not realize it," said Garza. The first product Siete plans to launch through Small Batch, three different types of grain-free cookies, will be available to order starting October 29. On its website, Siete encourages customers to sign up for its email list to be notified when Siete is about to release a new product.
Karen Howland, managing director at CircleUp, a fintech company that primarily workers with CPG startups, said that food and beverage startups historically pitch grocers on new products by presenting them to buyers at trade shows. "It's very much driven by that buyer's perception of what their customer is looking for, and that buyer's perception of what they believe tastes good," she said.
But if a company tests out a product on its website first, Howland said that then they can then collect data to present to the retailer on say, how much introducing a new product increased average basket size or repeat purchase rate on its website. "That's a really powerful message to give to the retailers," she added.
Howland said she has also seen more food and beverage startups use their website to test out new products, while relying on grocers for the bulk of sales, because of the fact that high customer acquisition costs online can weigh down profitability. Similarly, Garza said that he sees Siete's e-commerce and physical retail businesses "complimenting each other, rather than living in conflict." 
"The Small Batch may provide for a wider variety of products, and the retail shelves may have more of the core items," Garza said.