How Studs is approaching its ear piercing studio expansion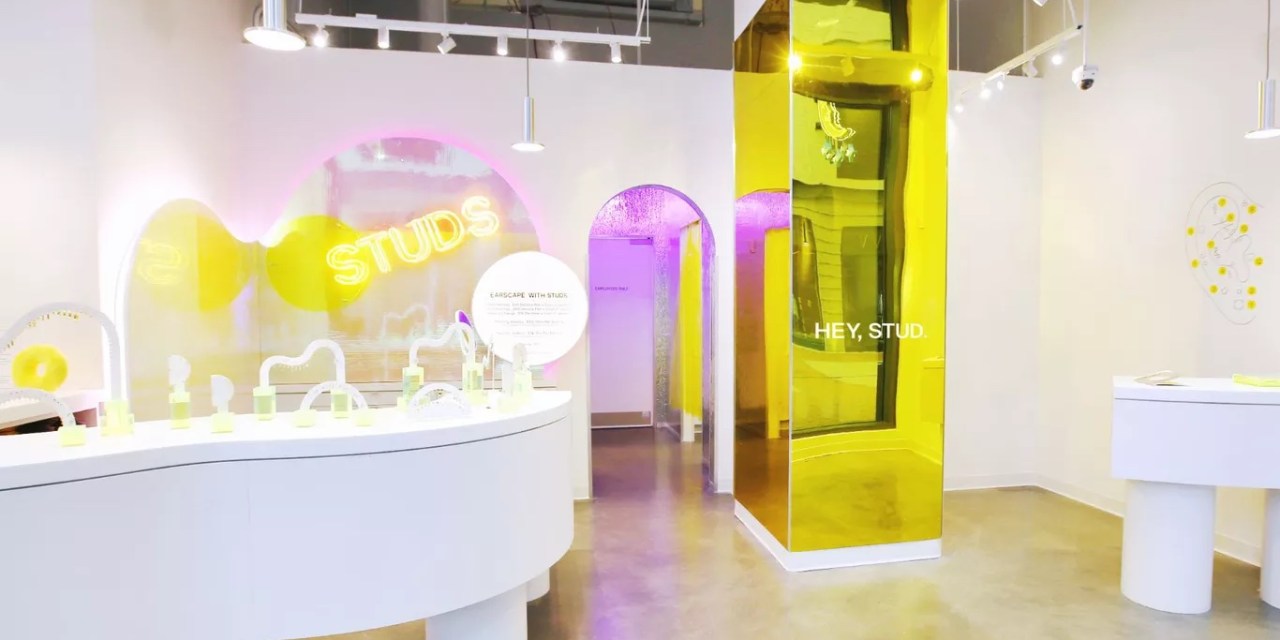 Studs
After pausing physical expansion during the height of the pandemic, piercing studio startup Studs is plotting a rapid expansion throughout 2022. 
In the past few weeks, Studs opened two new shops, bringing its total to 11 locations across the country.
Five of Studs' current stores opened during the first four months of the year, joining multiple New York and Los Angeles locations. This year the company entered two new markets, Miami and Nashville, along with two new Boston locations. This summer, Studs is opening a Williamsburg, Brooklyn shop, marking its fourth location in New York City.
The brand has positioned itself as a Gen Z-friendly challenger to mall-based Claire's and Banter. As it expands its footprint, Studs is trying to strike a balance between shops in high-trafficked shopping hubs and residential neighborhoods.
Studs co-founder & CEO Anna Harman told Modern Retail that the company is gradually targeting both urban and suburban shopping corridors. 
"We've found success both in urban areas with high foot traffic, as well as popular lifestyle centers," Harman said. As the piercing studio expands, Harman said "our strategic approach to our physical retail locations is informed by a combination of our existing e-commerce customer base in that area, notable cultural shopping hubs, and general foot traffic in the area of both locals and tourists."
The Studs business consists of both ear piercing studios, as well as an online jewelry business. As such, Studs' goal is to reach both tourists and local neighborhoods. This approach was solidified after the company tested popular DTC brand hubs in the past, such as New York's Soho neighborhood. Harman noted that those types of locations, while great for marketing purposes, don't necessarily attract customers booking ear-piercing appointments. 
Doubling up in major and mid-sized cities is one way to effectively target different demographics, Harman said.
One of Studs' latest locations, at Nashville's Fifth + Broadway shopping complex, is meant to be an alternative to its existing location on the popular South Congress strip.
Studs now says it is rethinking its physical footprint as more people return to the office, and foot traffic patterns stabilize. Studs originally opened a shop in Hudson Yards back in February 2020 — which eventually closed during the pandemic. However, Harman said the company hasn't given up on the Midtown Manhattan shopping complex. In late April, Studs reopened at 20 Hudson Yards' second-floor corridor, located between Ray-Ban and greeting card shop Lovepop. Harman said that at the beginning of Covid, the retail landscape in hard-hit New York City felt uncertain. "But now Hudson Yards is booming," she said.
These new locations are opening in quick succession to catch up with Studs' digital sales, which at one point outpaced physical retail due to the pandemic. 
"As we launched Studs only a few months before the pandemic, we were forced to quickly pivot to rely entirely on the e-commerce side of our business," Harman explained. The company grew its jewelry and accessories business significantly during 2020 and 2021, which currently accounts for about 30% to 40% of monthly revenue. "We've seen the CAGR of our e-commerce channel of more than 1,000%," Harman said — confirming that e-commerce continues to play a large part of the Studs business, along with its growing retail footprint. 
However, Harman said the service part of Studs' business is still integral to its growth, hence the return to expansion this year. A similar strategy is being applied by other DTC players, like furniture startup Burrow and homeware brand Parachute. 
"Looking ahead for the rest of 2022, we will continue to expand our retail footprint across the country into new markets," Harman said. She pointed to the stores being the "not only the ultimate billboards for our piercing services," but also major e-commerce boosters. "We have consistently seen that entering a market with retail has boosted our e-commerce growth in the area," she confirmed. In addition to new stores, Studs will also be releasing new products throughout the summer and into fall, as well as several brand partnerships that will be announced in the coming months.
Retail consultant Rebekah Kondrat said Studs' strategy makes sense, given the nature of its business being reliant on physical interactions. "You can't get your ears pierced digitally, so you have to have studios near your customers," she explained. Kondrat added that "the business model has a built-in traffic booster, so it makes sense that Studs wants to be in different types of neighborhoods." She compared the store model to Warby Parker's vision centers, where customers can either buy products or get exams done.
At the same time, the real estate market is expected to get more volatile over the next few years as more digitally-native brands move offline, Kondrat said. She pointed to Studs' move to retest shopping centers, such as Hudson Yards as a smart way to navigate changing foot traffic. While the first attempt was hindered by New York City's pandemic shutdown, the mall's second floor has quickly become a hub for DTC brands in the past year. Kondrat pointed to the concentration of digitally native brands on Level 2, which include Mack Weldon and Rhone. 
At the same time, opening thousands of stores as a digitally-native brand isn't the best strategy either, Kondrat said. "You want the customer to seek you out but still be accessible," she said.