How TerraCycle is partnering with DTC brands on recycling programs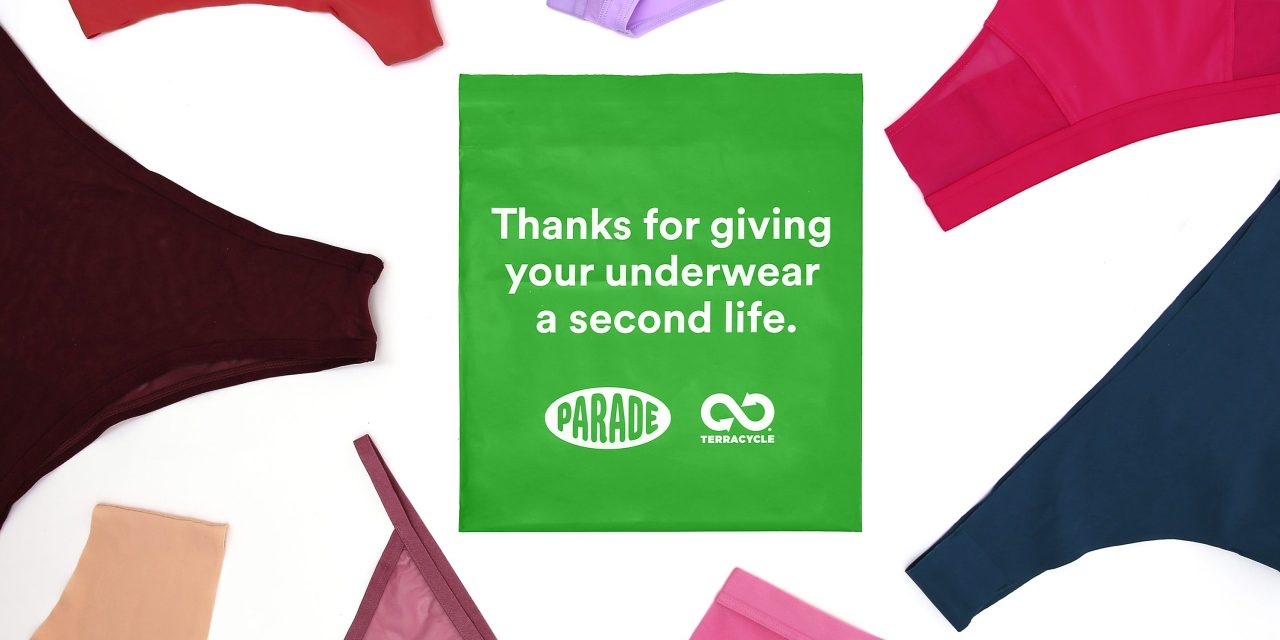 Image via Parade
Waste recycling company TerraCycle is becoming a popular solution among DTC brands. 
TerraCycle, founded in 2001, works with large corporations on recycling mostly plastic waste. Its partners include L'Oréal, PepsiCo, Procter & Gamble and most recently Kroger. Last year, Kroger expanded its recycling program — in which customers could drop off plastic Kroger packaging — to thousands of its private labels products. 
In the past month, TerraCycle announced partnerships with two direct-to-consumer startups — underwear brand Parade and sleepwear company Lilysilk. Zachary Dominitz, senior vp of brand partnerships at TerraCycle, said that startups want to work with companies like TerraCycle because they are "resource-challenged," yet "understand the importance" of reducing waste and recycling. These types of partnerships are an increasingly big part of these DTC brands' overall sustainability goals, which executives say feed into their branding and marketing efforts.
TerraCycle collects and then breaks down waste material, and repurposes the material into everything from home insulation to furniture and bedding. The company makes money by charging companies to operate their consumer-facing recycling programs. In 2020, TerraCycle U.S. reported $25 million in net sales, down 9% from 2019 due to pandemic-related slowdowns. (TerraCycle hasn't reported 2021 figures yet). The company currently operates in over 20 countries, and has several product collection hubs across the country for quicker customer shipping. 
TerraCycle has dabbled in upcycling fashion items in the past. In April 2021, the company partnered with footwear brand Teva on recycling customers' used TevaForever sandals. That month, the company also kicked off a kidswear recycling program with Carter's, called Kidcycle. 
But this year, TerraCycle is pushing further into apparel and textile by striking deals with DTC brands. 
Why DTC brands are outsourcing recycling 
Last week, DTC underwear brand Parade launched Second Life by Parade with TerraCycle. 
The program allows consumers to recycle any brand of underwear through the program. It's available via prepaid mailing package, and customers can also drop off their used items at Parade's New York City store. In exchange, customers receive a 20% off discount on their next Parade purchase. This incentive is similar to H&M's product drop-off program.
"We knew a lot of customers were interested in recycling their old products," Kerry Steib, vp of brand and impact at Parade said. "But you can't resell or thrift underwear." 
That's when Parade sought out TerraCycle, Steib said. For a young startup like Parade, the program allows for seamless reverse logistics that make it straightforward for customers to participate, she explained.
To create a textile-focused recycling program, Parade worked with TerraCycle on material analysis, as this is both companies' first national underwear recycling initiative. 
Fashion and apparel is a new foray for TerraCycle, which required more planning ahead of the program's launch. Dominitz told Modern Retail that oftentimes in the apparel industry, a lot of material isn't truly recycled, and so TerraCycle's R&D team has to assess whether it can be broken down in a sanitary way. 
Normally, a lot of brands TerraCycle works with have plastic products. However, apparel brands like Parade require specific machinery techniques to completely shred the material.
This partnership is one part of Parade's overall sustainability roadmap, in which the company aims to become climate positive by 2025. This year, Parade joined the Science Based Targets Initiative, an organization with over 1,000 companies setting climate action plans. 
In 2020, Parade launched its first carbon-neutral underwear, the Universal. This past fall, the company debuted its SuperSoft sleep collection, which it said is made from 95% less water than traditional sleepwear. 
Parade is continuously looking at other ways to develop products that are easier to upcycle. "The challenge is in creating better recyclable products at the same price point," Steib said. 
In early January, DTC sleepwear and bedding brand Lilysilk also launched a recycling program with TerraCycle. 
The Lilysilk X TerraCycle Recycling Program allows customers to send silk and cashmere products to be recycled. Eligible items include bedding, sleepwear and women's and men's apparel. The program is only taking used Lilysilk products for now, but the company is considering expanding it to other brands.
Wendy Zhang, marketing lead at Lilysilk, told Modern Retail that the brand realized it needed a partner to go about such a program. "Sustainability is not a one-man show, and it's hard for one brand to take on," Zhang said. It's why the company sought out professional help to break down and recycle the material efficiently.
"It doesn't make a direct impact on our revenue, but we see it as an investment in what the brand stands for," Zhang said. She added that founder David Wang decided to sign on for a three-year contract instead of testing TerraCycle for one year.
Like Parade, product recycling is one part of Lilysilk's sustainability goals, said Zhang. Lilysilk also tries to reduce waste during production by, for example, using t-shirt cut-offs to make silk accessories. 
To promote the TerraCycle program, Zhang said Lilysilk is working with its network of influencers. Lilysilk also plans to eventually install TerraCyle drop-off booths at offices and apartment complexes. 
TerraCycle's growing presence 
TerraCycle's Dominitz said the company has seen "an increased interest in our recycling solutions from every segment in the commercial chain." This is due to the increased awareness around consumer product waste and the impact it has on the environment, Dominitz explained. 
Jenny Gyllander, founder of product reviews site Thingtesting, previously told Modern Retail that recycling and reselling used products are "positive first steps," for brands to take to contribute less waste. "[Brands] should be responsible for the products that they put out into the world and think about the full life cycles of where they end up," she said. But TerraCycle's solutions also highlight the obstacles surrounding recycling — as evident by a now-settled recent lawsuit against TerraCycle over alleged opaque practices.
As TerraCycle grows, its pitch to both larger and smaller brands is that developing a cohesive recycling program helps companies achieve multiple goals. "This translates to more waste collected and recycled, a bigger positive impact and a better story for your [companies'] stakeholders," Dominitz said.