How the gig economy is transforming retail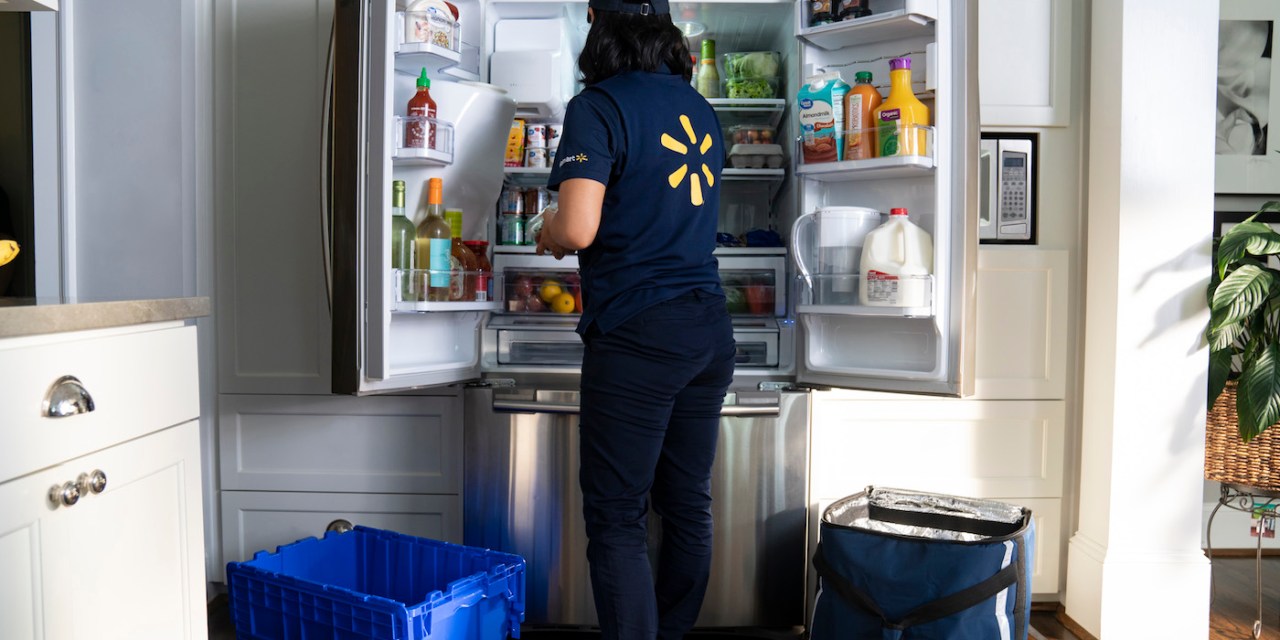 Image via Walmart
The gig economy — which has changed the makeup of the taxi cab industry, vacation rentals and odd-jobs — is becoming more relevant to the retailers' business models as internal strategies evolve.
Gigged work has been in retail for years. Up until recently, the jobs filled by one-off workers using apps has revolved around last-mile delivery. As e-commerce giants like Amazon began offering quick and reliable delivery options, retailers looked toward contract workers and third-party platforms to help facilitate item transport — and stay at least slightly competitive. Companies like Instacart rose to dominance by recruiting contract workers to fill online orders on behalf of grocery retailers same-day to customers, a perk these retailers were unable to offer on their own. Yet other retail roles, like checkout and stocking inventory, relied on traditional staffing models, despite high attrition and volatile demand.
Now more roles are surfacing that retailers and brands realize could be fulfilled by a fleet of non-staffers — people looking for one-off shifts to make a quick buck. Restocking shelves, for example, is something stores need done reliably all the time. So is loading and unloading inventory. A growing number of apps have launched over the last few years that claim to give workers more flexibility and companies more access to labor.
With more gig platforms entering the fray, and more jobs being allocated to one-off contractors, the retail industry's business model is on the precipice of a larger shift.
Shifting the model
One company leading the pack is Jyve. It recently raised $35 million in venture capital and focuses squarely on the intersection of gig work and retail. Its app lets users sign up and then perform one-off tasks for stores and brands. Jyve works a little differently than other temporary job providers because it pays by the task, not by the hour. For example, a Jyver (in the company's parlance) could agree to stock a grocery store's shelf for $100. This gig could take the person one hour, it could also take them five — the payout remains the same. The Jyver, at the end, rates the job as well as receives a rating — which, the company said, could help the worker land more lucrative gigs down the line.
According to COO Anu Gupta, who left an svp role at Target to join Jyve's executive team last year, the app is helping retailers with job attrition as well as training. Retailers often hire seasonal help, as well as see high turnover for more laborious roles delivery pallet unloading and warehouse upkeep. Jyve offers a way to fill those holes so that the organizations can run smoothly — as well as train them in-app so that they can begin the work quickly.
Gupta described Jyve's individual training programs as "bespoke brand educations." Many of the gigs offered are brand-specific: Not tied to a specific retailer, but to a product. So, a CPG company could hire a Jyver — or many Jyvers — to go to select retail locations and stock displays to their liking. The workers would receive detailed instructions for what to do on their phones. Gupta added that many traditional grocers and retailers are using Jyvers to do back-end stocking for home deliveries while full-time employees can continue their regular workflow. "We're basically an enabler of e-commerce for several retailers," she said.
Gupta wouldn't divulge what percentage of Jyve's clients are retailers and which are brands beyond saying "both retailers and brands are equally interested." What the app allows for is a new dynamic between the two. Brands often entrust retailers to stock and show off their products, but can't have an omniscient eye ensuring products are properly displayed on shelves around the country. "Brands themselves have standards," said Gupta, "about how [their products] should look on shelves." Jyve is a way for these companies to enlist help to properly showcase products — especially those that sell at a high velocity, which retailers often have trouble continuously restocking.
Neither would Gupta name the companies Jyve works; she described them as "top 10 retailers and top 10 brands." Currently the company has about 6,000 Jyvers working in around 4,000 stores. The app is operating in 31 states. Most Jyver acquisition, said Gupta, is by word of mouth.
The company makes money not per job, but via multi-year contracts Jyve signs with the other businesses. Jyve inks these deals, the brands and retailers describe the work that needs to be done, Jyve breaks that down into specific one-off gigs, prices them accordingly and puts them on the app. Each rate is determined based on location, complexity of the job, duration and the type of physical labor it would require.
Another service, Snag Work, which is an offshoot of the job platform Snag, operates similarly to Jyve but uses a slightly different model. Instead of offering one-off jobs, Snag Work pays gigged workers by the hour for individual shifts at both retail stores and restaurants. For two years, the app was in stealth mode up until launch earlier this year. Now, it plans to expand to five new markets in addition to the seven it's already in.
According to Snag CEO Mathieu Stevenson, Snag Work is often used by retailers who see huge seasonal influxes. A company like Party City, for instance, likely needs a bunch of new help during peak party holidays, like Halloween. "You are starting to see a shift in retail," he said, where companies are opting to find gigged help for these busy periods as opposed to hiring temporary part-time help.
Stevenson added that some retailers use Snag Work as a way to objectively grade locations — a sort of secret shopper-like program. Snag Work workers come and work at a location for a day and then provide feedback about the environment, which is then fed back to the retailer. Those who don't answer directly to the companies, said Stevenson, "can be more candid." "Sometimes," he said, "the employees are a little more reticent to provide the unfiltered unvarnished truth."
A new employment reality
Snag Work gigs have a minimum rate of $10/hour, but many jobs have higher rates. The company charges retailers a 25% service fee from that hourly wage, as well as on-boarding costs. Given the demand for some quick fill-in help, sometimes Snag Work workers get paid a better rate than staff, as the Washington Post reported in 2018. That story also noted that while gigged retail work does make for more flexibility, it takes away other important aspects such as paid overtime and workers compensation. Snag Work is a little different than other gig economy platforms, however, because all of them become W2 workers of the company — making them eligible for certain benefits, unlike contractors. "It's important for them to be covered with things like workers comp," Stevenson said.
Still, other workers at platforms like Jyve aren't given such perks. People like Gupta, instead, emphasize the freedom. "Jyvers want to be their own bosses," she said, and "work at their own pace."
ZipRecruiter labor economist Julia Pollak added that, for many retailers, these jobs would be filled by temp work anyway. "Retail has long relied on contract workers," she said. "So many part-time, contract and seasonal workers don't get benefits either."
At the same time, a workers' label means quite a lot. While seasonal retail labor may not be entitled to full-time health benefits, they are protected by anti-discrimination laws. The rise of third-party platforms like Jyve essentially allows retailers and brands to offload a great deal of employee responsibility and protections — as well as creates a grey area for how a rising labor fleet is classified.
Platforms Jyve and Snag Work likely could bring about concerns akin to apps like Uber and Lyft. Both were described as ways for people with cars to make extra money and be their own bosses; both provided services that were priced competitively to grow marketshare. Now, there's a workforce of so-called self-employed contractors who rely on these ride-sharing apps to give them a steady income. A company like Jyve may give people flexibility to do gigs for a variety of places, but the workers still use the service to get a paycheck.
What's more, these platforms could exacerbate industry trends. Recent data from the Bureau of Labor Statistics indicates that retail employment has declined by 1% since its last peak in January 2017. With a slew of traditional retailers — including TopShop, Gymboree and Payless ShoeSource — seeing widespread closures, the companies still alive and kicking may look toward gig-like employment programs to cut down on HR costs.
Beyond those uncertainties, the gig retail work platforms aim to use their growing fleets of untethered contractors as sources for reliable data. For Snag, the reviews help provide qualitative feedback that its clients find valuable. For Jyve, the company is using in-house algorithms to actively quantify the work Jyvers do and better calculate ROI.
According to Gupta, the plan is to have a platform that acts as a middle-man between a steady workforce and large companies with tasks to complete. The not-so-far future could be brands and retailers listing projects to these pieces of software, which then breaks them up into individual tasks and then automatically priced. Soon, the platforms could be more than just tech-led temp agencies. "The engine is continuing to learn," Gupta said.