How The Sill is using digital features to drive store sales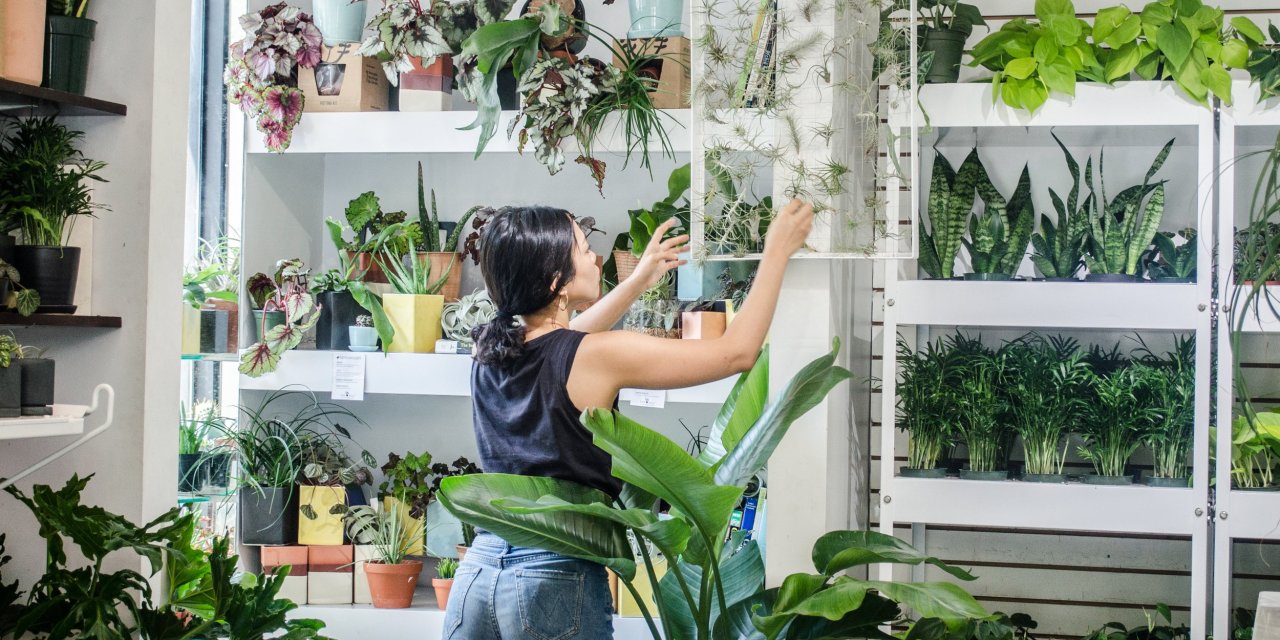 Image via The Sill
Born out of a Kickstarter campaign in 2012, The Sill is an early example of a digitally-native startup attempting to disrupt a traditionally offline category — in this case, houseplants.
The Sill, which bootstrapped operations until raising capital in 2017, was largely known for its subscription houseplant service that currently costs between $50 and $60 a month. But in the years since, The Sill has expanded its physical presence — and now has even bigger expansion plans. 
Since launching online in 2012, the New York City-based company has expanded to shipping nationwide and opening plant shops in several major cities — including Los Angeles, San Francisco, Chicago, and Boston. The Sill currently operates nine stores, four of which opened between June 2021 and February 2022. Even though the majority of revenue still comes from The Sill's website, the company is now focused on adding digital features to help customers more easily discover and buy new products at their local store. 
Eliza Blank, founder and CEO of The Sill, said that scaling a DTC plant business has proven to be trickier than other popular DTC categories, such as mattresses and footwear. "I also chose to bootstrap for the first five years to establish our digital presence," Blank said, which led to a slower expansion; The Sill opened its first store in 2014, and didn't raise a Series A round of funding until 2018. Since then, The Sill has also expanded into adjacent merchandise, such as faux plants, dried bouquets and herb grow kits.
As was the case with other plant-focused e-commerce startups, such as Bloomscape, the pandemic's decor boom helped The Sill acquire new customers who were looking for ways to brighten their space, said Blank.
"Despite our stores being closed for months at a time, the online growth got us through most of 2020," she said. "We acquired a lot of new customers, many of whom fall outside of our core urban demographic." 
Traffic to The Sill's website more than doubled at the start of the pandemic in Spring 2020, Blank said. Over 47% of The Sill's customers during that period were new to plants at that time, with an additional 28% saying they grew their collection significantly at the start of the pandemic, Blank continued. 
However, the pandemic did lead The Sill to put some of its new store openings on hold — which is partially why The Sill is opening new stores at such a rapid pace now. The Sill opened four new plant shops over the past year: in Chicago in June, Williamsburg, Brooklyn in October, Boston in November and, most recently, in Brooklyn's Park Slope neighborhood. The Park Slope location is a hybrid store-cafe in collaboration with Blank Street Coffee, a new concept for the company, Blank said. "We wanted to circle back on physical retail after growing mainly online," she said.
A localized focus
Despite the fact that most of its sales still come from online, The Sill's stores have become an important part of the business, "especially when it comes to personalized customer service and increasing retention," said Blank. "Working shifts at the stores, I've relearned what plant customers are looking for," Blank said, noting that "it's more about having the product they want versus relying on digital marketing for conversion." 
As a DTC-first brand, she said, The Sill has been trying to build stores to be digitally-enabled. For example, each location has its own landing page on The Sill's main website, where customers can browse store exclusives or specialty items not available to ship via the website. 
"We also have Instagram accounts dedicated to each store, so people can keep up with the latest specialty items at that store," Blank said. Local followers can also claim specific items or place new product drops on hold, either via Instagram DMs or by phone. They can also keep tabs on upcoming workshops and events at that shop.
This localized strategy has been especially helpful during the ongoing supply chain disruptions, Blank said. 
"We had ordered things in 2020 that have just arrived now, so in some instances I've communicated that to customers via DMs myself," Blank said. Furthermore, the majority of the company's customer service issues over the past two years have been related to out-of-stocks, Blank said. In addition, the customer service team has continued to be impacted by coronavirus outbreaks. "It's hard to get temps who are experts on plants, so we had some periods of delayed inquiry responses," Blank said.
In turn, stores became another touchpoint for interacting with customers — not only for increasing basket sizes by helping customers grow their house plant collections, but also providing customer service, Blank said. For instance, the stores' staff often point customers back to The Sill's website, which offers educational content and customer service on plant care. 
This year, The Still plans to open its tenth store, and will continue to double up in markets like New York. "We have a Covid playbook now and know how to navigate the current retail landscape," Blank said.
The challenges of growing a digital plant business
Abhinav Chandra, managing director at Alvarez & Marsal Consumer Retail Group, said that selling live plants online has a unique set of challenges. These include delivery costs and getting the product to the customer safely and quickly.
"Differences between pictures on the website and what actually arrives at customers' doors can be substantial, which can lead to higher returns and poor customer experience," Chandra said. However, he noted that on-premise photography and room view tools can help solve these problems as the online plant category grows. 
Indeed, pop-ups and physical stores can alleviate the barrier for entry for new customers, said Sabrina McPherson, senior managing director at consulting firm Publicis Sapient. In her estimation, the biggest challenge for more niche categories, like plants, is convincing people to buy these products over and over. 
McPherson added that for many DTC brands that were founded in the early 2010s, wholesale and some form of physical presence has been the key for growth. "These days, you cannot effectively sell just through one channel, especially if you only offer a single category," she said. "Still, I don't see branded stores as the biggest revenue drivers."
Blank said that The Sill's expansion roadmap will likely include a variety of different collaborations and distribution channels going forward. The company has experimented with wholesale partnerships — The Sill first collaborated with Madewell on an exclusive planter in 2014, and since then has drop shipped products to Madewell's online customers. In 2016, the company also partnered with West Elm, as part of the retailer's Local merchant program, by selling mini succulents at West Elm's New York locations. Blank said these collaborations have helped raise the brand's profile and drive sales over the past few years. "But we just don't want to overextend ourselves all at once." 
"There is pressure to hyper grow at all costs, but we're finding balance in doing it sustainably," Blank concluded.