How Vuori is phasing in its California store reopenings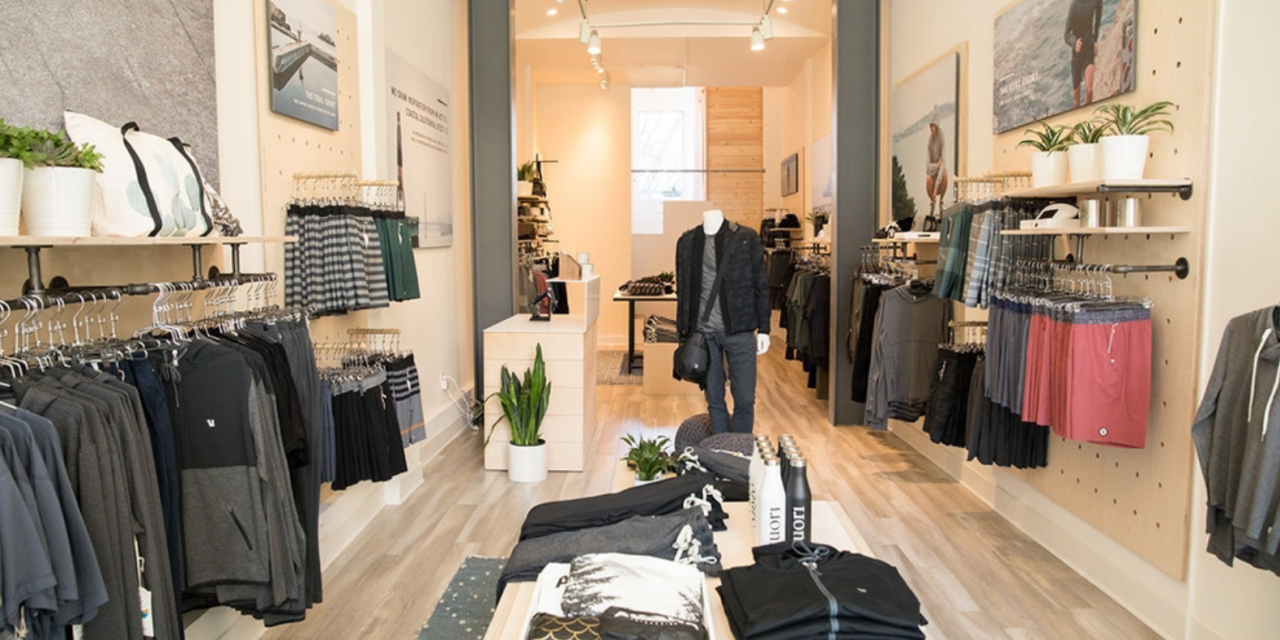 Last week the governor of California announced "Stage 2" of shop re-openings, which includes clothing stores, florists and bookstores — with the stipulation that they offer curbside pickup.
On Friday, DTC athleisure brand Vuori opened for curbside pickup at four of its five California stores, kicking off the planned gradual process of opening doors to customers. According to the company, the only current exception is the San Francisco location, where shelter-in-place has been extended through the end of June.
Vuori is one of the few brands taking the plunge to reopen stores. While it's focusing on contactless programs — like curbside pickup — the brand is also thinking about longterm changes it can make to the retail experience. As more brands consider reopening their physical locations, companies like Vuori may help set a retail precedent with the its early experimenting.
Beginning with curbside
While many store interiors remain closed, the company has been using its stores to facilitate pickup. Opening for curbside pickup "was a good way to restart the engine," said Catherine Pike, Vuori senior director of retail, who said the company saw a substantial interest in pickup. "It's likely due to pent up demand, with people excited to come grab their stuff in person, so that wasn't surprising." 
So far, safety concerns about walking into stores have varied among both employees and the customers, said Pike. The degrees vary from "I was ready to come shop weeks ago" to "still concerned about coming inside," which is reflective of the divide among the general public's opinion.
California's trial phase, which is said to last about two weeks, helps give Vuori associates a sense of traffic flow and customers' reactions before planning for the next stage. While it's unclear when in-store shopping will take place, Pike said the expectation is that it will continue to be limited in capacity over the next month. 
Figuring out what happens next
One thing is for sure: stores will operationally be very different. Trying clothes on, for example, will change. One early trend that's emerged from the states' re-openings is "steaming and quarantining clothes" for 48 hours, which Pike said Vuori would consider if health officials recommend it. "But what we're focusing on is virtual try-on," she said of upcoming plans adding the e-commerce solution. "That's the only true solution in really getting something without risking exposure."
Most important, however, is making sure customers are able to socially distance while maneuvering through the stores. The general plan, said Pike, is to stick with clear marketing signage to visually help customers get around the store with little contact, depending on their preference. For Vuori's San Francisco location, which has a smaller square footage than the others, the company is looking into reopening with private appointments.
How brands operate in California could serve as a template for DTC brands with physical presences across major cities. In the state, many retailers have opted to not yet reopen. At one mall in Orange County, Vuori finds itself next to number of closed national brands — including Athleta, Lululemon and Bloomingdales.
In Texas last week, direct to consumer brands with physical presence in the state sat out the first phase of brick and mortar re-openings. Companies like Away, Outdoor Voices, Mizzen+Main and Lively announced they had not yet opened there yet due to their strategies not being ready. As of May 12, Away and Outdoor Voices' Los Angeles locations are still closed.
The name of the game is offering that wide variety of experiences moving forward, including curbside, "which we will likely continue to offer," said Pike. Much of the company's changes are thanks to customer feedback. "The big question has become: 'Would you like us to X, Y, Z?,' and customers are already getting used to being asked," she said.