How Vuori is preparing for (future) store reopenings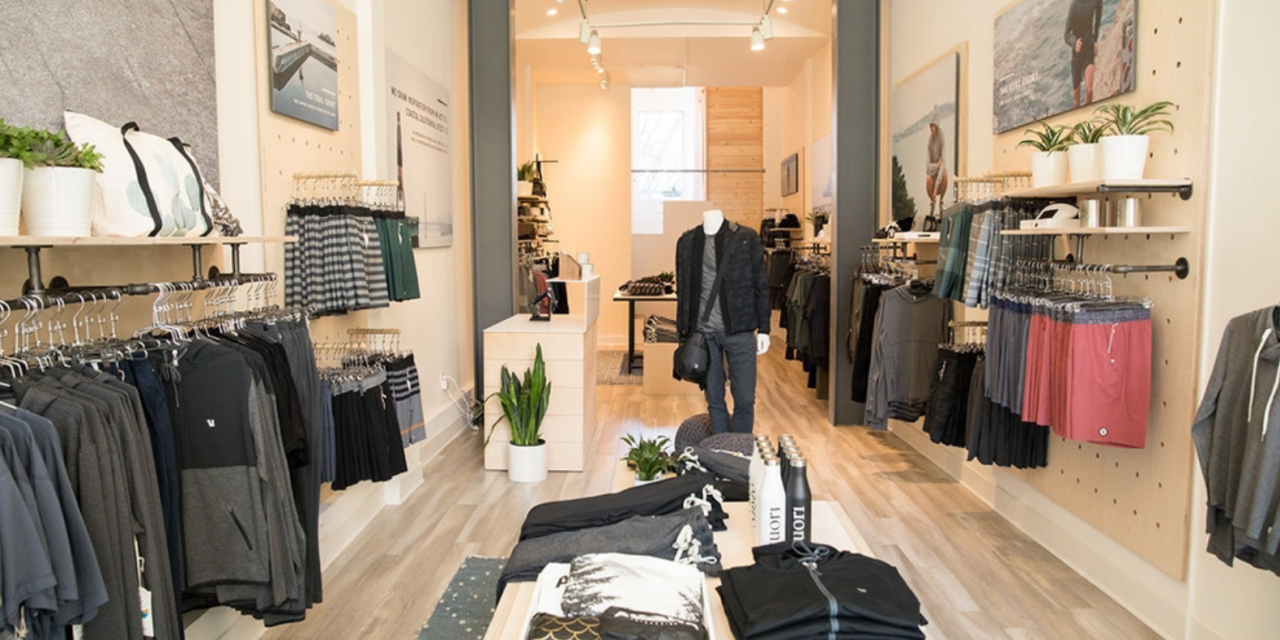 With no clear timeline in place, what the reopening of physical stores will look like remains unclear. Brick and mortar locations have become a popular strategy employed by growing DTC brands, but the current shutdown halted that revenue stream.
One brand navigating all this is Vuori. E-commerce sales for the athleisure brand are up 350% year-over-year, but all of its stores have completely shut down — and will remain so for at least the next few months. The company is currently figuring out the advantage and challenges of eventual re-openings. "Times of change are allowing for an opportunity to try new things," said Vuori senior director of retail Catherine Pike at this week's Modern Retail+ Talks. 
It's impossible to predict the future but Pike believes "there will be huge advancements in brick and mortar retail because we're getting out of our comfort zone."
What we learned:
Be ready to completely redesign your in-store experience.
What's happening with e-commerce right now is informing Vuori's future brick and mortar strategy, Pike said, which is:
Amplify

what people have missed about brick and mortar, but also innovate and adapt what they love about e-commerce to help them return when stores open. 

Innovate the efficiency, safety and shoppability of physical stores by

plotting a new, elevated brick and mortar experience to help drive customers back into the store.
Understand that the digital experience is different than the physical one. 
Vuori is paying close attention to how customer experience is unfolding online, which helps detect patterns with both positive aspects and challenges. 
With that, the company is cognizant of e-commerce's shortcomings. There isn't that immediate gratification of taking home a new purchase, said Pike, especially during these long shipping delays. Customers are also unable to touch and feel the product before buying.
Pike also mentioned some more acute online shopping headaches that would have otherwise been solved by an in-person sales associate. For example, there's been an increase in customer service requests for first time shoppers in need of sizing help, as well as people buying multiple sizes to return what doesn't fit. To supplement for those issues, Vuori has been trying paying attention to services its website can offer. Focusing on reviews and other comparison shopping tools is one way Vuori is approaching this puzzle.
Re-open for the current reality.
When the big grand re-opening happens, instead of resuming business as usual, Pike said it's important to prepare for the new look and feel of brick and mortar "rather than doing the same thing before we closed."
Retailers have to build confidence back to assure safety, so brands like Vuori are discussing precaution decisions such as masks versus face shields. "It's very likely to reopen with masks and physical distancing, so we're getting employees comfortable with working with that," Pike explained. 
While popular now, Vuori is betting on athleisure being a longterm winner. As Pike put it, "you may not be wearing it every minute of the day when we go back out, but you become hooked on having it on. "There will be more remote work than ever before, and we see people doing it in their athleisure."
See the video:
See the slides: