How wedding and baby registries are looking to compete with Amazon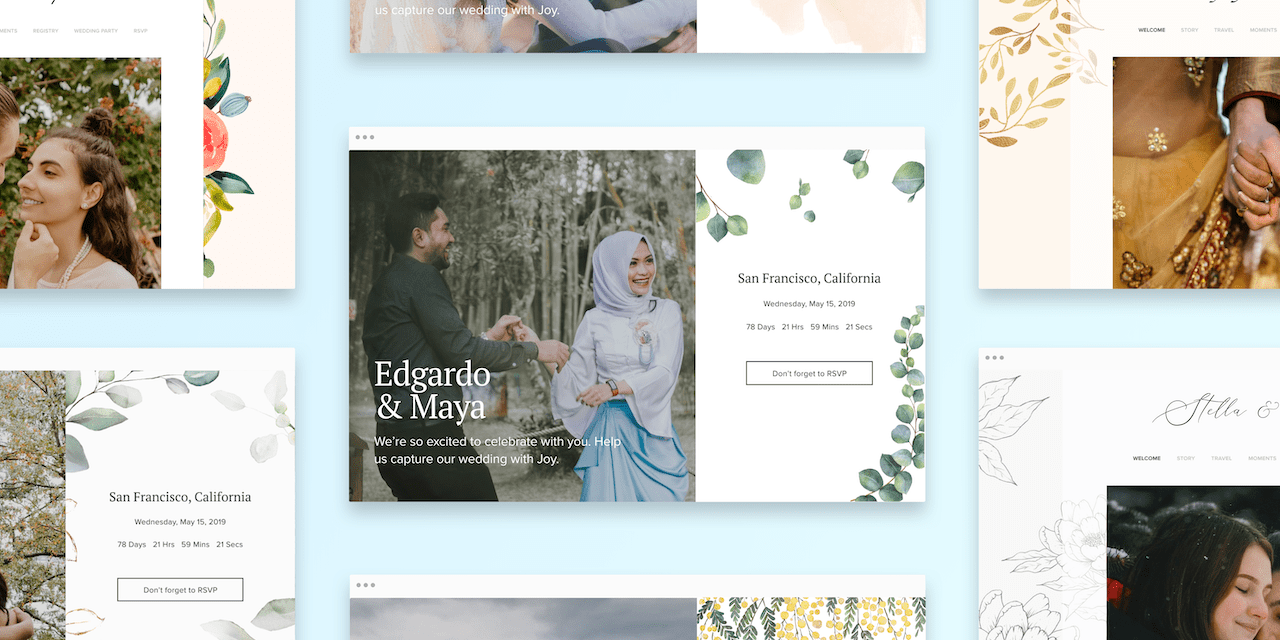 Image via Joy
Startups are trying to take a bigger market share of the registry space. 
2022 is already set to be a major year for both wedding and baby registries, thanks to pandemic-induced pent up demand. According to one estimate, there will be 2.5 million weddings held this year in the U.S., the most since 1984. Amazon is currently dominating the wedding registry market, having surpassed Bed Bath & Beyond this month, per data by The Knot. As of the end of 2021, Amazon accounted for 45% of all U.S. wedding registries, the report said.
However, digital startups are trying to stand out with offerings that department stores and Amazon struggle with. These include personalized recommendations, exclusive products and integrated organization tools. 
On the baby registry front, Babylist's goal is to be a go-to parenting content and e-commerce platform, founder and CEO Natalie Gordon told Modern Retail.
The company raised a $40M Series C round last November. This month, Babylist, which launched 2011, opened its first pop-up in Los Angeles, where visitors can test out and shop products. 
The company started out with an affiliate business model, but is now trying to become a one-stop-shop for expecting parents' needs, said Gordon. "For instance, we integrate our partners' services, such as life insurance, in our email marketing to expectant parents," Gordon said. Babylist is also trying to reach young new parents by investing in platforms like TikTok, Gordon said.
For 2021, the company posted $250 million in revenue, Gordon said. On average, people add between 100 and 200 products to their Babylist registries. Gordon said the pandemic and related supply-chain delays have influenced purchasing decisions around baby showers. Now, she said, expectant parents and gift-givers are ordering products months earlier than they would have pre-pandemic. 
The company largely relies on its in-house content team, which curates Babylists' product recommendations and gift guides. "We look at our content as a form of marketing, and find that our viewers come back to the site multiple times a day," Gordon said. The team also produces explainer videos that showcase product features. Babylist's editorial team also continuously updates listings, such as product recalls and safety disclosures. "The idea is to help new and expectant parents find products while building trust in us," Gordon said.
Babylist is also working on becoming a go-to channel for emerging DTC brands. Gordon pointed to brands like baby formula Bobbie and DTC stroller brand Colugo as examples of popular products on the site. 
At the same time, Gordon said there's an opportunity to grow Babylist's in-house products.
Examples include the Babylist Bottle Boxes, which launched three years ago, and is currently the company's top-selling product. The boxes feature an array of Babylist's top rated bottles that parents can try out before buying. "It's a creative way of turning an item that wasn't necessarily a great gift into a clever one," said Gordon. Last year, the company debuted the diaper gift box, which features products from DTC brands Dyper and Coterie.
As for competing with Amazon's wide selection, Gordon said Babylist doesn't see the e-commerce giant as a direct competitor. For checkout, Babylist users can link to a number of retailers' sites including Amazon, Target, Walmart or Nordstrom. Some DTC brands, like Bobbie, fulfill orders on their own that come through Babylist.
"We think of Amazon as a great fulfillment partner that our users love for checkout," she said.
Similar to the baby registry space, wedding registry startups are also trying to compete with bigger players by offering a wider breadth of planning tools than big-box retailers can.
The Knot, which launched in 1996, has become an established name in the wedding registry industry. More recently, Zola, founded in 2013, has also gained a growing following. Now, others like Joy are finding ways to compete with major retailers. 
Joy, which launched in 2016, saw over 100% year-over-year growth in revenue in 2021. Co-founder and CEO Vishal Joshi credited the growth to Joy's addition of relevant wedding planning tools that go beyond the registry. These additions are meant to make Joy a one-stop wedding portal for couples, Joshi said.
The website and app's design updates include wedding guest management and rideshare integration, which have become popular among couples "especially during a time when so much is in flux due to the pandemic," said Joshi. 
"Technical integrations that fit into couples' everyday lives are a major differentiating factor between our registry and other retailers," Joshi said. For example, part of the redesign includes a web browser Joy button, which allows couples to easily add items from any website to their registry.
Since launching its registry portal last Spring, the company has been expanding to better monetize it. "We've seen 90% month-over-month growth of guests giving gifts through Joy," Joshi said. "We credit this to the fact that we think about what couples want, such as zero fees on cash gifts and the ability to add items to their registry from any retailer."
In addition to big-box retailers, Joy users can add items from any small businesses across the web, Etsy artisans or charities, to their registry, Joshi said. Joy makes money by taking a percent commission through any product sold on its registry. 
For now, the company's marketing is reliant largely on word-of-mouth, as the company bets that solving current registry pain points will get couples and guests to recommend Joy to their friends. 
"For every couple that uses Joy, their 100-plus wedding guests interact with our product," Joshi said.