How workwear is getting the DTC treatment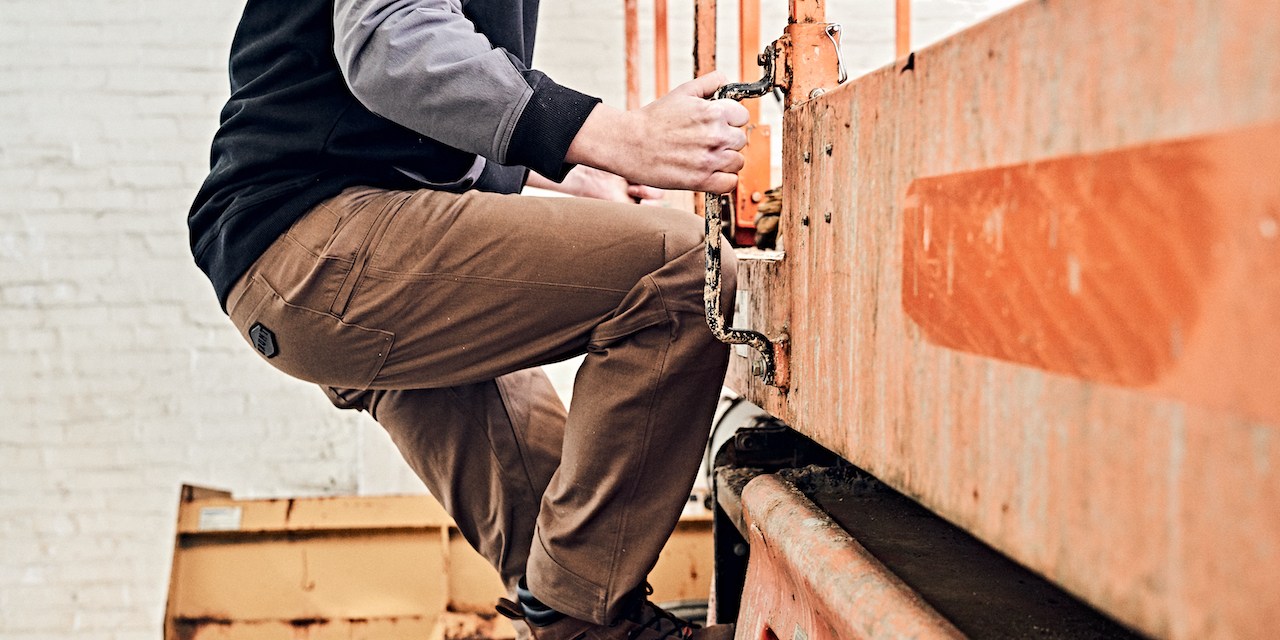 Image via Brunt
Workwear is getting refreshed with the help of emerging startups. 
New brands like Brunt Workwear and Truewerk are taking the direct-to-consumer model, and using it to build apparel businesses that are focused on consumers working in trades such as construction, plumbing and trucking. 
The workwear category has long been dominated by legacy brands like Carhartt, Duluth Trading Company and Wrangler. Now, new players like Brunt and Truewerk are hoping to win over younger customers with more modern designs, and a better e-commerce experience.
Capturing an "overlooked" market
Much like the medical-wear category — which has gotten more attention with the debut of brands like Figs, Jaanuu and Clove — DTC workwear brands want to focus on offering workers design and comfort. 
Brunt Workwear, which launched in September 2020, has been growing 63% month-over-month, along with a 44% repeat customer rate. "The first wave of customers has already come back, much earlier than we expected," founder and CEO Eric Girouard told Modern Retail. 
Much like other DTC brands, Brunt is looking to attract young, digitally-savvy customers with careers in the trades and little time to shop. 
Brunt Workwear is focusing on building its branding around the workers who use the products in their daily shifts. "A lot of the brands that historically catered to the trades have become fashion companies," Girouard said.
While workwear "isn't as sexy" as other DTC categories, it caters to a long underserved cohort, Girouard explained. One of the upsides of running a workwear brand is that many of the products tend to thwart fashion trends, he said. "We try to go for evergreen, functional products to keep customers' wardrobe streamlined." Brunt launched with a line of work boots, which tend to be "seasonless" and replenished yearly. The brand's work pants are also made to be worn year-round, Girouard said. 
In August, Brunt closed a $8.4 million Series A round to help it scale the business by releasing more products. The company, which currently has nine employees, will be hiring for new roles as it grows.
"Many of our customers are wearing our boots out everyday, so we want our marketing to reflect that," said Girouard. Aside from paid search and social ads, Brunt also relies on a community of brand ambassadors to spread the word about its products. These are mostly tradesworkers with large followers that sing the praises of the apparel brand. In the past year, Brunt launched its "Bucket Talk" podcast, which focuses on highlighting trade jobs. This summer, the brand sponsored NASCAR driver Mason Massey's race. 
Offering elevated performance wear
Truewerk, which officially launched in 2018, is taking a similar approach by catering to tradespeople. Founder Brian Ciciora said that the brand was inspired by his own background in the trades.
As Ciciora explained, "contrary to outdated stereotypes," many tradespeople are tech-savvy. "They're already buying tools and raw materials online, so why not their daily apparel?" he said. "Our products are for anyone doing hard, physical work and can benefit from performance apparel," said Ciciora.
Truewerk's line of apparel aims to bring technical fabrics to the workwear category, said Ciciora. The brand's tops and jackets are designed to serve as an integrated system — a base, mid and shell layers — which can be worn in different climates. 
Workwear designs have historically been made of canvas, cotton or denim, said Ciciora. Truewerk's selling point is offering more durable fabrics — made of a double woven nylon and polyester blend — that can withstand a worksite's elements.
"The DTC model allows us to invest in higher-end fabric while keeping prices relatively low," said Ciciora. Truewerk's $79 T2 pants, in particular, have become popular among customers, said Ciciora. The full apparel line is also oil and liquid resistant, "so it can be washed at home without the need for industrial laundering," Ciciora.
Truewerk's sales have more than doubled year-over-year in the past two years. "We're also seeing 30% to 40% in repeat orders," Ciciora said. The company raised $2.05 million in seed funding this summer, and in order to grow brand awareness, the company is working with a network of trade influencers on Instagram and Youtube, who showcase the products.
Meanwhile, fit and comfort are also becoming a bigger selling point in general in workwear, even in the enterprise uniform space. 3DLook, a virtual fit company that uses AI-technology for body measurements, recently partnered with manufacturing companies such as Fechheimer Brothers and Safariland to develop custom uniforms for their workers
The big challenge all of these workwear startups face is how to grow brand awareness, while catering to a very specific sector. "We have tens of thousands of customers, but the majority of people still don't know about us," said Girouard. "The key is to stay disciplined and continue to grow brand awareness."