Q&A
// January 30, 2022 ■ 6 min read
'It was scary': How Apto Skincare bounced back from a pandemic downturn to land deals with Walmart and Target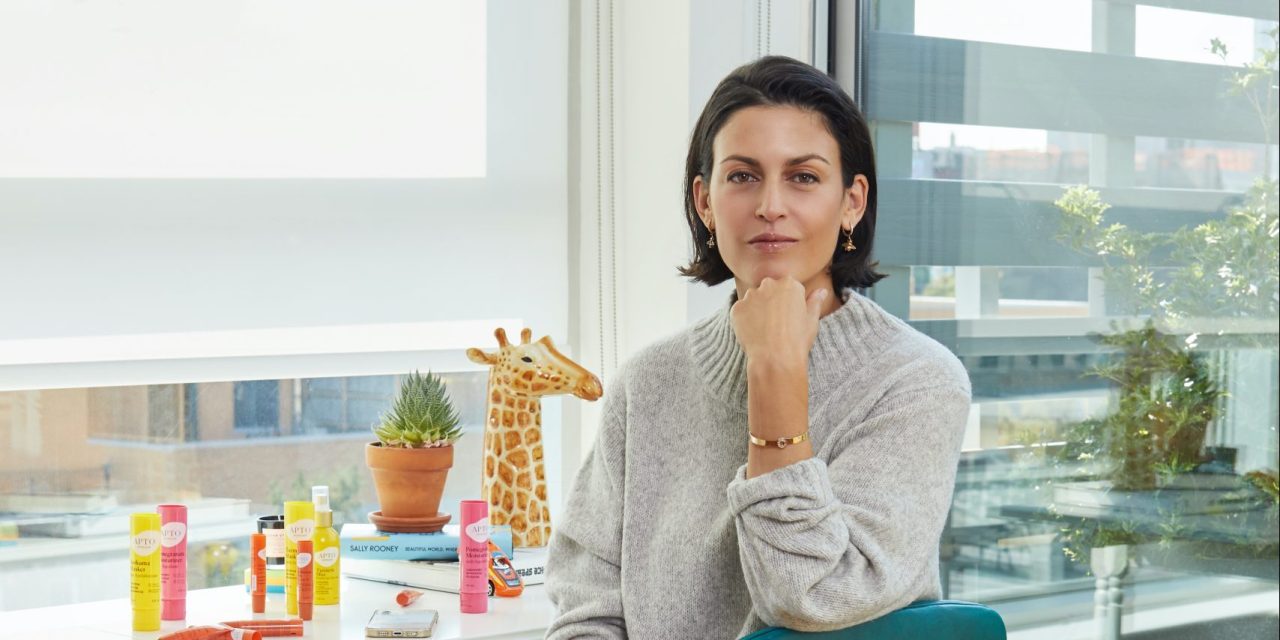 Apto Skincare
Apto Skincare has landed on its feet after a turbulent early pandemic.
Less than two years ago, Barcelona-born founder Marta Cros was stranded with her two kids in the Dominican Republic as the coronavirus brought travel to a halt. The family holiday was ruined. Worse still, her affordable skincare business — which makes cleansers, moisturizers, masks and toners — was in trouble: revenue had plummeted by 80% compared to 2019.
Fast forward to today, and Apto (Spanish for "suitable") is available nationwide for the first time in its six year history through back-to-back wholesale pacts with Walmart and Target. Cros says the trying times, including the closure of Apto's first brick and mortar store in Brooklyn, prompted her to slash her brand's range of products.
The following interview has been condensed for clarity.
Apto has trimmed its line-up from 35 to seven products. Why the huge cut?
In 2020, I had planned a holiday to the Caribbean with my family to escape New York for a bit. Shortly after we arrived in the Dominican Republic, they started closing borders and canceling flights. We ended up getting stuck for 99 days and all I had was this very small suitcase. Initially, I was so stressed. It was the early days of the pandemic when nobody really knew what was going on. 
But, it also helped to put things in perspective. After a few days, I had this feeling of liberation. I no longer felt like I had to make small decisions all the time like what am I going to wear today or what cream am I going to use or what mask I think my face needs.
I remember the moment so well, I called my partner and said 'I want to change things up.' I was always trying to create products for what I thought other women wanted and, all of a sudden, it hit me. I realized what I want right now is something effortless: it's simplicity.
But, that was not reflected in our brand. So, we took some time to transition toward this product that I wanted to use. And, we went from 37 different products to just seven with all the consequences that had on the bottom line of the business. We had to scrap so many products that some retailers and customers still wanted. 
We also used the time to repackage. We went from virgin plastic to more sustainable materials like aluminum. But, we kept our key pillar of affordability, with prices from $5 to $20.
How did you decide which products to drop and which to keep?
Most of our sales come through a mix of retailers including our lifestyle partners like Anthropologie and subscription boxes like Ipsy. The latter helped us to get our product in the hands of hundreds of thousands of people. We used the data from those subscription partnerships to trim down the portfolio.
We scoured tens of thousands of reviews and focused on what the data was telling us about the products we should keep in this trimmed down range. It was kind of like a quantitative search in the sense of finding the best rated products. But, we also selected a few keywords, and we skimmed through all these reviews that are super-long to find them and understand where things were moving.
How did the pandemic impact your business?
It was a hard year in terms of revenue, especially coming off a successful 2019. We always had a DTC side to the brand, but that was just 5% of our sales. Our online business just wasn't as strong as others', who were expanding their e-commerce capabilities as retail stores were closing. 
We opened our first ever store in February of 2020 in Brooklyn. That was incredibly bad timing. We ended up closing it for good in March. It lasted all of two weeks. It was a short lived story.
Luckily, we had a lease for six months and we were able to apply for PPP. We also had an understanding landlord. All of which helped us a bit. But, more importantly, we'd always been very mindful of expenses. We run a super lean business. We do everything in-house at our family-run factory in New Jersey. We're self-funded and we have always been conscious of our cashflow. I really don't believe in running a business that is not profitable. That's why we survived and had the ability to invest in this new approach to our portfolio.
How did the partnership with Target come about? Did it help shape your brand?
In the winter of 2020, just after we relaunched Apto, we applied and got accepted into Target's accelerator program after years of unsuccessful attempts.
The five-week program was conducted over Zoom because of Covid. Every week you have to focus on a different area of the business, from packaging to logistics to marketing. Right away, you are pitching in front of 300 Target employees, which forces you to focus on the message that you want to communicate to that audience. From there, you have your first meeting with the buying team to get initial feedback. 
For instance, they told us 'we love your packaging and the color palette and how simple it is, but you are not highlighting the amazing formulas in your product.' With that in mind, we worked quickly to change our packaging from a focus on the category (like cleanser or mask) to start highlighting what we call "power couples," which is like a botanical ingredient paired with an active ingredient. That was something that Target knew was working for their customers. 
Last summer, we received our award to notify us that Target wanted to work with us. By the fall, we knew how many stores we were going to be in. Ultimately, we felt confident in what we had to fix to work with a big retailer and get our products in front of more people.
What else did you learn from the Target accelerator program?
The second week is all about how to promote your product at Target. That can be through the Circle [reward program] offers they have in the app, discounts you see on the shelf or category-run promotions like beauty week or buy two products and get a $10 gift card.
Circle is for [Target's] VIP customers. You need to allocate money to that, meaning you need to account for the discount you want to offer members and the 10% fee that Target takes to let you sell through Circle. You can negotiate that if you assume a hundred percent of the discount.
You struck a deal with Walmart in the summer and Apto is arriving in 800 Target stores on Sunday. How has that affected the amount of orders you are handling?
We launched at 3,500 Walmart stores in August. We'd been talking to them for four years; it was a long process. They have revamped their beauty business to focus on clean beauty. 
With Walmart, we ran an endcap at those stores and shipped 80,000 units for six weeks. To cope, we had to hire more people. It was not a question of factory capacity — we had the adequate machinery — but we needed someone with experience running those volumes. 
When you work with subscription boxes, you get a very big PO for nine months from now. It's like 300,000 to 400,000 units and you have that time to prepare and send it out all at once. With Walmart and Target, you ship the first order just to fill the shelves and then every week you are receiving additional orders.
What are your business goals for 2022? Do you plan on re-opening your brick and mortar store?
Our main goals for the year are the Target launch and our European launch at 500 Etos locations [a chain of pharmacies in the Netherlands owned by Ahold Delhaize] which is also on Sunday. We don't plan on opening any more of our own stores.