Kohl's is betting that activewear and beauty will drive shoppers back to its stores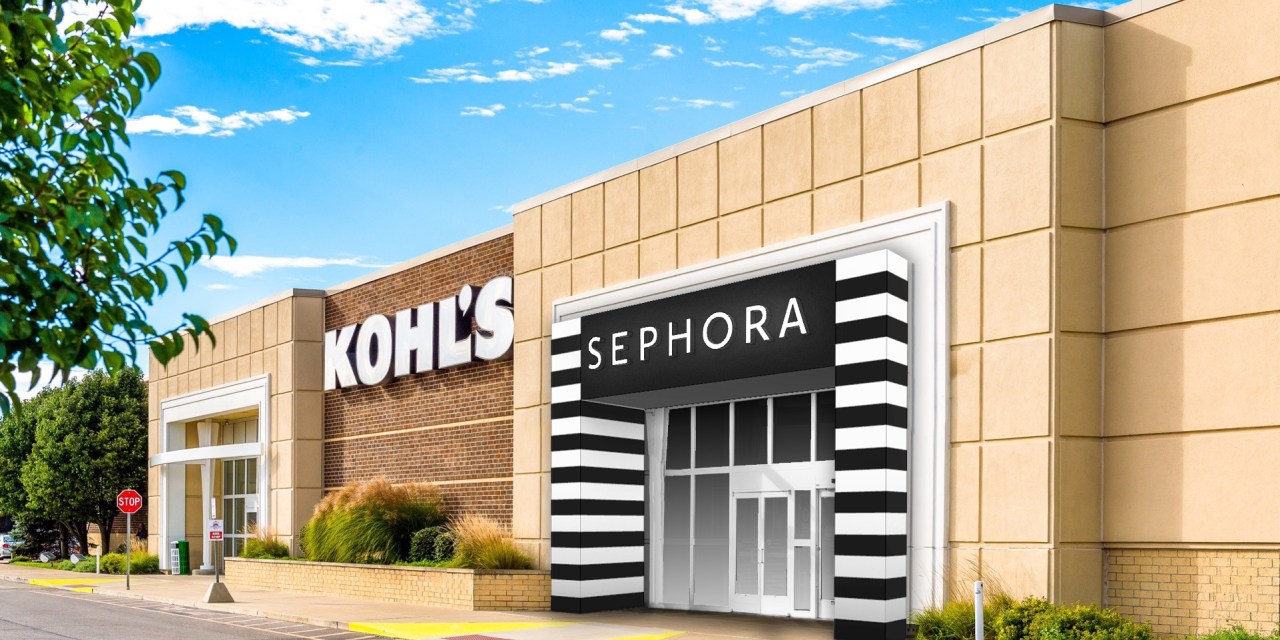 Image and video courtesy of Kohl's. ©2017 Kohl's Department Stores, Inc.
After all department stores took a sales hit in 2020, Kohl's is out to prove that it has the right assortment to stay relevant as shoppers return to stores.
It's been a tough year for department and off-mall stores. Kohl's, Macy's, Nordstrom and Dillard's all saw year-over-year revenue decreases in 2020, hampered by store closures and discretionary spending decreases. Meanwhile, Lord and Taylor, JC Penney and Neiman Marcus all declared bankruptcy.
Now, Kohl's joins Macy's and Dillard's in reporting revenue increases during their first quarter earnings, and performance exceeding predicted expectations in the first quarter of 2021. Kohl's attributes some of this success to optimized merchandizing strategies, returning consumer interest in the apparel category, and increased foot traffic.
During the earnings call, CEO Michelle Gass emphasized how Kohl's was refreshing its apparel selection by carrying more products from activewear and outdoor brands. She also played up the retailer's upcoming partnership with Sephora, though CFO Jill Timm noted that it would, in the short-term, lead to an increase in SG&A expenses as Kohl's redesigns some of its stores to fit in Sephora shop-in-shops. Kohl's has said it plans to open mini Sephora shops within 850 of its stores by 2023, with 200 of those openings set to come later this year.
Gass praised the performance of apparel products in the retailer's earnings call Thursday morning and said, "our sales were up, you know, call it, 70%" and "our apparel category in aggregate exceeded that."
During its first quarter earnings, Kohl's reported that revenue was up 69% year-over-year, after revenue decreased 20% in 2020. Sales totaled $3.66 billion, up from 2020 but below 2019's $3.82 billion first quarter, while Kohl's also reported a net income of $14 million after a loss of $541 million a year ago.
Kohl's plans to continue to fuel apparel growth with an expansion of its activewear products by 20% over 2021, launching a new private label activewear brand, partnering with Calvin Klein for athleisure basics and expanding adding new products from activewear brand Champion. The retailer also hopes to dive more fully into the outdoor apparel space by expanding its Lands' End offerings and launching a partnership with Eddie Bauer in the fall.
"If we look historically our outdoor brand portfolio has largely centered on Columbia," said Gass. "To be a true destination, it's also about having a suite of brands."
"I think as restrictions are being lifted across the U.S. and people are coming to events or there are signs of going back to a hybrid version of back-to-work, there are some [new] needs for apparel," said Jessica Ramirez, a retail analyst at investment research firm Jane Hali & Associates. "Prior to the pandemic, the issue with apparel was that there wasn't apparel that was maybe appealing to the consumer — we are focused in active and comfort and now there's a denim cycle."
Kohl's is also looking to another partnership – launching mini Sephora shops within 200 Kohl's stores in the fall – to fuel its beauty growth.
"This partnership will transform Kohl's into a leading beauty destination and is expected to drive significant incremental sales and new customer acquisitions," said Gass.
"I expect it to do well for Kohl's," said Ramirez. "Sephora is coming in quite aggressively to get into off-mall locations… and when you look to the off-mall [partnership space] you [also] have the partnership with Target and Ulta. I think this is quite competitive to that."
E-commerce features also helped drive sales for Kohl's. The company's mobile app, accounted for one-third of digital sales during the first quarter, said Gass. Integrating digital and in-store experience also helped the retailer in 2020, where 43% of digital sales were fulfilled in store.
Gass said that Kohl's plans to refresh some stores, coinciding with the launch of the Sephora shop-in-shops, later this year. These store refreshes are meant to "provide a more compelling shopping environment with the most relevant brands and categories positioned at the front of the store," and help with "improving the clarity and merchandising presentation," said Gass.
Ramirez said that she hopes the investment in physical retail will help Kohl's in-store experience better match their "excellent" digital site.
"If you walk into a store… you want to be romanticized by that store, you want to feel that it's going to offer you something special, and that there's a unique experience, and unfortunately Kohl's doesn't necessarily do that [yet]," said Ramirez.
This investment will come at a cost, something that Kohl's was careful to remind their investors in their earnings call this morning. Timm said, "we are planning SG&A expense to be higher than the Q1 rate as we invest in the Sephora partnership launch and incur expenses associated with our store refresh activity."
Still, executives kept the focus on how they believe these investments will lead to a new and improved Kohl's.
"When we unveil Sephora, [what] you'll see in those 200 doors are really new refreshed Kohl's," said Gass. "We're really excited about that, just given the momentum [that] we see in our stores over the last several months."